HTC is back this year, with a new flagship device titled the One (M8). Last year's One (M7) was mostly well-received, as the company announced they would be refocusing more on creating the best device possible and stepping away from over-the-top marketing and flooding of the market with mid-range devices. The company wants the consumer to do the marketing for them, and as we all know, word of mouth is by far the strongest form of advertising.
In 2014, major devices are on the roadmap from all of the top OEMs such as Samsung, Apple, Motorola, and LG. If HTC wants to remain competitive, it is without question that the One (M8) would need to blow the socks off of anyone who touched it. It needs the right specs, the right features, and the right build quality.
While the company was able to do most of these things, the M8 did fall somewhat short in a few categories, but if you have been paying attention, there is no shortage of people willing to argue that the One (M8) is one of the greatest smartphones ever made.
Both Tim and I have had more than a week with the One (M8), so we have tag-teamed our full review, going over the pros and cons of the device.
This is our HTC One (M8) review. 

The Good
---
Hardware / Specs
Outside of the camera, which we'll talk about plenty in multiple sections below, the HTC One (M8) brings top tier specs in almost every single category. It sports a 5-inch FHD (1920×1080) Super LCD 3 display, Qualcomm Snapdragon 801 processor clocked at 2.3GHz, 2GB RAM, 32GB of internal storage, micro SD slot that supports up to 128GB cards, a 5MP front camera, BoomSound speakers, and a 2,600mAh battery, all in an all-metal body that is just 9.35mm thick. The rear camera weighs in at 4MP (dubbed "UltraPixel"), but is accompanied by a 2MP depth sensor that is capable of a handful of image tricks. It's really the only lacking spec on the phone, unless of course you are fine with photos that only spread to a 4MP resolution, which many of you may be. Other than that, this is a top tier device by today's standards. -K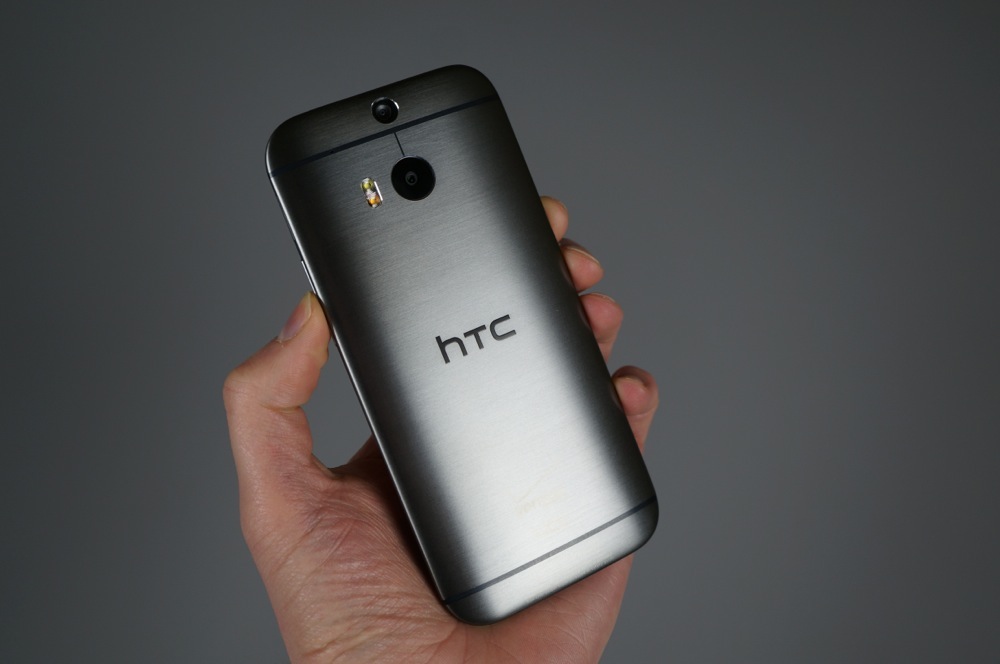 Design
The HTC One (M8) is absolutely gorgeous, at least in my opinion. Even though the phone is made from a single piece of metal, it feels almost pillowy in hand. The backside is rounded so perfectly, that it fits so effortlessly in your hand. Each variant of the M8 also includes subtle accent lines and a beautiful finish that leaves it looking industrial and modern. This is smartphone luxury.
HTC has given us three colors:  Gunmetal Grey, Amber Gold, and Glacial Silver. Below, you'll find a video of all three, all of which are beautiful in their own right. While I would argue that the device is far too tall, there is no denying the craftsmanship. HTC built the most high-end feeling phone on the planet, again. -K
Display
HTC used a 5-inch Super LCD 3 display in the M8 with a resolution of 1920×1080. It's a beautiful display, just like the last few displays their flagships over the years have used. Colors are accurate and vibrant while not being oversaturated, brightness levels are some of the brightest we have seen, and the viewing angles are among the best, if not the best on any current flagship smartphone.
I'd argue that the AMOLED on the Galaxy Note 3 is still the best display on the market (until the Galaxy S5 is released in a few days), but the LCD used the One (M8) is no slouch. As you can see from the images above, it's not only brighter than the Note 3, Nexus 5 and Moto X, but at a steep viewing angle, it's probably the clearest.
And because macros are fun, check out the image below to see how many pixels are packed into this FHD display. It's impressive. -K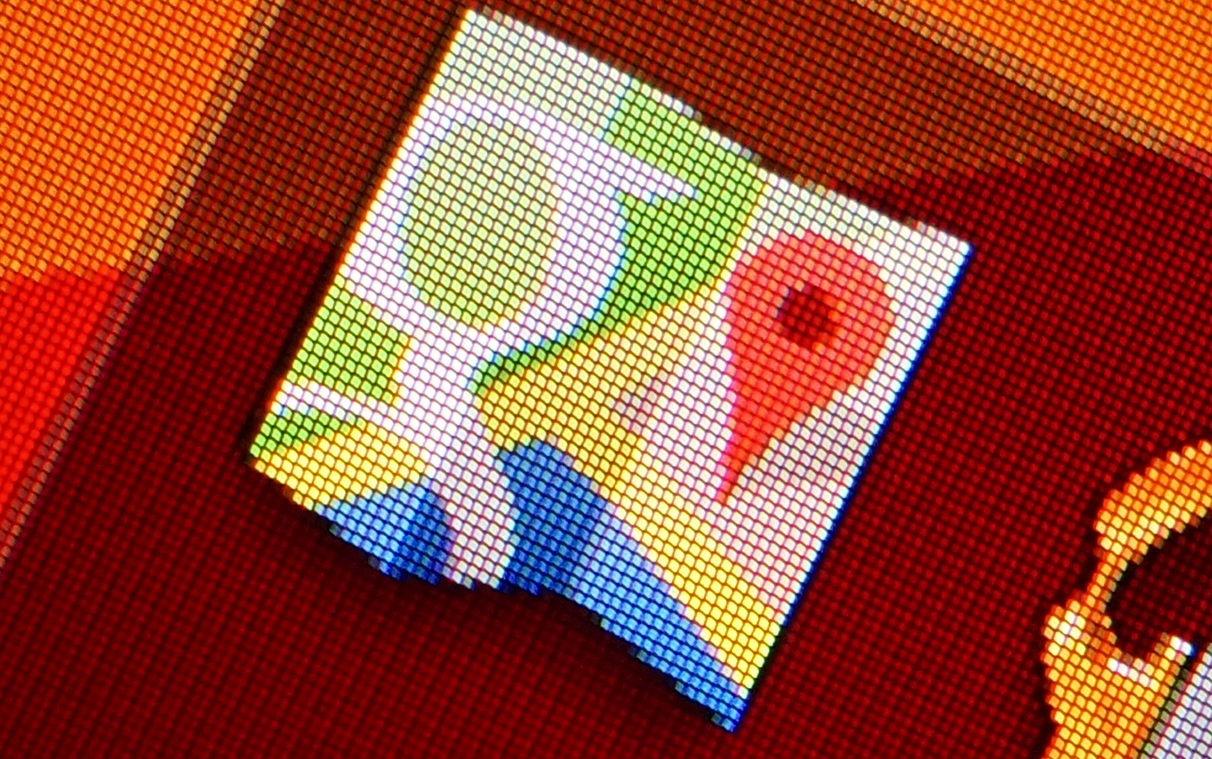 Performance
With its Snapdragon 801 processor and 2GB of RAM, there is no doubt that the One (M8) flies. In a world where it seems that OEM skins might bog down Android, as they only get more weighty with nonsense features and "bloat" applications, the One (M8) seems to have no real hiccups when performing day-to-day tasks. HTC appears to have slimmed down BlinkFeed's interface, flattening the overall look of Sense, and made it easier to navigate. When shooting photos in the camera app, thanks to quite speedy response and focus times, you can easily whip out of the camera into an intense shooter game, with pretty much zero lag. When using HTC's own multitasking feature, you can skip to the nine most-recently used apps, and you won't have a problem. It's rather impressive, but seeing as how it is 2014, and you would expect a company's flagship device to have no performance issues, it is good to see HTC didn't drop the ball. -T
Camera (Software)
We'll talk camera quality in a minute, but one thing is certain – HTC knows how to do camera software. The UI in the camera app has been simplified so that you can take pictures without having to worry about settings or filters or modes. With the camera launched, all you'll see initially is a shutter button, flash toggle, menu for more settings, and another button that lets you switch modes. It's incredibly well laid out for those of us who just want to snap pictures at will in Auto.
For those who want to get a little more out of their mobile cameras, HTC hasn't disappointed here either. With the touch of a couple of buttons, you can manually configure your M8 camera and even save all the settings as a preset camera. You can switch to things like HDR, macro, panorama, backlight, and of course, manual. There are also filters for having fun on the fly.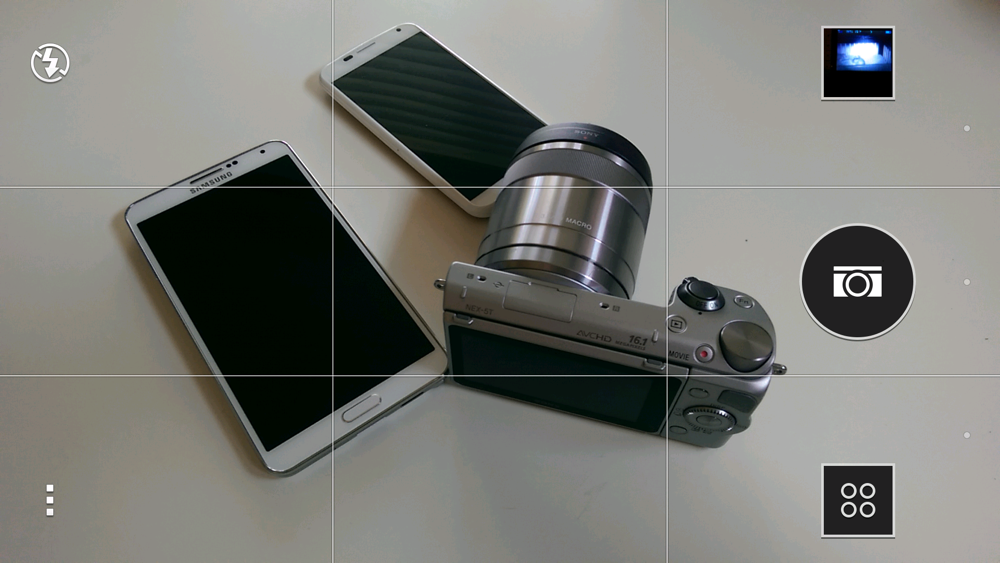 HTC's Zoe camera has returned again this year as well, though it has been improved. Zoes are quick video clips that can be separated out into individual frames for later manipulation. Changes this year include the ability to take longer than 3-second Zoes and an option to turn Zoe straight into a video camera.
There are selfie modes that take advantage of the 5MP front camera, Dual capture for using both cameras at once, and a Pan 360 mode that is a fine-tuned version of Google's Photo Sphere.
HTC isn't just great at camera UIs and settings, though, they also know how to do photo editing. If you are looking for on-device tools that can help you crop and straighten, touch up, and filter to your heart's desire. They included a couple of gimmicky new modes that attempt to take advantage of their Duo Camera setup, called UFocus, Dimension Plus, and Foregrounder. These modes are indeed gimmicks, but you could have some fun with them, assuming HTC can fine-tune their functionality.
Overall, HTC gets an A for their work in the camera software department. -K
BoomSound
BoomSound is back, and it's back with a vengeance. Last year, HTC introduced dual front-facing speakers with Beats audio software on the One (M7). They sounded fantastic. On this year's One, BoomSound still sounds full of bass tones, as well as crystal clear highs. If you listen to rock music, it's easy for the One (M8) to claim your heart, as the sound expelled from its speakers are full of detail, with high hat hits ringing with clarity and guitar riffs sounding more crunchy than ever. I will agree with most when saying that BoomSound may not be the loudest speakers available on a smartphone, but they are without a doubt the best sounding. Would you rather have a single speaker peaking and cracking constantly or would you rather hear a full sound coming from completely capable speakers? It's an easy choice for me, and if BoomSound could come stock on all smartphones, I would be a happy consumer. -T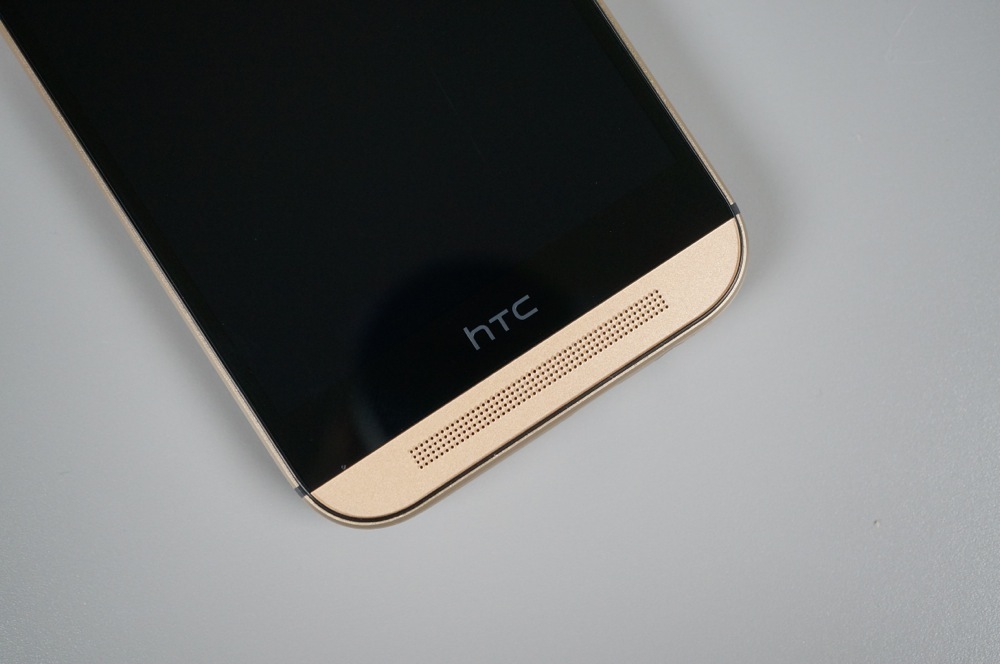 Availability
HTC announced the M8 on March 25 and then also made it available for order from a number of carriers that same day. They even cooked up an exclusive deal with Verizon to have it immediately available in stores for a couple of weeks. So yes, you could walk into a Verizon store on the day HTC announced it, and buy it. Pretty cool deal, especially since companies like Samsung continue to announce phones and then make you wait months before you can buy them. For example, Samsung announced the Galaxy S5 in late February and yet you still can't buy it at the time of this review.
HTC also made developer, unlocked, and Google Play editions available for pre-order on launch day, with shipping times of only a couple of weeks out. If you want the HTC One (M8), HTC is giving you more choices than we have ever seen before. If you want it unlocked, so that you can take it to a carrier of choice, you can. If you want to unlock the bootloader and tinker away, you can. If you want the phone, but can't stand HTC's Sense skin and instead want stock Android, there is an option for you. -K
Somewhere-in-the-Middle
---
Battery Life
HTC claims that the new One (M8) could see upwards of 40% better battery life over last year's M7, but I'm not sure I'm buying it. I saw average battery life in my testing on the 2,600mAh battery that wasn't necessarily greatly improved over last year's One. My testing typically includes multiple days in a row of nothing but 4G LTE, followed by a few with WiFi mixed in. On 4G LTE-only days, my phone was almost always begging for a charger after 10-12 hours of use and around 3 hours of screen-on time. That's not terrible by any means, but also not game-changing. With WiFi enabled for longer periods of time, battery life extended well past the 16 hour mark, but that's to be expected.
So again, battery life isn't bad and should get you through most days without needing to look for a charger. It's definitely a phone, like most outside of the DROID MAXX, that is going to require you to charge it every single day. With a Full HD display that just begs to be looked at, I'd imagine you'll be fine having to do that, especially since your current phone is probably requiring a similar charging schedule. -K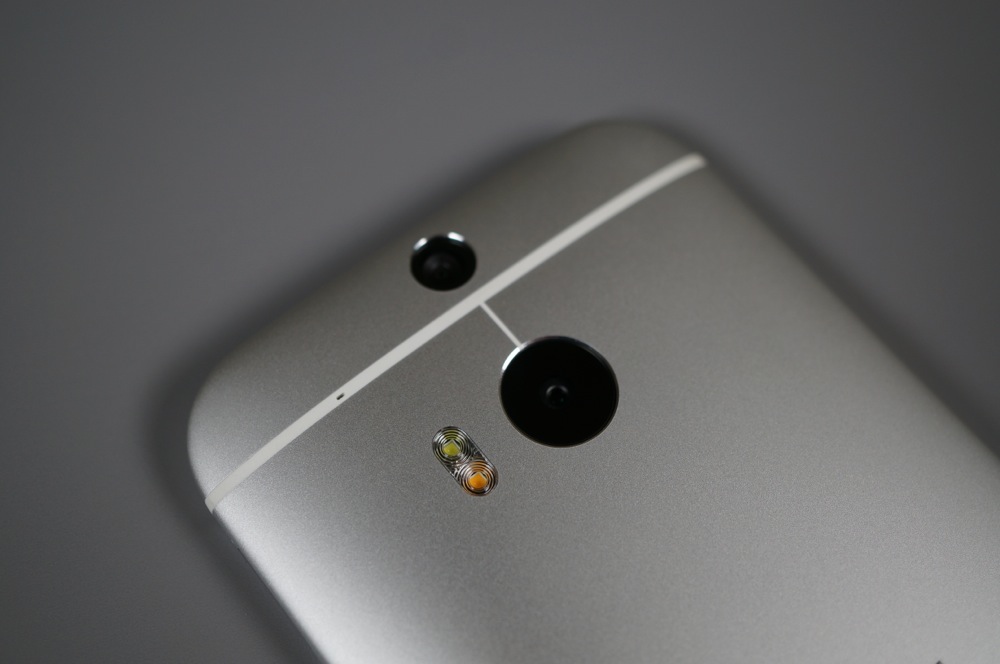 Camera
If you follow Droid Life on a regular basis, you know exactly how we feel about HTC's decision to once again throw a 4MP camera into the One (M8) and then sell it as "UltraPixel" and what they feel is the best camera in a smartphone because it has the potential to pick up more light. We wrote a whole post on how this could be the worst of all smartphone gimmicks. With that said, the 4 "UltraPixel" camera on the M8 is what it is. It's a smartphone camera that is capable of taking some decent pictures that are simply at a resolution (2688×1520) too low for today's standards.
You may be able to take a really nice looking photo, well, at least nice looking on your phone. You could then share it to social networks who will only show the photo at a low resolution. The problems arise when you put that same picture on a high-resolution display, try to crop or edit the photo, or manipulate it in any way after the fact that involves zooming. You just can't do much with a 4MP photo or you will lose all sorts of detail. Hell, take a picture with the M8 and then zoom in on the photo through the phone – you'll know what I'm talking about. Things just start looking murky and unclear real quickly.
But you know what, many of you won't need to look at photos on a high-resolution display, crop or edit them, or even need to zoom in to see details. And if that's you, then this camera might actually be great. As you'll see in the photos below, which have all been resized, the camera can capture great light, movement, colorful landscapes, shoot HDR, and take solid macros.
The camera is incredibly fast, so fast that you may not even realize that you have taken a photo. And remember, we love the software that is used to take and edit photos, so there are some really nice positives here. HTC Zoes are great for finding that perfect still, Pano 360 finally brings Google's awesome Photo Sphere to another phone, the 5MP front camera will probably take the best selfies, and the suite of editing tools is top notch.
I will say that photos do seem to be overexposed at times and are often washed out depending on the light, just like with last year's One (M7). HTC also took out optical image stabilization, so your low light performance and videos aren't going to be as good. Again, the camera isn't perfect, but it is capable.
In the end, the camera on the HTC One (M8) is certainly serviceable. It can take some really nice 4MP shots, they just happen to be only 4MP. If you don't need extra resolution or care about editing after the fact, then this may be the camera for you. -K
HTC Sense 6.0
HTC's Sense is no longer a bad Android skin. Actually, it's pretty good for the most part. HTC has flattened the UI substantially, so it's much more modern than ever before in version 6.0. BlinkFeed – my guilty pleasure – is back again, with more features and a better appearance. HTC added really useful Motion Launch gestures to the device, all of which can be used to activate the phone in some way without ever touching the awkwardly placed power button. HTC has a really great gallery app that can be used to create Highlights, videos of special occasions, parties, trips, or photo shoots. And their TV app is also one of the better in the business.
Sense still has many of its same, long-standing issues though. The multi-tasking UI isn't quite as easy to use as the version Google created for stock Android, the People and contact management system is one of the most frustrating and overwhelming experiences of any Android skin, the app drawer scrolls vertically and has some questionable default layouts, the keyboard is just average, and HTC is still relying heavily on its Personalize menu to do most of its ringtone, wallpaper, and theme changing.
Overall, my feelings towards Sense are much more positive than they ever have been before. If HTC can work out some of those long-standing issues, I'd be close to calling it the best Android skin around. Actually, it probably is the best Android skin around, but that's not saying much. -K
The Not-so-Good
---
Size, Weight, and the Slipperiest Phone Ever
The original HTC One (M7) was arguably too tall with its 4.7-inch display and massive bezels, but this new HTC One (M8) makes it look small, and not in a good way. Due to the design formula that includes dual speakers on the front, even more massive amounts of bezel, and an extra large black space that houses an HTC logo (and "circuitry"), you are looking at one of the most awkwardly long (or tall) devices you'll ever lay your hands on. The M8 finishes at 146.3mm tall, which is just 5mm shorter than the Galaxy Note 3, a device that houses a display with a full 0.7″ of additional space. If you want to use the M8 with one hand, you'll have to shimmy it constantly to get up to the notification bar.
In terms of weight, the One (M8) weighs 160g, which is quite heavy for a smartphone. Last year's One (M7) weighed 143g, the Nexus 5, Moto X, and Galaxy S4 are all 130g. The weight isn't going to make the device too heavy to hold, but you'll certainly notice it in pocket.
And last, the One (M8) suffers from the same slippery exterior that plagued the original M7. It's probably because of the all-metal design, but depending on the time of day, climate, moisture in the air, or whether or not you just lubed up your hands, this phone is incredibly slick. Because of its size and the need to adjust it in the hand regularly, the slipperiness worries me. Thankfully, HTC will replace a cracked screen within the first six months for free. -K
Other Notes
---
Bottom headphone jack:  You can try to argue with me about this point, but I'll never change – all phones should have a bottom headphone jack. Bottom headphone jacks keep the cord out of your way when holding the device, allow you to place your phone in a pocket the appropriate way, and make it super easy to use while in a car, should you use an auxiliary jack. Thankfully, the One (M8) has a bottom headphone jack. -K
No wireless charging:  The M8 does not have wireless charging built into that beautiful all-metal body. You may find a bulky 3rd party accessory that will attempt to add the feature to the phone somewhere down the road, but that's it.
Non-removable battery:  The 2,600mAh battery in the M8 is non-removable. Most phones, outside of Samsung's, have gone this route for years so it shouldn't exactly come as a surprise, though we know some of you love being able to swap batteries.
MicroSD cards up to 128GB:  The M8 supports micro SD cards up to 128GB. That's awesome, even though Google is trying its hardest to kill off compatibility in Android for external cards. If you pick up the 32GB version of the M8, you could potentially bring the total amount of storage up to 160GB. That's insane.
On-screen buttons!:  Ever since Google introduced us to on-screen navigation buttons with the Galaxy Nexus, we have been sold on this as the way all phones should be. HTC followed suit this year, giving us standard on-screen buttons in favor of that awkward 2-button setup they had on last year's One. You can access Google Now at any time, jump to previously used apps in a hurry, and never wonder again if you are hitting the right button.
Bloatware apps count:  AT&T 24; Verizon 19.
Videos
---
Unboxing and Overview
[responsive_vid]
HTC One (M8) vs. HTC One (M7)
[responsive_vid vid_url="1Zqos9l7VfI"]
25+ Tips and Tricks
[responsive_vid vid_url="i3UAuWnP_ik"]
One (M8) in Gold, Silver and Gunmetal Gray
[responsive_vid vid_url="w1gPsIikYh0″]
Google Play Edition Unboxing
[responsive_vid vid_url="KUW0a_CwrFU"]
Google Play Edition Software Highlights
[responsive_vid vid_url="tmaaI6kDyGM"]
Gallery
---

The Verdict
---
HTC has carefully crafted a fine smartphone for 2014. By all means, the One (M8) is a flagship that will be in the same category as the Galaxy S5 and every other top tier device introduced throughout the rest of the year. The premium feel and build likely won't be matched by anyone, just like with last year's One (M7). The display is gorgeous, the design is luxurious, and the overall combination of software with hardware is something HTC should be proud of.
I still wouldn't call the M8 the best smartphone on the planet, though. It has an arguably gimmicky camera, is far too tall for the average hand, and is slippery enough at times, that you'll be thanking HTC for their free screen replacement program.
The good news is that it's available at all major carriers, comes in a variety of colors, and can be purchased as a developer or Google Play edition, so you'll have no problems getting one in hand to decide if it's the phone for you.
---
Links:  HTC One (M8) deals at eBay | Amazon