Verizon announced earlier this week that the Moto G will officially arrive on January 9. We first reported this date, thanks to a flyer that was being passed around at Best Buy stores, however, Best Buy doesn't seem to be paying much attention to it. I bought the $99 prepaid Verizon phone today online with store pick-up, and just about every single Best Buy within 30 miles of Portland had it in stock and available for me to stop by and grab. So I did!
I still can't exactly tell you why, but there is something about spending $99 on a phone to own it outright that seems so worthy of my money. And, we wanted to give you all a quick tour and answer any questions that you may have. 
Phone and Connectivity
At $99, it really is the same Moto G that we unboxed and dove into a couple of weeks ago, only it connects to Verizon's 3G CDMA network, not the various GSM networks that the other variant has access to. The size is identical, the specs are all identical, and the brand-less exterior matches up exactly.
Unfortunately, I was unable to boot the phone up and do a software tour since as a 3G phone, it requires activation in order to work. It's like taking a step back in time, before Verizon had LTE and SIM cards. Thankfully, it's the same experience as the GSM variant, so a review of our overview video should do you well. Speaking of LTE, though, there isn't any to be found here. I don't care what Best Buy's website says, this phone doesn't even have a SIM slot.
If you want to use this with Verizon's prepaid service, you are looking at two plan options. The first runs $60 and gives you unlimited talk and text along with 2GB of data. At $70, the second plan gives you unlimited talk and text as well, along with 4GB of data. Not great deals necessarily, especially since you don't have access to LTE. And remember, Verizon's 3G CDMA network is slow – like, really slow.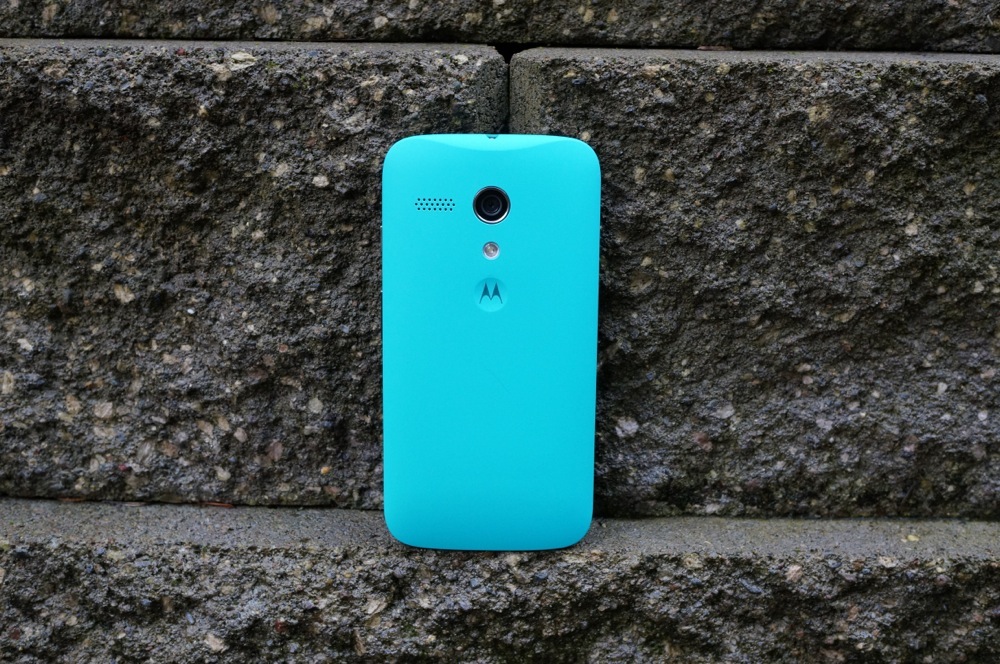 Cases
One thing I love about the Moto G are the replacement "Shells" and "Flip Shells" that Motorola is selling through their own store. We bought a bunch back when the GSM model first arrived, so now with the Verizon Moto G in hand, we thought we'd show a couple of them off.
In the video and gallery below, you'll see both the Shells (back covers, $14.99) and Flip Shells (like a Flip Cover, $29.99) in action. There are at least six colors for each type, so while this doesn't have Moto X customizability, you do still have a handful of fantastic option to make this phone personalized.
The Moto G ships in black, but with a set of fingernails, you can quickly remove the black backside and replace it with one of these shells.
Video Overview
[responsive_vid]
Gallery
Questions
Anything you'd like to know about the Moto G? We have both the CDMA and GSM models in house now, so we should have no problems answering your questions. I still doubt we'll do a review, since this is a $100 phone, but we are here for you.