How many times in your life have you clicked that link? You know, the one that says "Display images below" in almost all of your Gmail messages. Hundreds of times? Thousands? It's a safety measure, but man, how long have we wished Google would find a better way to handle images in emails. Turns out, they have as of today. 
In a post to the official Gmail blog, Google has announced that starting today on desktop, you will no longer have to press that pesky "Display images below" link. Thanks to "new improvements in how Gmail handles images," images will now be displayed automatically. Instead of serving images in emails directly from external servers, Gmail now serves images through Google's own secure proxy servers, eliminating the need for you to press that link each and every day.
Google will check them for viruses or malware, making your Gmail experience "safer, faster and more beautiful than ever."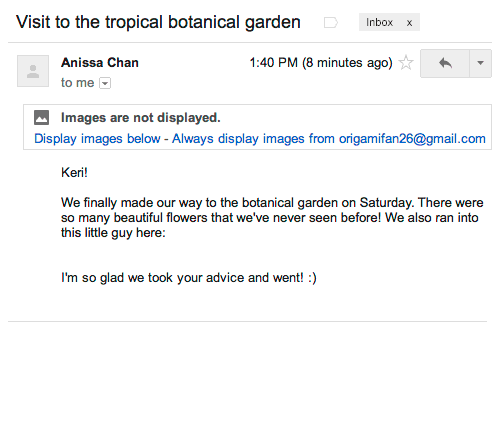 For the anal control freaks security aficionados, you can still choose to authorize image display by choosing a "Ask before displaying external images" option in settings.
As far as Gmail for Android goes, the announcement says that we should see this featured rolled out in early 2014. Sorry, folks, no Gmail .apk sideloading to be had today.