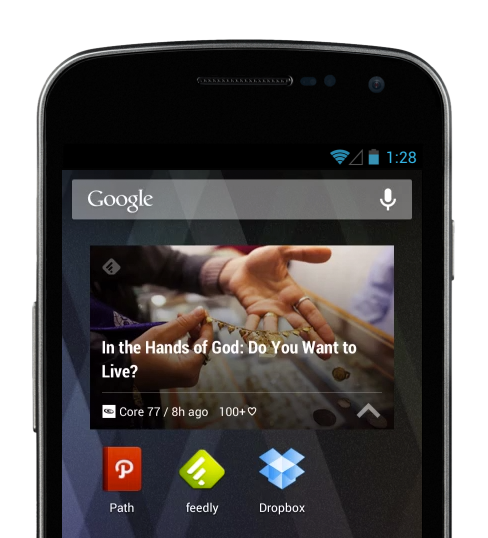 And we thought only Android blogs were to blame for the abundance of Android 4.4 hypebeasting, but no, Feedly has jumped into the arena. In a blog post tonight, Feedly has announced the newest update to their popular feed reader application, grabbing our attention thanks to a note that says "support for Android Kitkat." 
Who knows what they mean by "support" since Google hasn't released anything that we are aware of for developers to use to prepare for Android 4.4 outside of a default SMS API. But hey, we like the enthusiasm!
The update also brings a new widget, makes the app 300% faster, and adds more fluid scrolling, better fonts, search for Feedly pro, a new discover section, support for Galaxy Gear, and more. It's actually quite the update, even if the "support for Android Kitkat" headline is stealing the show.
Go get it!
New version of the android widget
300% faster start time
More fluid scrolling experience
Better fonts and visual design
Search in my feedly (pro)
New discover section
Enhanced feed search
No auto-refresh on restart
New Facebook SDK integration
Support for Samsung Gear
Support for Android Kitkat
Via:  Feedly Blog
Cheers Adam and Jon!