The Galaxy Note 2 from Samsung was a very successful device, with millions of users falling in love with its massive display, excellent battery life, S Pen integration, and non-stop A+ performance. While the size of the device might scare a few people away, there is now a dedicated group of folks who can't imagine having anything smaller in their pockets. Back in early September, Samsung introduced the newest member of the Note family, the Galaxy Note 3, giving Note 2 members a reason to upgrade and others a chance to reconsider their fear of tablet-phone hybrid category.
The key things we kept in mind  while putting this review together were the subtle differences between this device and the Note 2. The Note 3 features a larger 1080p display, up from the Note 2's slightly smaller 720p display. The Note 3 also comes packed with a beefy Snapdragon 800 processor and 3GB of RAM, up from the Note 2's 2GB of RAM and less-powerful quad-core processor. Other little things to note are changes to the camera, overall hardware enhancements, and misc. S-Pen software additions.
Without further ado, let's get to it. This is our Galaxy Note 3 review.  
The Good
Hardware
The Note 3, in terms of specs, is the ultimate beast. For now, it's the top dog on paper, sporting a 5.7″ 1080p HD Super AMOLED display, a Snapdragon 800 chipset, 3GB of RAM, a 13MP back-facing camera (records video at 4K), 2MP front-facing camera, 3,200mAh battery, full stylus S Pen functionality, NFC, 16GB and 32GB storage options, runs Android 4.3 with a more-than-likely quick bump to Android 4.4 once it's released, and a USB 3.0 port, all in a somewhat smaller package than the previous Note 2 device. When it comes to specs, we haven't seen anything like this quite yet. Sure, the Snapdragon 800 processor is in a few devices, including the G2 and even the rumored Nexus 5, but the Note 3 packs 3GB of RAM, allowing it superior multi-tasking functionality. While your everyday user may not ever notice the difference between performance in 2GB of RAM and 3GB, the power users among us will no likely be clamoring for all phones moving forward to come with this spec bump. The phone in most cases is fast and very responsive, but at other times, it acts just like any other top-tier Android device with its minor quirks and performance hiccups.
Display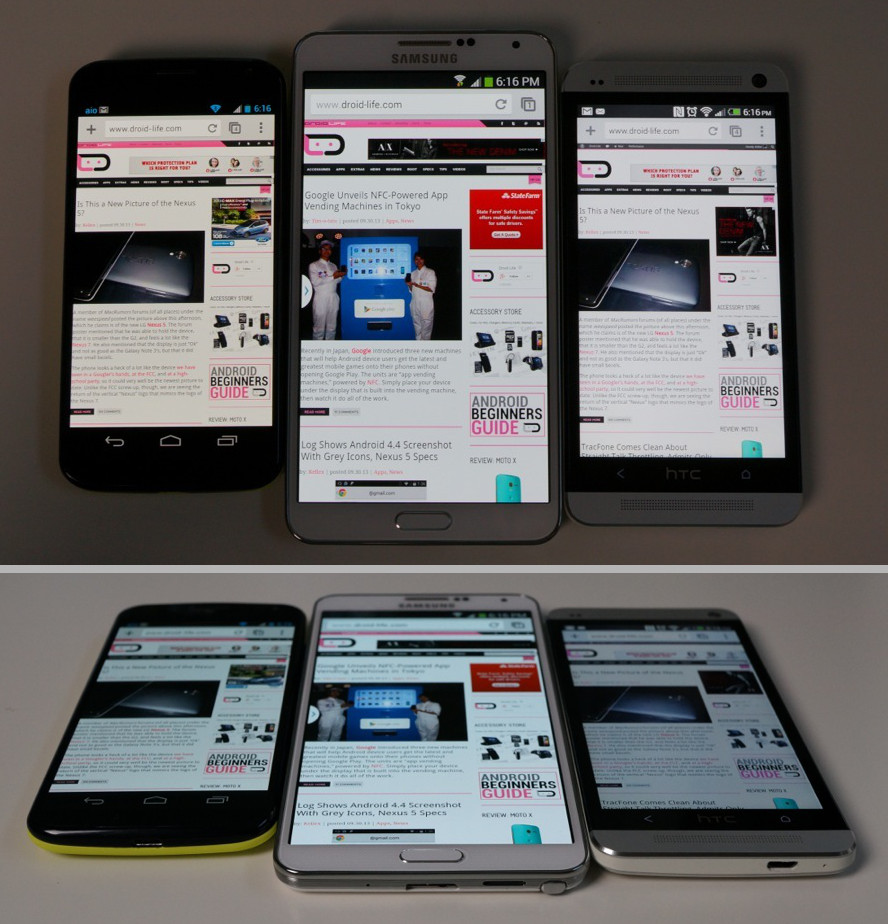 Unlike the Note 2's 720p display, the Note 3 features a 1080p HD Super AMOLED display (386ppi), allowing users to see mobile content in a whole new light. The display is bright, well-saturated with color, and is extremely crisp with text and the tiniest of details. When viewing videos and photos, the experience is exactly as good as you would expect from a 1080p display, although using the phone in direct sunlight is sometimes difficult; you will definitely want to crank up the brightness.
In terms of touching the display, it isn't quite as nice as our experience while using the LG G2, where the screen is almost buttery smooth or soft to the touch. On the Note 3, you feel some stickiness, and it picks up grease quite easily, but beyond that it is an extreme joy to look at and touch.
The pixel arrangement is an odd diamond shape, similar to what we saw with the Galaxy S4, but isn't technically considered PenTile. It takes a macro lens to notice the arrangement, so don't worry about your naked eye being able to pick any of it up during scrolling or image viewing. This may not be the RGB stripe you'll see from LCD counterparts, but it's as good if not better in some instances, especially when it comes to producing black. You'll also notice how cool it displays whites when compared to other AMOLEDs like that featured in the Moto X. Overall, this is a really nice display that has incredible viewing angles, impressive brightness, and great color reproduction.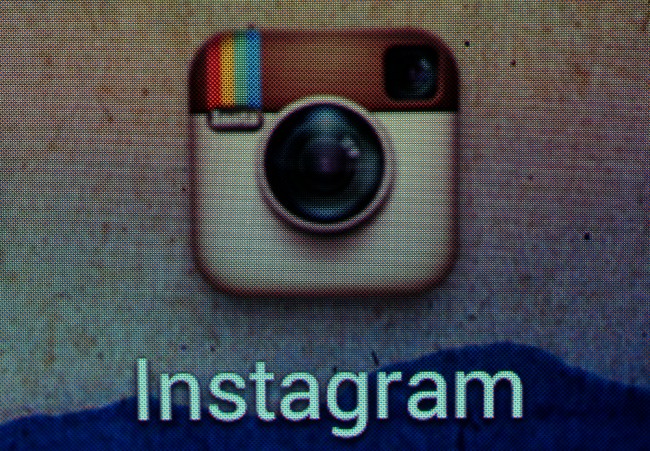 Macro for fun – Full resolution.
Camera
The Note 3's camera is a huge plus for the device. It has a 13MP sensor with anti-shake technology that Samsung is calling "Smart Stabilization." We don't think it's true OIS (optical image stabilization), like you'll see found in devices like the LG G2, but could be digital image stabilization. That aside, when shooting on max resolution, photos come out with extreme detail, crisp and clean. It is especially good at taking close-ups and macros, while still getting the job done when it comes to landscapes and wide angle shots. I am very critical of smartphone cameras, given that I adore Instagram, and this device easily passes my tests. Sample shots can be seen below.
Full resolution: 1 | 2 | 3 | 4 | 5 | 6 | 7 | 8
And while taking pictures is great, don't forget that this device is capable of shooting 4K video (only on Snapdragon 800 variants, which are U.S. carrier variants). Yep, 4K, baby. Before taking 4K video, though, you should make sure you have a lot of space on your memory card. After shooting a 30 second video in 4K, the file was roughly 300MB, so if you plan on using the Note 3 to shoot a documentary or action flick that can be replayed on your $10,000 TV, you will need a few SD cards laying around.
The camera comes with plenty of filters and different pre-loaded settings from Golf (yes, reallY) to HDR to Animated Photo to Drama modes, all of which have their own benefits if the time calls for them. Burst mode is included as well, along with face detection software, picture-in-picture video and stills, the ability to take stills while recording video, and enough manual settings (ISO, white balance, and exposure) to satisfy even camera enthusiasts. Samsung's camera software has never been my favorite as it tends to overwhelm, but it gets the job done once you become familiar with it.
I will say that I noticed far too often the phone "Processing" after snapping photos. Since I'm coming from the LG G2, which took pictures in a split second, the waiting times seen between photos is a bit unexpected and unwelcomed. The processing between shots wasn't constant, but it showed up often enough for me to notice it (screenshot).
Battery
The Note 3 comes packed with a removable 3,200mAh battery. For having a 5.7″ 1080p display, quad-core processor and 3GB of RAM, the battery holds up pretty well over a normal day of usage. For the review I definitely used the phone a lot more than your average user, playing tons of games, taking lots of photos, and running a lot of apps simultaneously. Unsurprisingly, it held up very well to my torturous review regiment. From the mornings when I unplugged the device to the nights when I plugged it back in, the phone always had about 10-20% remaining. Although, when running certain games such as NFS: Most Wanted for a few hours, I would notice significant battery loss. For a game as intensive as that, that's no shocker. To sum it up, I had no issues with the device's battery, so I am pleased to report that.
S Pen software
I was a heavy user of the Galaxy Note 2 after it was first released, but one thing I hardly ever used on that device was the S Pen. I saw the need for some users to have it, but it just didn't seem very practical at times, at least for me. With the Note 3, my opinion of the S Pen and Samsung's baked in Pen software has changed quite  bit. I find myself using the pen when I am out and about a lot more often than I ever did with the Note 2, thanks to apps such as Scrapbooker and Pen Window. For example, I was making dinner and the recipe called for a lot of ingredients from the store. I took a screenshot of the ingredients in the Chrome browser app using Screen Write, then I was able to physically check off what items I had in my cart while at the store using the pen. This function is available for Note 2 owners, but that is just my top-of-the-head example for everyday use.
Using Pen Window is when I really fell in love. With this app, you can draw windows on your homescreen while in any other app, and then open additional applications inside of that window. For example, if I am in my gallery, but need to chat with my friend on Hangouts, but don't want to close the gallery, I can simply draw a window and place Hangouts inside and have full control over both apps at the same time. It's like Multi-window, but with Pen Window, I can collapse any app I have open into a ChatHead-like popup that I can move around my display. If I need the app again, I can just hit the little popup and I'm back in the app. To get a better idea of what I'm talking about, watch the video down below where I go over all of Samsung's S Pen software. If you were planning on picking up a Note 3, you will need to watch this.
Availability
When it comes to finding this phone in a store near you on launch day, Samsung spared no expense. As of this posting, you can find the Note 3 on Verizon, AT&T, Sprint, T-Mobile, and US Cellular, all starting sometime within the first two weeks of October. Almost every carrier has the device priced at $299 for the 32GB version (Sprint's model starts at $349). Samsung has been very good about getting its flagship devices into the hands of as many people as possible on all carriers, and the trend continues with the Galaxy Note 3.
Somewhere in the Middle
Performance
Much like we saw with the Galaxy S4, the current version of TouchWiz that is running on the Galaxy Note 3 sometimes hinders the Note 3's performance. The Galaxy S4 received an update after it was released that allowed the device to speed up, and we are hoping for the same thing here. The Note 3 has a next-gen quad-core processor and 3GB of RAM, so there is no reason to see performance issues. It wouldn't be a shot in the dark to blame any type of slowness on Samsung's software.
Most of the issues (stuttering, lag, slow app switching, etc.) we have seen come when you are running Samsung's stock home launcher that first appears packed with widgets. Once the widgets are removed, it seems to be more of a fluid experience. But again, with 3GB of RAM and a Snapdragon 800 CPU, there shouldn't be a delay when exiting an app or launching one of Samsung's heavily advertised S Pen features, something we saw quite often.
Another frustrating time to see performance issues is in the camera through the previously mentioned "Processing" message when you are taking pictures. Many of the times we snapped a shot in Auto and with ideal lighting, were then met with the on-screen delay while the phone processed the photo. Both Kellen and myself have been met with this issue time and time again, one that we are hoping is resolved very soon. Again, we had zero lag with photo processing on devices like the G2 or Moto X.
A phone that comes with futuristic specs needs to perform flawlessly. That's what people are paying $299 on-contract for. Although, take a look at these benchmarks and you will be surprised that this device has any performance flaws at all. But like we always say, benchmarks are never a true way to measure a phone's real-world performance.
Click for full size.
Overall feel and design
Before the Note 3 was finally unveiled, there were numerous rumors and reports on the Web suggesting that Samsung was going to change the look of the Note series. There were talks of seeing a metallic Note 3 or even a curvy looking device, but once we saw how Samsung changed the S3 into the S4, I was certain that the company would go the same route for the Note lineup. Sure enough, Samsung followed the exact same guidelines by making the screen bigger, bezels smaller, device thinner and gave it a more straightforward look, meaning it's not as bubbly or curved as the Note 2. It's a very handsome device and looks quite premium with the metal accents along its sides. In short, it's a hot phone from the front.
The Note 3 is massive, though, and for some people that's the initial draw to or away from it. They purely want a big phone. But again, what should impress you about this design is the fact that Samsung managed to fit everything we have already talked about into a package that is actually thinner and lighter than its predecessor. At just 8.3mm thick and at 168g, you are looking at a substantial difference in build. If you can manage a device this big, you'll be impressed by its size.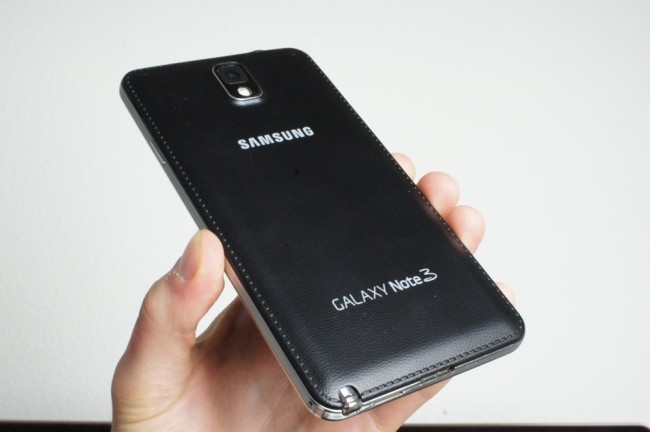 With that said, the way people feel about the backside might not all match, as I for one don't really care for the notebook-inspired aesthetic the device give off. Samsung decided that to give the phone a better look and feel, they would ditch the glossy plastics seen on the Note 2 and Galaxy S4, and instead place a faux-leather material along the backside to resemble the look of a real leather-bound notebook. It does look and feel sort of nice at first, but once you really get your eyes on it, and start getting your fingers all over it, it just doesn't give off the feeling of a premium material you were led to believe it had. Sure, it's not pure plastic like we saw on the Galaxy Note 2 or the Galaxy S4, but this isn't much better. At the device unveiling, Samsung touted the stitching along the edges of the backplate, but when you look closely, they are nothing more than just "plastic" bumps that resemble stitches. The feeling of the backside does resemble leather, and gives off a good feel, but it's not at all what I had initially imagined. It's just a textured "plasticy" battery cover.
While plastic-fake-leather-with-stitching is not the worst thing to look at, it would be nice to see Samsung announce replaceable or premium backplates that can be hot-swapped, if that leather isn't to your liking. We would love for there to be different color options or even material options for that matter, especially after seeing what Motorola has planned for the Moto X. Knowing Samsung, it's almost certain there will different colors of the device, and if you feel like using a Smart Cover, then obtaining a new look will be very easy for you. And don't forget that the third party accessory industry will surely have you covered as well.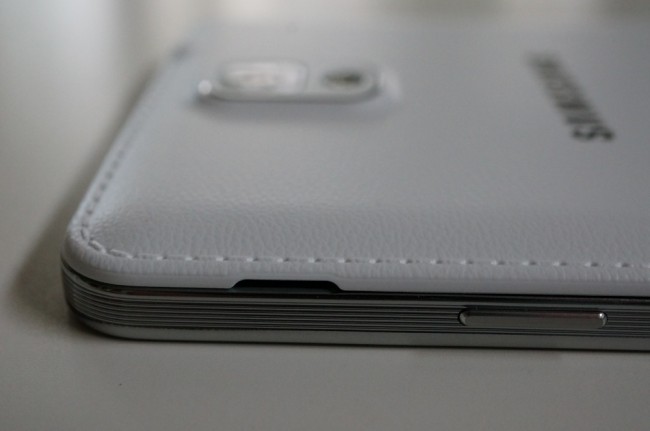 The Not-so-Good
TouchWiz
Samsung's custom Android skin, also known as TouchWiz, has needed a design makeover for 3 years now, yet here we are in 2013 with a UI that looks straight out of Android's Gingerbread days. It fails to utilize gestures in menus, uses unnecessary animations throughout that cause lag, has an incredibly complicated settings area (more on that below), and includes so many single-use case add-on features that we're not sure a normal human could take advantage of them all in a two or three year period. The biggest smartphone manufacturer in the world should be able to do better than this.
Companies like LG have similarly terrible UIs, except they are at least trying to adapt theirs over time to meet Android design guidelines and to add on subtle, yet useful features. Samsung, on the other hand, appears to be stuck in a "if it ain't broke, don't fix it" mindset. Rather than spending some of those extra advertising dollars on an innovative design and intuitive Android skin, they continue to pile on features without a clear way to present, explain, or convince anyone to use them.
Audio jack issues
Unfortunately, much like we experienced with the Galaxy S4, the Note 3 is currently suffering from some type of headphone jack audio issue. I'm no professional sound engineer, so please excuse my crude explanation of the problem. This issue has been documented on various user forums for the S4, so at least I know it's not just my review unit that is having issues. When listening to music through the 3.5mm jack, you are sometimes met with a very weak sound. It's as if the sound of the music isn't "full" or quite loud enough. Then, after a few minutes without touching anything while at full volume, the volume just explodes and you are left deafened by the surprise volume attack. Some people are pointing towards low-impedance headphones being the issue, but I have had the problem on multiple pairs of headphones, in-ear buds, through car decks, and everything else. It's a very frustrating and reoccurring issue that I wish Samsung would find a cure for. Until then, I fear listening to music out of this device because I don't want to go deaf. It might sound crazy, but it's a very real issue that I experienced over the course of time I had the device.
Sticky power button
Whether it is only my unit or a potential widespread issue (Kellen reports no sticking on his international unit), the power button on this Note 3 sticks. The problem seems to arise when I hit the lower end of the button, and then once it's stuck, I just have to repress once or twice to unstick it. When I go to turn off the display, quickly hitting the power button, it will then get stuck and I am met with the Power Off menu. This is annoying. Whether the button just needs to be worked in to prevent the sticking, I don't know. While I hope it's just my unit that might be "damaged," it's impossible to tell at this point until everyone else gets their Note 3s. Let's hope it is only me.
Cluttered Settings menu
The Note 3 has so many features that you can easily get lost inside of the Settings menu. With settings for Air Gestures and Motion Controls, it's just crazy to me that Samsung has not come up with a better way to either a.) label the menus better or b.) display these settings in a more user-friendly fashion. For instance, it would take someone with little smartphone experience quite a long time to navigate and find the correct menus to fix something. Luckily, there is a "search" bar in the settings menu, but when you don't know the name of the particular setting you are looking for, it's rendered useless. The Settings menu is based on four tabs along the top of the display. You have to hit each tab to see their contained settings options, and you cannot slide between each tab with a swipe. That is just silly. LG did the right thing and made it possible for users to easily slide between each tab. If you have already been a user of TouchWiz, none of this will shock you. If you plan on this being your first TouchWiz-powered device, be prepared to navigate yourself through the endless menus upon menus of settings.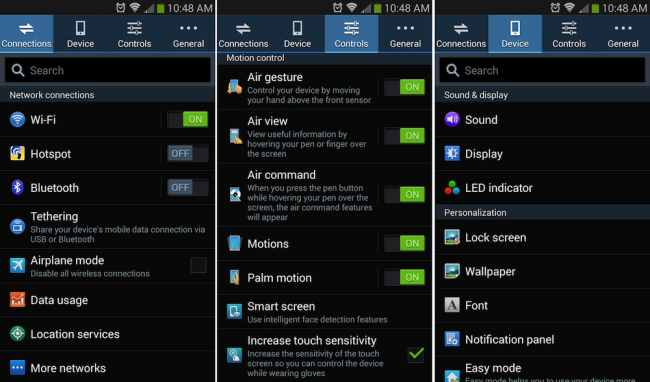 Bloatware
Just like any other device you purchase that is tied to a carrier, it comes packed with bloatware. The Galaxy Note 3 on Sprint is no different at all. When added up, the bloat count for the Note 3 is only 13, which isn't nearly as bad as the G2's 20 bloat apps, but it's still just as annoying. When first powering on the device, I was met with app updates for each one, so the initial setup of the device was postponed because of that. Luckily, you can disable any and all of the bloatware you like, so at least Android allows for that. Thanks, Google. We appreciate it.
Speaker placement
Samsung decided to place the Note 3's speaker along the bottom of the device, which is different from the Note 2's placement. The Note 2 had its speaker along the lower-backside of the device, not on bottom. This is an issue because the way you hold the device while in landscape mode, completely covers up the speaker. If you are playing a video game or watching a video, you have to be conscientious of where you place your fingers, as not to block the speaker. That's a serious downer in my book, as I tend to play a lot of games and watch a lot of videos. What I end up having to do is sort of spider grip the backside using my right hand, which actually hurts after a while. This comes off as just improper design testing to me.
Gallery
Videos
Unboxing
Overview
30+ Tips and Tricks
Verdict
The Galaxy Note 3 is priced at $299 on-contract through all major carriers ($349 at Sprint) here in the US. The price isn't surprising, as this is the tippity top of the top tier offerings from any manufacturer in the world. It delivers the best specs a phone has seen to date, fantastic battery life, and is a mobile photographer's dream device thanks to its impressive 13MP camera. Besides the minor inconsistencies in performance with TouchWiz and a few disconcerting hardware issues with my unit (power button and audio jack issue), this is a killer device for anyone who wants a big device. If you are coming off of the original Note or upgrading from the Note 2, you will love this phone completely. It is in every way, shape, and form, a step in the right direction for Samsung.
---
Links:  Galaxy Note 3 deals at eBay | Amazon