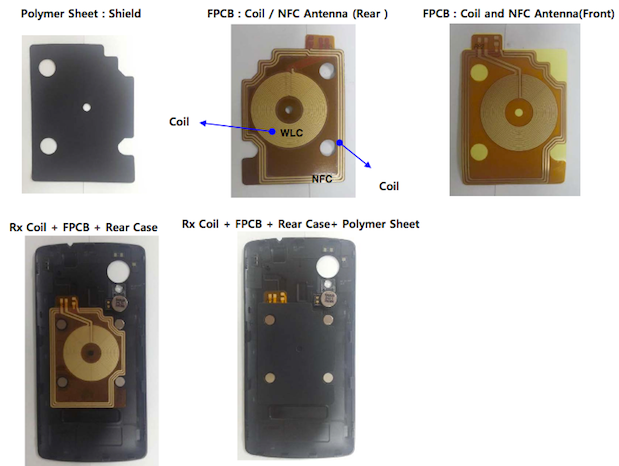 Earlier this week, Google announced Android 4.4 would be called Kit Kat. In turn, they posted a video showing off the unveiling of its campus' newly delivered delicious statue. Incredibly enough, whether it was on purpose or not, a Google employee was spotted snapping pictures during the event with an unannounced smartphone. The Web quickly went abuzz and talks of a Nexus 5 ran wild. 
Like hypebeasting clockwork, a supposed LG-made superphone (model D820) has hit the FCC. Could this be the Nexus 5? If you look at the devices backside, you will see a large opening for the camera, lining up almost perfectly with the picture we saw taken from the Kit Kat video, which was made private by Google.
Inside the FCC report, we see LTE support for AT&T, Sprint and T-Mobile, but no signs of support on Verizon. In addition, we see a Qi wireless charging coil, Bluetooth 4.0, NFC and dual-band 802.11 b/g/n/ac. Even if this device turns out not to be the Nexus 5, it will still be a pretty powerful phone.
Below is the shot taken from this week's video. Look familiar, now? Let us know your thoughts down below on if we should put money on the D820 being the Nexus 5.
Update: Engadget gleaned a bit more information from the documents that were filed at the FCC tonight that shows that we most likely are looking at a Nexus 5. The firmware is listed at M8974A, which points towards a Snapdragon 800 SoC. As if that wasn't exciting enough, the software version of this device is listed as:
"aosp_hammerhead-userdebugKeyLimePieFACTORYeng.sangjoon84.lee.20130618.015154."
Yes, "hammerhead" was first reported by us last week as being the codename of the next Nexus. The "aosp_" is something that Google has taken to doing on their Nexus devices and gives us a good indication that this might be another one. As for the KeyLimePie bit, the name change to Kit Kat could have been a last minute change that hasn't been reflected in software builds yet, but only time will tell!
Update 2:  A reader (Cheers Tyler!) of ours dug even further into the FCC docs and came away with it having a 4.96″ (or 5″) display and 2300mAh battery. [FCC]
Update 3:  Here is our round-up of everything including a render and our opinions on this working with Verizon's network.