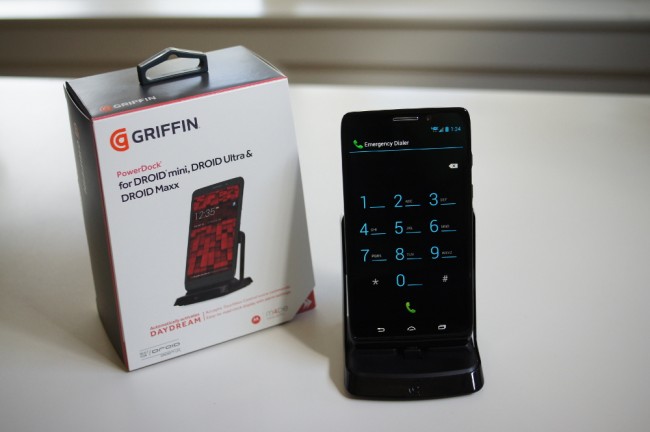 Because I'm impatient, and grew sick of waiting for Motorola to release the official PowerDock for the Moto X, I went ahead and ordered a similar dock made by Griffin that was built specifically for its half-robotic DROID brothers on Verizon. This is the DROID PowerDock, that while being made by the same company, is still strikingly different than the modern, minimal design we are expecting to see with the official dock for the Moto X. It has definitely been DROID-ified with a boxy, all-black exterior. 
The dock runs $39.99 from Big Red, though I'm sure you could find a corporate discount or coupon code somewhere online to drop that down a bit. There is no audio jack or HDMI-out port – it's more of a desktop dock than anything. The sell here, is that it props up your phone at a reasonably comfortable viewing angle to let you take advantage of Android's DayDream functionality or to use Motorola's TouchLess Controls while your phone charges. That's pretty much it. It does all of those things well, so it's purpose is indeed served.
But does it work well with the Moto X? It does, sort of. When placed in the dock, the Moto X wobbles a bit much for my liking, but will charge or sync since the center-placed USB plug matches up to that of the dock. I definitely wouldn't recommend that you buy this dock for your Moto X, though. This dock was clearly designed for the DROID line and no other phones.
The dock comes with three inserts that can be swapped out around the microUSB plug to help you adjust fit in case your phone has a case around it. Those inserts are also made for each device – the Mini, ULTRA, and MAXX. I was able to test the ULTRA on the dock, and can't complain about anything. The device fits perfectly on the PowerDock as expected. It's a solid product, assuming you are in the market for a dock.
Note:  Yesterday, the Moto X PowerDock became available from Motorola for a brief time. However, shortly after we ordered one, Motorola sent out emails saying that a glitch in the system had caused them to show as in stock, when they really aren't expecting inventory until some time in September.
Video
Gallery