Late last night, Google announced that a new update to Google Search would be rolling out as early as today that includes a bundle of new Google Now cards. We're looking at new cards for car rental reservations, concert tickets, a card for commute sharing, and NCAA football scores, along with revamped transit and TV cards. 
The transit, NCAA football, car rental, and concert tickets all sound exactly like you'd expect them to be. But this new commute sharing card sounds quite interesting. Using Google+ location services that you have shared with friends, you can now inform friends and family if and when you have left for your typical commute to or from work. [more info]
The TV card now lists out music that is playing during shows you are watching and can tell you about the news mentioned in the program.
Last, you can set reminders for music artists, movie actors, filmmakers and TV shows on Google as you search for them. You should now see options to set reminders depending on which you are searching for.
The update is massive and again, should start rolling out today. As soon as you see it, let us know!
Update:  Here is the manual download. [via]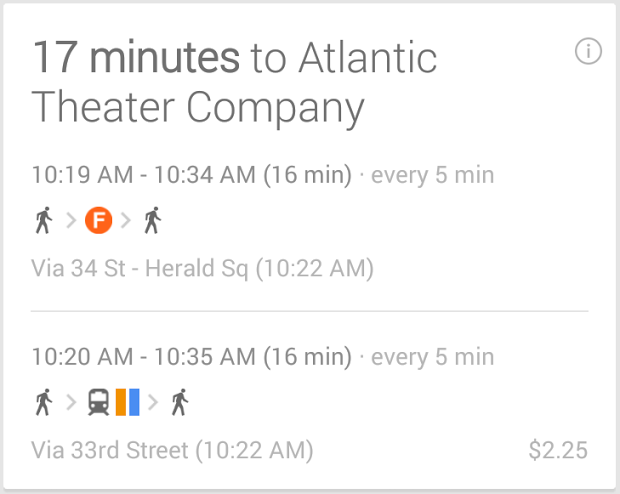 Here is the full list with descriptions:
Car rentals card: Get reservation details and directions to the rental center directly in Google Now, which together with the boarding pass and hotel reservation cards, makes Google Now your ultimate travel companion.

Concert ticket card: Going to a concert? Google Now will have your event ticket ready when you arrive at the venue; along with popular, locally relevant websites, such as the upcoming events page for the venue.

Improved public transit cards: If you regularly take public transit, Google Now will now inform you about the last train or bus to home so you never miss it.

Commute sharing card: When leaving work, you can now choose to inform your loved ones that you are on your way home.


Set reminders while you search: When searching for music artists, movie actors, filmmakers and TV shows on Google, you'll see a new "remind me" button on the panel by the search results. Click on it and a Google Now reminder will show up for new albums, book releases or upcoming TV episodes.

Updated TV card: Google Now can tell you about the news mentioned and music playing in the TV show you're watching, in addition to program information and people mentioned in show. Simply tap on the TV card if you have a smart TV or tap on the mic and say "listen to TV".

NCAA football scores: Football season is about to start, and Google Now has you covered–you can now see real-time scores for your favorite NCAA team in Google Now.
Via:  +Android