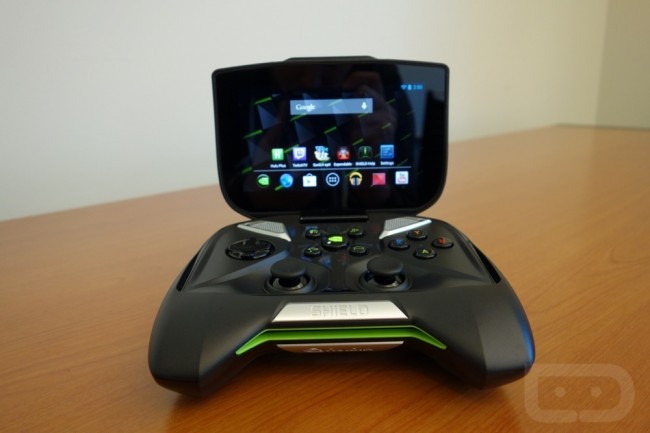 Unveiled at the 2013 Consumer Electronics Show in Las Vegas, NVIDIA's SHIELD portable gaming console has changed quite a bit from when it was first shown off. We were one of very few sites that were able to get an early hands-on experience with the device, falling head-over-heels for the "Project SHIELD" almost immediately after playing with it. Now in late July (thanks to a delay or two), the device is ready for the general public, undergoing a few cosmetic changes and other enhancements to make it into what NVIDIA hopes is a superb Android-powered gaming device.
SHIELD is capable of performing an extremely long list of tasks – some jaw-droppingly awesome, some just plain awesome, but with a price tag of $299, is SHIELD worth the investment to everyday buyers or best suited for only the hardcore gaming elite? Let's take a look. 
The Good
Hardware
NVIDIA's SHIELD comes packing some sweet specs that any gamer would go gaga over. It is powered by a Tegra 4 quad-core processor clocked up to 1.9GHz complete with a 72-core GeForce GPU, features a 5″ HD 720p (1280 x 720, 294 ppi) display, 2GB of RAM, 802.11n 2×2 MIMO game-speed WiFi connectivity, 16GB of flash storage (with expandable microSD card slot), Bluetooth 3.0, 28.8 watt hours of battery, and comes running a vanilla version of Android 4.2+. While the interior of the device sounds "beasty," it is in no way outdone by the SHIELD's eye-catching exterior.
The device features a full built-in gaming controller, complete with two left and right thumb joysticks, a full D-pad, a left and right trigger and a left and right bumper button configuration along its backside. In addition, SHIELD features two insanely-loud front-facing speakers, capable of putting out enough sound to make anyone deaf. And I'm not exaggerating – these things are loud. On paper, this device is a top-tier luxury device that can deliver an excellent gaming experience for the price of $299. While we're at it, we should mention the SHIELD comes with an unlockable bootloader, but tinkerers beware, this will void your warranty.
Battery Life
The battery found in SHIELD is comprised of 3 cells with a combined rating of 28.8-watt-hours. The device is capable of delivering 4 to 5 hours of hardcore Tegra-optimized gaming, while offering up to 10 hours of typical Google Play non-optimized gaming. Users can play up to 15 hours of HD movies while on that cross-Atlantic flight or listen to music up to 40 hours. It's definitely a beefy battery, something I never even worried about while I spent time with the device. If battery is something that has concerned you with portable gaming consoles, you don't need to worry about that with SHIELD.
Build Quality/Feel
SHIELD is a beautiful device. I love looking at it. It's smooth to the touch, with a hint of this rubbery slick texture, perfect for holding hours on end. I put the "feel" of the device to the test while on a flight back from San Francisco and while I sometimes occasionally get uncomfortable holding my Xbox controller for hours on end, the SHIELD offers a somewhat exaggerated size to it, allowing for a looser grip than that of the Xbox controller. Since it's bigger, your hand is forced to ease up on the grip, allowing the device to rest comfortably in your hands. It's sort of a hard thing to describe, but whenever I had a friend hold the device, they were surprised by how solid and portable the device felt.
The device does have a bit of weight to it, but that gives off the sense of sturdiness and ruggedness that someone would expect from a mobile gaming console. If dropped, you would want to make sure your $300 unit wasn't going to fall apart on you. After opening and closing the clamshell lid a few hundred times, it still feels as if it's brand new, with no sign of looseness or wobbliness, something I was actually anticipating after a lot of use. For not being known as a real hardware maker, NVIDIA nailed that aspect for SHIELD.
Mobile Gaming on SHIELD
Is it a surprise that the gaming aspect of SHIELD is a positive? I would hope not! The experience is unparalleled. Sure, you could hook up some MOGA controller to your current device and get the same "feel," but it's just not the same. When playing SHADOWGUN or Dead Trigger, the SHIELD is badass. This ties directly into the overall feel of SHIELD, but if you like the feel of an Xbox controller, then this device's sticks are going to feel right at home in your hands. When playing an online multiplayer game, you pretty much have an unfair advantage over other players, but hey, nothing wrong with that. So far, I was able to take SHIELD with me on a plane, in a car, on the couch, at my desk and even on a bus. On each of these occasions I experienced a good time. The display's ability to be angled completely back is also a huge plus while on the go, as there is no need to worry about weird glare or something like that. SHIELD was definitely built for gaming and if it does one thing right (it does more than one), it's the gaming aspect.
Timely Updates
When we had our meeting with NVIDIA to brief us on SHIELD, we brought up updates, given this device is basically running pure Android 4.2 with very minimal optimizations for the device. According to the SHIELD team, the device should receive updates to new versions of Android just six to eight weeks after they launch, a timeframe that isn't bad at all. Considering it takes much longer sometimes for other OEMs to get updates done for phones, we were happy with that number. Updates will come directly from NVIDIA, and after already receiving an OTA or two on the SHIELD, I can gladly say the updating process is a breeze.
Accessories
SHIELD launches with a few accessories, one of which we would highly recommend picking up if you plan on buying a unit. NVIDIA designed these custom tags, which are magnetic lids that go onto the device. This is an easy way to customize your SHIELD to your liking, but NVIDIA stated that these would be used more in a multi-SHIELD household. There is a plain black lid, a carbon fiber (my favorite) and a metallic silver cover. All are made from good materials and don't show scratches or wear after quite a bit of use. The accessory which we urge you to pick up is the hard shell case. If you are going to be doing any traveling with SHIELD, you better have one of these. They run $40, but are designed to fit the unit perfectly and also come with a slot in the backside, perfect for charging while the device is bundled up safely in the case. In the future, we would love to see more products come out for SHIELD in terms of accessories, especially more colors/options for custom lids.
Features Found Nowhere Else 
SHIELD is capable of streaming PC games over your home's WiFi connection, something no other device is capable of doing. The only issue is that you need a GeForce GTX powered desktop, but if you have one of those, you are in real luck. I don't have the required hardware at my house, so unfortunately my review will lack any portion of this awesome feature. Although, NVIDIA has done plenty of their own videos and highlights of this feature, a bit of which can be seen in the below video. If this feature is the main-selling point for you, then check it out.
The Not-so-Good
Cost
Now let me clarify, the price of $299 is not outrageous or even uncalled for when it comes to SHIELD. The main issue, is potential customers in general. No, I'm not calling anyone cheap, but every time the price is mentioned there are plenty of people who claim that the price is keeping them from picking one up. It was announced that SHIELD would launch for $349, a price that seemed reasonable for what you get. This is not a janky device. It is made of high quality materials, brings a polished gaming experience and the support of NVIDIA. After plenty of community feedback, NVIDIA backtracked and lowered the price to $299 and still, the community didn't feel it to be low enough.
Now, another issue is that companies such as Google are creating great products with ASUS and Samsung, then taking a financial loss when customers buy their products at ridiculous prices. Google can get away with not meeting margins, other companies shouldn't settle for this. If NVIDIA makes a superior product and values it at $299 or even $349, they should stick to their guns and not devalue their own product in light of some negative feedback. To sum this section up, $299 is a great price if you plan on using SHIELD to its potential. It has the PC game streaming over WiFi, a solid 5″ display, Tegra 4 performance and a fantastic controller built in. If that isn't worth $299, I don't know what is. If you are buying this to play games found on Google Play, then this investment may not meet its potential.
Lack of 1080p Display 
Using a 720p HD display instead of going Full HD could be a result of attempting to keep their price low. For this, we understand, but the SHIELD's display reminds us of last year's Nexus 7. The colors don't pop and images aren't extremely crisp. It gets the job done, but if I was streaming my high-quality PC games to SHIELD, I would want to see some high-res awesomeness. Unfortunately, there isn't much else to say on the matter, but if there ever is a refresh of SHIELD sometime in the future, we hope it comes with 1080p.
Finding Games That Aren't Compatible
This has been our number one issue with SHIELD. Over the course of time we have had our review unit, plenty of awesome games have hit Google Play, games that would pair very well with SHIELD. What is even more concerning is that there are a number of games that have been on Google Play for some time that SHIELD would go nicely with, but there is no support. Here are a few that should be compatible right from the start, yet aren't – N.O.V.A. 3, Need for Speed: Most Wanted, Crazy Taxi, Smash Cops Heats, Into the Dead and the list goes on. NVIDIA combed Google Play and has a list of 100+ titles that are compatible, but as a group of Android enthusiasts who enjoys mobile gaming, their list really didn't impress us.
A big peeve was downloading a game (sometimes they are huge 1GB+ files) and opening it up on SHIELD, only to find that the controls didn't work. Playing a game with on-screen controls with SHIELD is so awkward that we didn't even bother in most cases. If you can't use the controller, then what's the point? This issue, in our eyes, should be addressed by NVIDIA supporting some type of platform for developers to quickly build in SHIELD compatibility. If users were assured that support for the device was coming to games they want or even a thought in the developer's mind, it would help quite a bit in the short term.
No Front-Facing Camera 
The lack of any camera at all is sort of a downer. We could chalk this one up to keeping the price down again, but it's still something that plenty of people would have liked to see. There seems to be plenty of room for a front-facing shooter, but what's done is done. This would have been a great little Google Hangouts device as the device acts as a stand for itself, so again, this is just a downer to us.
Huge Bezels 
Sorry for the nitpicking, but this bugs us enough to justify its place in the not-so-good section. Surrounding the SHIELD's display and its edge, there is about a 3/4″ gap of just pure bezel. We would have loved to see this space filled by more display, but what can you do? When you look at the device's front, you get the sense that the display is almost too small for how big the controller is, as if the screen isn't proportionate to the monster controller. Again, this might just bother us, but along with a 1080p display, we would have been happy with a bigger one too.
Interface Gallery
Device Gallery
Videos
Unboxing
Hardware and Software Tour
Playing With an AR Drone 2.0
Dead Trigger 2 Gameplay 
The Verdict
Well, time to wrap it up.
In conclusion, I would just ask that potential buyers be sure of what they are looking for SHIELD to accomplish. If you are looking for the perfect device to connect to your PC for streaming games to your couch, then it's a no brainer. If you are looking to have an over the top Google Play gaming experience and want to maximize your fun, while spending $300, then go for it. I think SHIELD overall is a fantastic, albeit luxury device. This isn't a toy that everyone needs though, and unless you are very heavy into mobile gaming, then it won't serve much of a purpose. It has no camera, the display is awkward to use when not using the built-in controller, and for $300, some people might want to get more for their money.
My best recommendation would be to see if there is a SHIELD Experience Center near you. If so, go spend some time with the device. Get your hands on it and see if this is something you would truly want/need. Experience Centers are all over the country and you can find one near you by following this link.