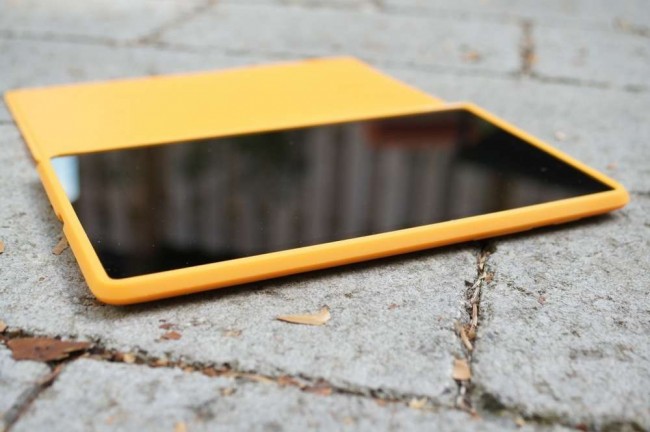 With the new 2013 Nexus 7 now available from a variety of retailers, we are starting to see the official accessory line-up for the device become available as well. The first of the bunch that we were able to take a look at is the Travel Cover, which is a lot like last year's travel cover, only it doesn't say Nexus anywhere on it. But it's a TPU-style case that flips open or shut, has cut-outs in all the right places (even for the dual speakers), and should give you a decent amount of protection for around $20. With that said, I wouldn't necessarily recommend that anyone buy this case as it doesn't offer the tightest fit nor does it include a sleep-wake magnet. 
As you'll see in the video below, the case wraps around the device nicely, is made of a decent rubber material, and again, has all of the proper cutouts for ports, cameras, and speakers. But that's sort of where the good ends. When holding the device with case on, should you place your thumb or finger near the edge, the rubber slips off of the sides just enough to scare and annoy you. While I don't think the case would easily slip off the entire device, feeling any slippage at all in a case is not something you should look for. The video will show this issue in more detail.
Also -and these are sort of minor issues – the case doesn't say "Nexus" on the back like it did last year (cosmetic annoyance), plus it lacks a magnet inside the cover. So when you open and close the case, the device won't either wake or go to sleep. In other words, you have to press the rubbery lock switch to wake your device each time you want to use it.
And I don't know if this is bad or not, but with the screen on and the cover closed, you can actually see the screen. Yep, it's thin plastic.
You can pick these Travel Covers up at Amazon today, but again, I'm not necessarily recommending that you do.
We'll be taking a look at the rest of the official accessories as they become available.
Video
Gallery