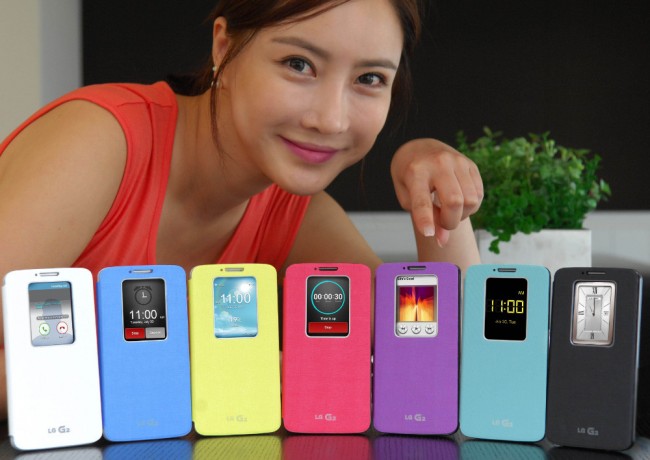 Look, we're fans of what LG has done in the smartphone game over the last year, and are really looking forward to the new LG G2 that will be announced on August 7. But can we not be quite as obvious in our blatant copying of Samsung? Please? First it was the announcement on the eve of the Galaxy S4 unveiling that LG's phones would get an update with eye-recognition tech, a feature that everyone knew was going to be announced by Samsung. Now it's a case that is almost an exact rip-off of the popular Flip and S View covers that Samsung has produced for the GS4 and Galaxy S3. It's called the QuickWindow Case. 
And guess what, it comes in a bunch of bright colors, flips open and closed, and of course, has a window on the cover that can provide you with useful information. Yes, this sounds exactly like the S View Flip Cover that we took a look at months ago.
To give credit to LG, though, it appears as if they have improved upon Samsung's original design by adding in additional features. With a simple swipe of a finger across the window, users can access a clock, weather report, alarm, music player, incoming phone call details and incoming text messages. The window is also much larger than the window seen on Samsung's design, so it makes sense that LG would be able to produce more information through it.
The case will be available at the time of launch, however, we do not yet know pricing.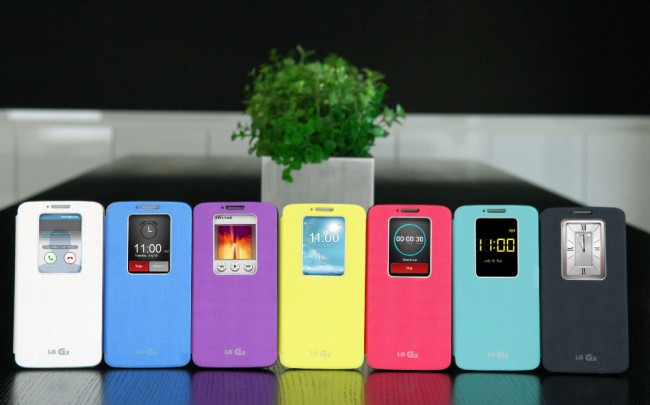 Press Release
LG EXPANDS ACCESSORY OFFERINGS WITH PREMIUM SMARTPHONE CASE

Convenient QuickWindowTM Case for LG G2 Available in Seven Colors

SEOUL, July 30, 2013 — LG Electronics (LG) will be introducing a line of premium cases for its upcoming flagship device, LG G2, to be available at the same time as the smartphone. The aesthetically beautiful case, QuickWindow, is the newest addition to LG's growing premium smartphone accessory lineup, which includes cases, headsets and portable chargers.

An opening or "window" on the cover of QuickWindow allows users to glance at various information displays without having to open the cover flap. With only a light swipe of a finger, the QuickWindow UX will appear in the window which users can view while on the go. Information that can be viewed through the QuickWindow cover include a clock, weather report, alarm, music player, incoming phone call details and incoming text messages.

"LG's newest premium accessory delivers practical and stylish options while protecting the smartphone, which for many consumers is a significant investment," said Dr. Jong-seok Park, president and CEO of LG Electronics Mobile Communications Company. "Our smartphone designers have in mind the type of case they'd like to see on their designs. So it made a lot of sense for LG designers to share with our customers their vision of the perfect accessory."

The QuickWindow case for the LG G2 will be available in seven different colors, including black, white, pink, purple, blue, mint and yellow. The cases will be available simultaneously with the launch of the LG G2.

# # #
About LG Electronics, Inc.
LG Electronics, Inc. (KSE: 066570.KS) is a global leader and technology innovator in consumer electronics, mobile communications and home appliances, employing 87,000 people working in 113 locations around the world. With 2012 global sales of USD 45.22 billion (KRW 50.96 trillion), LG comprises five business units — Home Entertainment, Mobile Communications, Home Appliance, Air Conditioning & Energy Solution and Vehicle Components — and is one of the world's leading producers of flat panel TVs, mobile devices, air conditioners, washing machines and refrigerators. LG Electronics is a 2013 ENERGY STAR Partner of the Year. For more news and information on LG Electronics, please visit www.LGnewsroom.com.