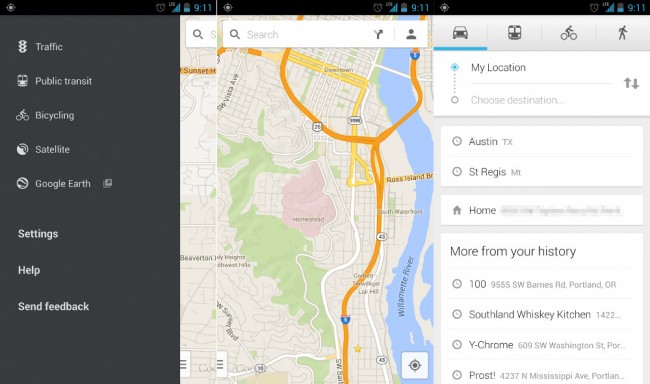 Remember the new Google Maps app for Android that we saw previewed back at Google I/O? It went live this evening for both phones and tablets! Well sort of. As is typical since I/O, Google is using their staged rollout method of releasing app updates, so there is a pretty damn good chance that you can't download it yet. Sucks, right? But anyways, the new Maps is here! 
We have only spent a couple of minutes with it, but the differences are noticeable almost immediately. You now have a much more open main map screen that gives you the opportunity to view more at all times. To access some of your favorite options (like bicycling, satellite, or traffic), you can swipe from the left on the tiny menu button tucked in the bottom left hand corner. But if you want to make a quick search or pull up nearby locations, feel free to tap in the search bar located at the top. If you want to get even more detailed, or want directions, tap the little directional icon that is situated in the search box.
Those are just some of the changes we are noticing up front, but there will likely be more tricks tucked inside this massive update. Feel free to share your findings in the comments!
Here is the changelog:
New design for Android phones and tablets
Enhanced navigation including live traffic updates, incident reports and dynamic rerouting
Explore: A new way to browse and discover popular local places to eat, drink, shop, play and sleep
Note:  If you can't find it live in Google Play, feel free to stop by this link (mirror). Unfortunately, those links may only work for 4.2+.
According to Google Play, you have to be running Android 4.0.3+ in order to install this from Google Play.
Update:  As many have pointed out in the comments, Offline maps are now gone after the update, and that is incredibly unfortunate. Latitude is also gone, but that's likely because it is a part of Google+ now.
Update 2:  Google has finally posted an announcement of the new Maps v7.0 with news of offline maps (they are still there!) and Latitude.
Cheers Dave!