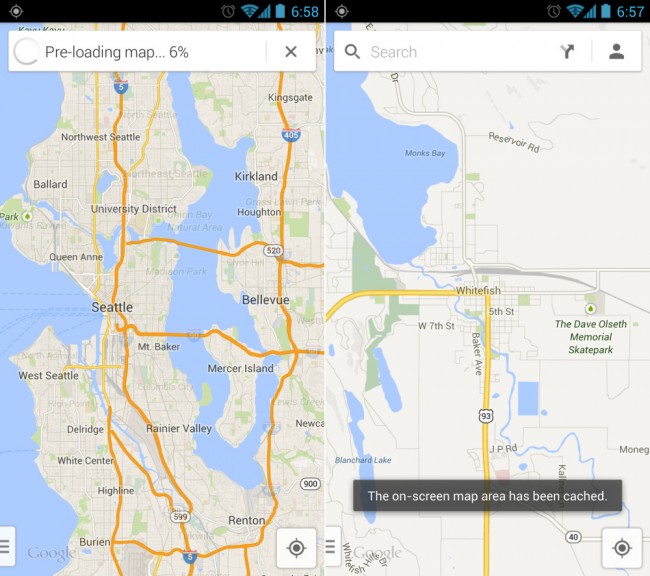 Moments after the new Google Maps v7.0 went live last night, the cries of "Where is Latitude!" and "What happened to offline maps?" spread throughout the internet crowds. Since Google had yet to push out a blog post detailing the new features of Google Maps prior to releasing the update, you can imagine that we were all scrambling and concerned. Now that a post has been issued, we have two bits of news – one good, one bad. Offline maps are indeed still there, but Latitude will retire on August 9. 
In order to save a map for offline viewing, all you have to do is bring the area you would like to save into view, and then type "OK Maps" in the search box, press enter, and it will save the map for you (pictured above). Depending on the size of the map and your connection, it should take only a few seconds to save. We should mention that the My Maps section of Google Maps is not in this release, but Google assures us that it will arrive shortly.
In terms of Latitude, you should have seen this coming. Latitude service will officially shut down on August 9, as Google is pushing users over to Google+ and their Locations feature. That's unfortunate for those of you who do not use G+, but that's where we stand.
Here are the rest of the new highlight features from Google's announcement of Maps:
Explore: Explore is a fast and easy way to visually browse and discover new places without even typing. Simply tap the search box and you'll see cards showing great places to eat, drink, sleep and shop.
Enhanced navigation: In addition to current traffic conditions, we've added two new features to help you navigate around traffic. You can now see reports of problems on the road that you can tap to see incident details. While on the road, Google Maps will also alert you if a better route becomes available and reroute you to your destination faster. This feature is available only on Android and is coming soon to iOS.
Designed for tablets: A dedicated tablet design brings all the features of this new app to Android tablets and iPads, which makes exploring the world from the comfort of your living room much more fluid, smooth and fun.
Reviews, Zagat and Offers: There's a new 5.0 star rating system that gives you a quick read on how your friends and others rate places like restaurants, bars and cafes. For an expert's opinion, the Zagat badge of excellence and curated lists are integrated into search results so you can quickly spot the very best places. From "Best Restaurants to meet for a drink in NYC" to "Best Restaurants in the Mission" in San Francisco, Zagat's there to help you uncover the local gems.
Via:  Google Lat Long | Google Support