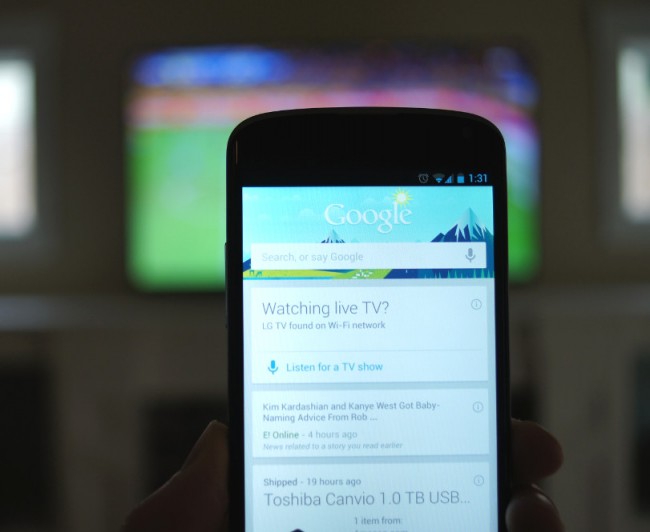 This morning, Google updated its Search app for Android to include a new TV information card that can be viewed through Google Now. It requires you to have a WiFi-enabled TV, with your TV and phone connected to the same network in order to work, but otherwise doesn't need any other setup. No pairing, codes, or IR blasters are necessary. So since I happen to have a TV with WiFi, I decided to see what the experience is like and how exactly it works. After waiting a few minutes for Google Now to find my TV, I can now safely say that this will probably be one of my most used Google Now cards. 
As I mentioned, it took a minute for Google Now to realize that my TV was on, but within a couple of minutes, I was greeted in Google Now with a card that asked if I was "Watching live TV?" It also mentioned that it found my LG TV through my WiFi network, and then asked that I tap to "Listen for a TV show," just as Google described this morning. So I did!
I happened to be on HGTV at first, and sure enough, Google Now listened to the show (similarly to how it does with Music) and then returned a result for Property Brothers (which was actually on TV). I then tapped the "Read more" button and was taken to a Google Search results page for the show to find out more information.
But that's just the beginning – it gets better.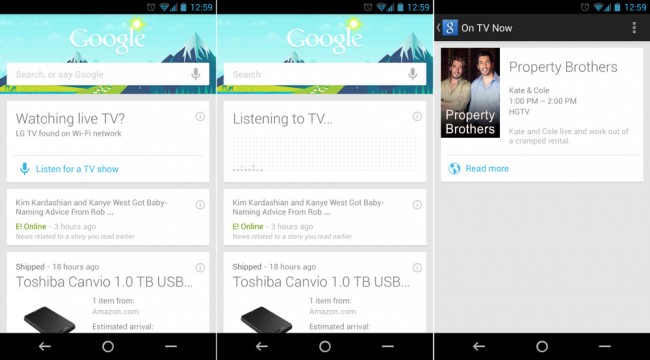 If you are watching a movie, Google Now will return overviews of the film, show you the starring actors, provide bios to some of them, and then even list out supporting roles at the bottom, all with quick cards to give you more info.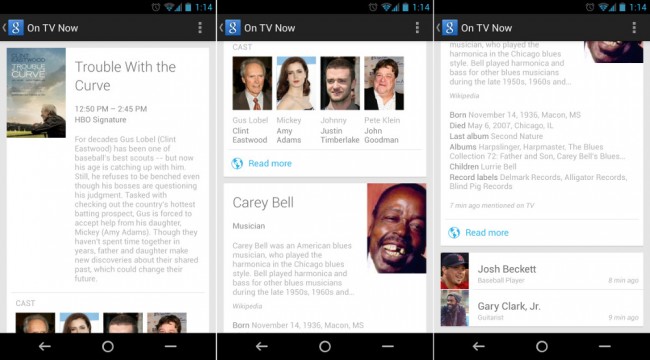 I even tried a live sporting event (Brazil vs. Uruguay, Confederations Cup), thinking it wouldn't stand a chance. It proved me wrong, showing the listing for the match, followed by a list of players that I could quickly find more info on with "Read more" links.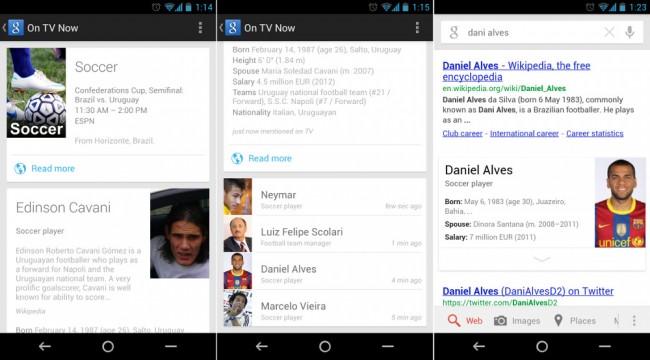 While I don't consume a massive amount of TV, I still find myself often wondering if actors in shows or movies are in anything else, who the director might be, which teams a certain player used to play for or what college he attended, who the coach of team is, etc., etc. With Google Now showing TV information, all of this info immediately becomes more accessible. Thanks, Google.