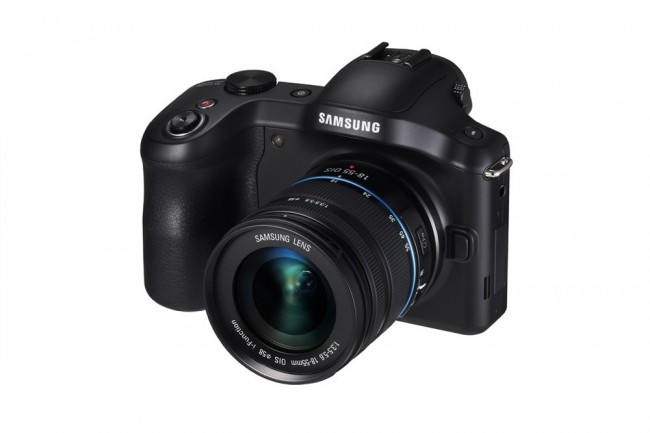 Samsung announced the Galaxy NX this morning as the world's first interchangeable-lens camera with LTE and WiFi connectivity. Sporting a 20.3MP APS-C sensor with Android 4.2 and a 4.8-inch HD LCD display, the Galaxy NX brings both professional-level photography and a mobile operating system with apps and connectivity together as one. This is most definitely a product on its own, breaking new ground. 
As a camera, the Galaxy NX offers a 20.3MP APS-C sensor along with a DRIMe IV Image Signal Processor to deliver the "speed and accuracy which today's photographers demand." It also has an Advanced Hybrid Auto Focus system, a 1/6000 sec shutter speed and 8.6fps shooting, and a selection of interchangeable lenses from compact pancake to ultra-wide fisheye to longer prime and zoom lenses. Full spec list for the camera gurus in the building is listed below.
As an Android device, it runs Android 4.2 on a 4.8-inch HD touchscreen LCD display and has access to the Google Play store and all of your favorite apps. The device itself sports a 1.6GHz quad-core processor, 16GB of internal storage, microSD card slot that is expandable up to 64GB, 2GB RAM, and a 4360mAh battery.
Samsung tossed in all of their special photo Smart Modes as well, including a Camera Studio, Photo Suggest, Story Album, and more. It really is like a Galaxy phone attached to the back of a legitimate camera.
On a connectivity level, we're looking at HSPA+ and 4G LTE, so that sharing your brilliant photos from anywhere in the world can happen.
Availability has not been announced for the U.S.
Introducing GALAXY NX, the First Interchangeable-Lens Camera with 3G/4G LTE & Wi-Fi Connectivity

Always connected, the Samsung GALAXY NX turns every picture into a story worth telling

LONDON, UK – June 20, 2013 – Samsung Electronics Co., Ltd. today announced the launch of the GALAXY NX, the first 3G/4G LTE Connected Compact System Camera (CSC). Versatile and easy to use, the GALAXY NX combines cutting edge optical performance with connectivity capabilities and a galaxy of applications based on the Android eco-system, all in one stylish package. The result is a new type of connected device that allows users to turn their experiences into a story that can be instantly shared with anyone they choose, from wherever they might be, in amazing color and outstanding detail.

"The GALAXY NX reflects the unique needs of a user who needs to take professional photos and share them immediately in any situation. For those who want to express themselves and the exciting moments that make up their lives quickly, easily and on the go, the GALAXY NX is an ideal choice" said Myoung Sup Han, Senior Vice President and Head of the Digital Imaging Business, Samsung Electronics.

Share everything, from anywhere

With 3G/4G LTE technology, the GALAXY NX allows photographers to stay constantly connected with their world. Promising speedy sharing whether on the move or right at home, the GALAXY NX's seamless connectivity transcends the current offering to photographers, providing a device which puts the sharing of professional level images at its heart. The GALAXY NX embraces the era of visual communication to provide an outlet for passionate photographers to express their exciting experiences immediately in spectacular quality.

The GALAXY NX is equipped to help you capture the scene and mood of every hotspot you visit. Photo Suggest provides location based recommendations of popular photography spots, sourced from a huge library of images taken by fellow photographers across the world. Story Album lets users enjoy timeless memories by displaying special moments on one timeline, reframing and resizing them to create digital photo books that can be viewed and shared on other devices.

Stunning picture quality

Superior image quality is available whenever and wherever with the GALAXY NX and an array of interchangeable lenses. The 20.3MP APS-C Sensor produces images which are bright and detailed, even in low light conditions, while the DRIMe IV Image Signal Processer delivers the speed and accuracy which today's photographers demand.

Life moves fast and the GALAXY NX makes sure that you don't miss a moment. Its Advanced Hybrid Auto Focus (AF) System ensures accurate phase and contrast detection for crisp, vibrant shots, while the 1/6000 sec shutter speed and 8.6fps shooting lets you capture the action as it's happening.

The flexibility offered by the GALAXY NX's selection of Interchangeable Lenses places creative control firmly in the hands of the photographer, opening up a world of imaging possibilities, whatever the scenario. From compact pancake lenses and an ultra-wide fisheye, to exquisite longer prime and zoom lenses, the extensive range of lenses help change users perspective on their world to create images which are truly special and help them to tell their story in a new way. True 3D Creator also brings an added element of realism to the GALAXY NX results, allowing users to shoot images and movies in 3D with Samsung's 45mm 2D/3D lens.

Simple and easy to use

With Android 4.2 Jelly Bean, the functionality of a smartphone is utilized to improve the photographic experience.  Users can choose from an entire universe of Android apps to help personalize their GALAXY NX and do more than just shoot amazing photographs and video, from editing images to adding special effects to staying in touch with friends and family.

The GALAXY NX is packed with features which help photographers to take images that embody their passions and express their unique outlook on the scenes they are shooting. More than 30 Smart Modes lets users choose the optimum settings for the environment they are capturing, as well as create fresh, artistic images. 'Multi Exposure' merges two different shots together to produce one distinctive image, while 'Animated Photo' connects continuous shots of up to five seconds, creating a moving GIF file. For added realism, 'Sound & Shot' stores sound and voice together as the picture is taken, so moments are captured exactly as they happened.

For added personalization, Camera Studio allows users to easily customize settings with their most frequently used applications or camera modes, making sure their photos are captured exactly as desired every time.

For multimedia content and more detailed information, please visit www.samsungmobilepress.com or www.samsung.com/galaxycamera.

* All functionality, features, specifications and other product information provided in this document including, but not limited to, the benefits, design, pricing, components, performance, availability, and capabilities of the product are subject to change without notice or obligation.

* Android, Google, Android Beam, Google Search, Google Maps, Gmail, Google Latitude, Google Play, Google Plus. YouTube, Google Talk, Google Places, Google Navigation, Google Downloads are trademarks of Google Inc.

* Blurb, the global creative publishing platform, partners with Samsung to power worldwide book and magazine print production and fulfillment within the GALAXY NX's new Story Album application. Users of Story Album will now be able to automatically create professional quality print photo books and magazines quickly and seamlessly from their camera phone images.

About Samsung Electronics Co., Ltd.

Samsung Electronics Co., Ltd. is a global leader in technology, opening new possibilities for people everywhere. Through relentless innovation and discovery, we are transforming the worlds of televisions, smartphones, personal computers, printers, cameras, home appliances, LTE systems, medical devices, semiconductors and LED solutions. We employ 236,000 people across 79 countries with annual sales of US$187.8 billion. To discover more, please visit www.samsung.com.