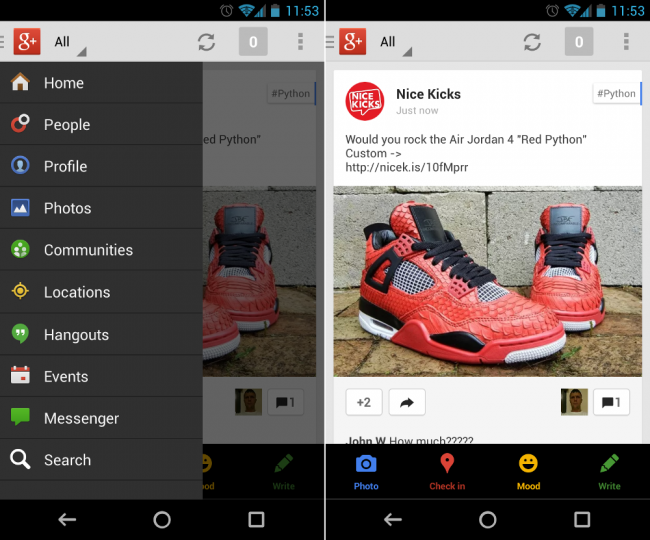 A solid Google+ update was announced this morning, with availability happening via the web and Android first before moving onto iOS. The update introduces a new navigation drawer that is "more consistent with other Google apps." We're hoping that means you can access it with a swipe from the left side of the screen like almost all of the recently updated Google apps. The new Android app will also show number of +1's, comments and reshares in posts, plus you'll be able to delete photos from the Photos view.
In terms of notifications, the Google+ team is introducing syncing across devices, so you no longer have to see the same notifications from device to device if you have already checked them. They also tossed in a new notifications tray with a bell icon that lets you know if anything is waiting for you, and separated unread and read trays.
The update for Android should be out today, however, it'll likely have a staged rollout so who knows when you'll get it. 
Here is the changelog:
Notifications sync:

When you read a notification on one device, we'll mark it as read on your other devices
Likewise: dismissing a notification (with a swipe or a click) does so everywhere, so you can say goodbye to annoying repeats

Notifications tray:

A new bell icon (in the Google Bar, and in the mobile apps) that lets you know if anything's waiting for you
An updated notifications tray that separates unread from previously-read items

Android app:

You can now delete your photos from the Photos view
Tapping into a post shows the number of +1's, comments and reshares
The left-hand menu design is now more consistent with other Google apps
Via:  +Vic Gundotra