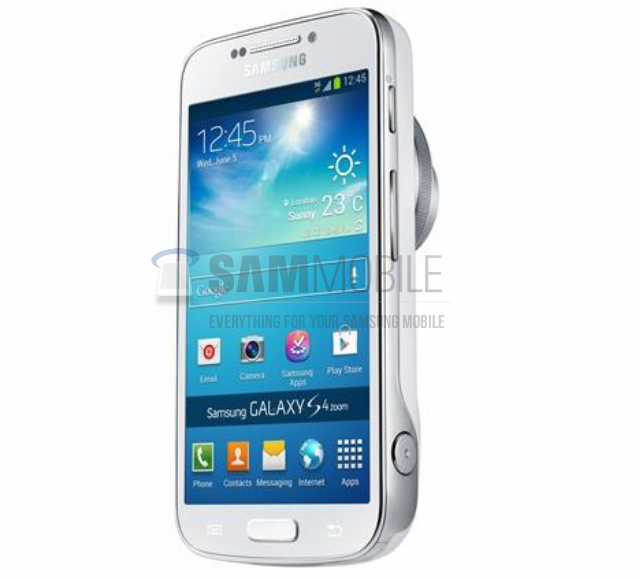 When Samsung released the Galaxy Camera last year, most of us wondered why they stopped short of making it a full-fledged smartphone. It had a massive HD display, quad-core processor, full-blown Android operating system, and a variety of other specs that made it better than most phones on the market, outside of the fact that it sported a 16MP rear camera (with 21x zoom). But whatever the reason was, it remained the first real Android smart-camera on the planet with no phone capabilities. So what did Samsung do as a follow-up, and to meet both camera and phone requirements? Created the device you are seeing picture above know as the Galaxy S4 Zoom. 
The Galaxy S4 Zoom will likely be on display at Samsung's Premiere event in London on June 20, alongside the Galaxy S4 Active and Mini. Rumored specs peg it as having a 1.6GHz dual-core processor, 4.3″ qHD display, 16MP camera (the massive bulge on its backside), 8GB internal storage, microSD slot for expandable storage, a dedicated shutter button, and Android 4.2.2 with Samsung's TouchWiz.
So unfortunately for those who were hoping to see a beast similar to the Galaxy Camera, it doesn't look like your prayers will be answered. If the rumored specs are true, this is a mid-range Android phone with a point-and-shoot lens attached to its backside. It's a nice concept, but those numbers don't exactly scream "top of the line."
Via:  SamMobile
______________________
Some of our best videos.