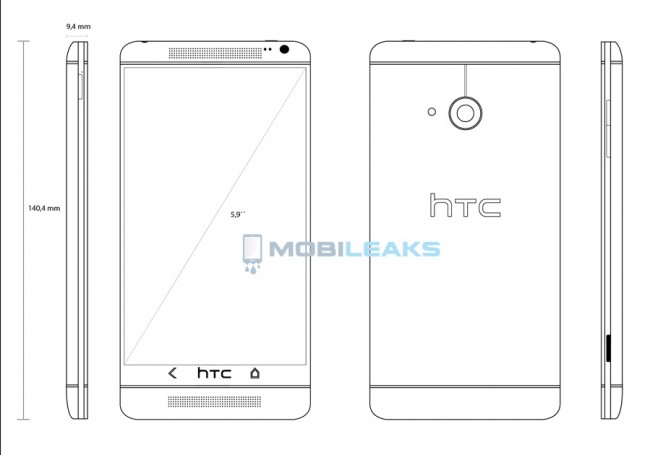 If you were hoping to see HTC send out a competitor to Samsung's upcoming Galaxy Note 3, then you might want to get a load of this. Above is a blueprint made by a non-HTC source, showing off an alleged device supposedly known internally as the T6 and soon to hit the market in Q3 as the One Max. The device will attempt to steal the Note 3's thunder, bringing with it a massive 5.9″ 1080p display, powered by a Qualcomm Snapdragon 800 processor clocked at 2.3GHz, currently labeled as the "dream CPU" for any mobile device. 
Beyond those two tantalizing specifications, it is rumored the device will come shipped with either Android 4.3 or Key Lime Pie, along with HTC's UltraPixel camera, a 3,300mAh battery, BoomSound speakers and a very thin bezel.
According to the source, global release for the One Max is set for some time in Q3, right around when we can expect Samsung's new Note device, pitting the two head to head in a battle for all out phablet (sorry, boss) dominance.
Please, let us know your thoughts down below.
Via: Mobileaks