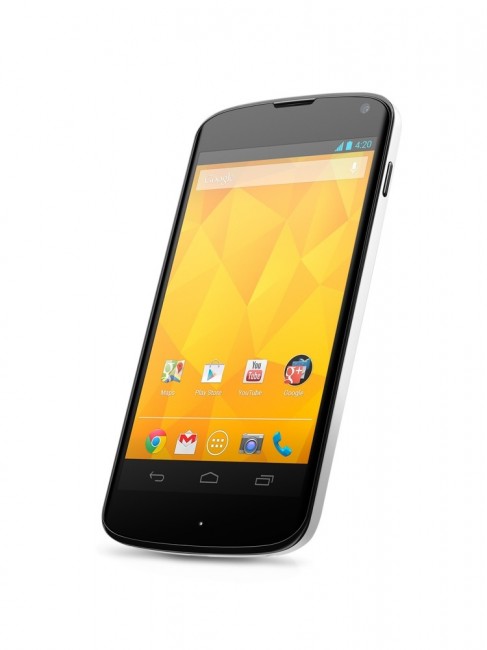 Last night, LG finally made the white version of the Nexus 4 official. The device, as expected, is the exact same as the black version of the Nexus 4 that has been out for months only it comes in a different color. In fact, the press release states that this is the "Same popular smartphone, different color." So for the 1,000th time, this does not have 32GB of storage or 4G LTE.
We're looking at a 4.7″ 720p display, Qualcomm Snapdragon S4 Pro processor, and 2GB of RAM, along with Android 4.2, Google Now, and Photosphere.
The device goes on sale in Hong Kong tomorrow, May 29, and will hit other markets including North America over the next several weeks. No pricing was mentioned, though we'd expect it to arrive on Google Play for the same prices the black one currently sells for – $299 (8GB) and $349 (16GB). 
LG INTRODUCES NEW NEXUS 4 WHITE

Same Popular Smartphone, Different Color

SEOUL, May 28, 2013 ㅡ LG Electronics (LG) today announced the launch of Nexus 4 White, the newest edition of the popular smartphone developed in collaboration with Google. Nexus 4 White features the same stellar Android™ experience as the original Nexus 4, combining LG's sophisticated hardware design and popular Google Services such as Google Now and Photosphere for an outstanding overall user experience.

"Nexus 4 set the standard for Android 4.2 Jelly Bean smartphones," said Dr. Jong-seok Park, president and CEO of LG Mobile Communications Company. "Nexus 4 White delivers the same Google experience to consumers in a stylish and attractive color option."

Nexus 4 White comes with the superb 4.7-inch 1280-by-768 True HD IPS Plus display (320ppi) supported by Zerogap Touch technology. At its heart is the high performing Qualcomm Snapdragon™ S4 Pro processor and 2GB of RAM.

Starting in Hong Kong on May 29, Nexus 4 White will roll out globally in select markets in Asia, North America, Europe and the Middle East over the next several weeks.

# # #
About LG Electronics, Inc.
LG Electronics Inc. (KSE: 066570.KS) is a global leader and technology innovator in consumer electronics, mobile communications and home appliances, employing 87,000 people working in 113 offices around the world. With 2012 global sales of USD 45.22 billion (KRW 50.96 trillion), LG comprises four business units – Home Entertainment, Mobile Communications, Home Appliance, and Air Conditioning & Energy Solution – and is one of the world's leading producers of flat panel TVs, mobile devices, air conditioners, washing machines and refrigerators. LG Electronics is a 2013 ENERGY STAR Partner of the Year. For more news and information on LG Electronics, please visit www.LGnewsroom.com.