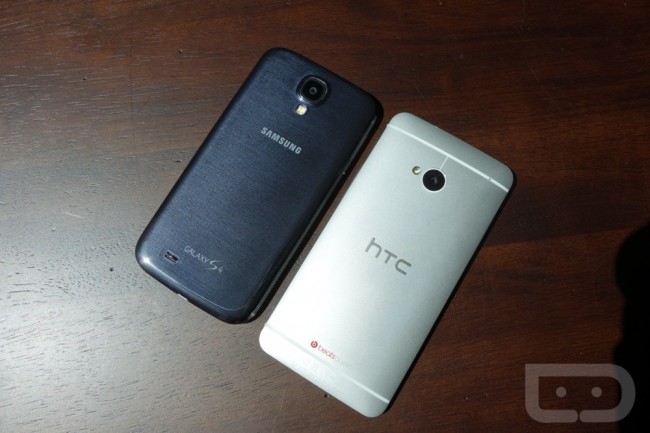 Buying a new smartphone is expensive. Sometimes there is no way around it, but AT&T is trying to help folks get a brand new device in their pockets with the intro of trade-in discounts on select devices. If your phone is less than three years old and works well, then it could be worth anywhere from a minimum of $100 and up, turning that $199 on a new two year price for a Galaxy S4 or HTC One into $99 or less with a new contract. 
The discount is applied immediately at the time of trade-in and can be used on other devices besides the Galaxy S4 (review here) and HTC One (review here), including the BlackBerry Z10 and any other various device on AT&T. If it's a smartphone, the promotion applies.
Definitely a helpful way of AT&T getting you a new phone and signing up for another two years.
AT&T Offers Newest Smartphones at 50 Percent-Off with Trade-In of Current Smartphone

DALLAS, April 30, 2013 — Beginning May 1, consumers who trade in their current smartphone to AT&T* will be eligible to receive at least $100 off the purchase of a new smartphone, including the new Samsung Galaxy® S 4, BlackBerry® Z10 or 32 GB HTC One®. These devices are normally $199.99 with a qualifying two-year agreement** but, with this limited time promotion, they will be available for $99.99.

This promotion applies to any smartphone AT&T sells, and gives customers access to the latest devices at a fraction of the cost or, in the case of smartphones priced under $99.99**, for free. To take advantage of this offer, customers are encouraged to visit any AT&T company-owned retail store or participating authorized dealer with their previous smartphone that is no more than three years old and in good, working condition. In stores, upon trading in their old phone, customers will receive the $100 credit on-the-spot and can use it immediately. ***

Some trade-in phones may have a value higher than $100. In this case, customers will receive the credit at the higher value.

AT&T offers a broad variety of smartphones that run on the nation's fastest 4G LTE**** network. AT&T 4G LTE currently covers nearly 200 million people; with plans to expand to cover 300 million people by the end of 2014. In a report***** by independent testing organization RootMetrics, AT&T's 4G LTE network was called "blazing fast." The report found AT&T's 4G LTE network delivered the fastest pure LTE speeds in markets where AT&T provided 4G LTE.

"This offer is a great opportunity for AT&T customers to get their hands on the newest smartphones in our portfolio at an outstanding price," said Eric Goldfeld , AVP- marketing management, AT&T. "With graduation and Mother's Day coming up, people can take advantage of this promotion to surprise someone – or even treat themselves – to one of our hottest smartphones. The best part is that you'll receive credit for your old phone instantly on-the-spot in AT&T stores."

In AT&T company-owned retail stores, AT&T's Trade-In Program lets customers turn in old wireless phones and receive an AT&T promotional card reflective of the device's trade-in value and condition. Customers can use the card to offset the cost of some of the latest wireless devices or the purchase of other AT&T products and services.*** All devices, including tablets data cards and feature phones – regardless of manufacturer or date purchased – will be considered for trade-in.

Beyond seeing a little more green in their pocket, AT&T customers that use our trade in program are also doing their part to support the company's sustainability initiatives. In 2012 AT&T customers recycled more that 3.1 million phones and broke the world record for cell phones recycled in a one-week period as certified by Guinness World Records.

Switching to a new smartphone has never been easier with AT&T Mobile Transfer, an app that syncs contacts, photos and videos from your old phone to your new phone. Just visit www.att.com/mobiletransfer to make sure both phones are compatible, download the app and follow the instructions to transfer.

Likewise, setting up your new smartphone is a snap with AT&T Ready2Go, a free service that helps you to easily set up and personalize your device in minutes from the comfort of your personal computer. With Ready2Go, it's easy to set up your email accounts, import your contacts, connect to your social networks and more.

For more information on the AT&T Trade-In Program, visit http://att.com/tradeinprogram.