When HTC announced the One all the way back in February, we couldn't help but think that this might actually be their savior. With a premium build quality not seen in any phone outside of the iPhone, a new set of gimmicks software features to market, and an underdog attitude, HTC seemed poised to come back in 2013 like fire. Unfortunately for the One, manufacturing delays have left it out of the hands of those interested, leaving open the opportunity for Samsung to swoop in and steal their attention with the Galaxy S4, a device that should arrive in the U.S. around the same time. Is it too little too late for HTC? Probably, but that doesn't mean they haven't released a really great Android phone. Or have they? Boy am I split on this one. Let's talk about it.
The Good
Hardware

Oh hardware, where do we begin with you? From a specs standpoint, the HTC One enters the game as what I would consider the best phone in the business. Again, from a specs standpoint. We're talking the newest processor (Snapdragon 600 quad-core), 4G LTE, 2GB RAM, a 4.7″ 1080p display with 468ppi, 2300mAh battery, and a body made of aluminum. Hell, it even has an IR blaster so that you can use the phone as a entertainment and TV controller. And for those who care about technology being "future proof," the One also has  802.11ac, which will eventually become the new WiFi standard. There are no other phones on the planet that match the One in overall quality and completeness when it comes to hardware. If you want next-gen everything, which includes a glorified 4MP camera, the One has it all.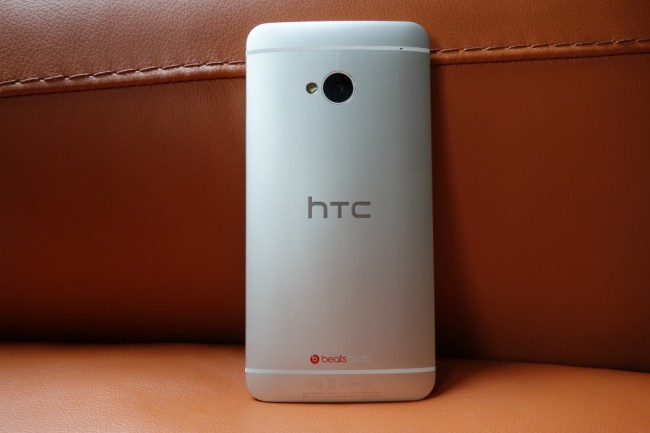 Design
I'll be the first to admit that I'm torn on the design of the HTC One. I know that every other media personality on the planet is claiming this to be designed by some religious figure, but I'm just not fully feeling it. On one hand, it's aluminum zero-gap unibody frame is stunning to look at. I have to give credit where it's due – HTC has made the most premium Android phone ever, in both looks and materials used. The white and silver color scheme, mixed with a pitch black display, subtle metallic HTC logo, and soft chamfered edge, are something quite extraordinary.
On the other hand, I find the device to be too tall and also do not find it to feel all that pleasing in hand when compared to phones like the Nexus 4 or even last year's HTC One X. Call me a metal phone hater or a plastic lover, but a metallic object in my hand hundreds of times per day is…eww. It's slippery more often then I'd like, is constantly in need of adjusting while using one hand (something I wasn't expecting from a 4.7″ phone), and is a pain to navigate thanks to a minimal Home and Back button navigation setup, which I'll get to later.
I'm fully aware that I am in the minority here, so that's why I'm still leaving design in the "good" section. HTC really has done something remarkable here, that we can only hope will be an inspiration to other phone manufacturers. For me personally, it's just not my cup of tea, but I would imagine that most of you will love it.
Display
The 4.7″ FHD LCD (1080p, 1920×1080, 468ppi) display on the One is a great display. At that high of a resolution, you'll never see a pixel (except on the photos it takes, which isn't the display's fault) and the tiniest of details will become your specialty should you stare at it for long enough periods of time. The colors are accurate, blacks are black enough, and the viewing angles are top tier. I do have one complaint though, and that's HTC's extra dim auto-brightness tendencies. I eventually had to take off auto-brightness and manually set it because the display was never showing enough light for my liking in any situation. I personally prefer the LCD on my Nexus 4 to this, even at a lower resolution, and am incredibly excited to spend some quality time with the FHD Super AMOLED on the Galaxy S4. Still, the LCD used on the One has little flaws, if any, especially if you are looking for a much more realistic and natural representation of colors in general.
Macro shot for fun.
Battery Life
Battery life on the One, for me, has been better than I expected from a phone with a quad-core processor, 1080p display, and 2300mAh battery. If I spent a day hammering on the phone using data only, no WiFi, I was able to see around 8 hours of use before I hit the 15% warning. On a typical low usage or "normal" day, I was easily hitting anywhere from 12 to 16 hours before I was in the red. That may not be day-and-a-half-life like you'll see with the RAZR MAXX HD, but seeing as the specs on the One trump that phone in every conceivable way other than the battery, I'll take it any day. As I mentioned previously, I found myself having to uncheck the auto-brightness box to get the device to levels that my eyes found more appealing, so this obviously took its toll on battery life. Still, I rarely felt as if I was about to run to the nearest charger.
On a related note, the One takes forever to fully charge. I'm not sure why that is, but no matter what charger I seemed to grab when needing some juice, I found myself checking the status of the battery meter far more often than on other phones in my possession.
Camera Software (Zoe, Highlights, and other Software)
*Note – I had initially planned to do a fairly thorough camera comparison of the HTC One to a variety of devices including the Nexus 4 and Galaxy S3. Unfortunately, my HTC One became worthless over the last 24 hours as the display's digitizer appears to have died. The phone is almost useless as it constantly registered screen touches if I try to accomplish any task. So consider these camera thoughts my pre-in-depth view. Assuming I can quickly get a replacement, I will update this section with my final thoughts.
The camera of the HTC One is clearly going to be one of HTC's focuses when marketing this device to customers. With a freshly minted "UltraPixel" marketing term attached and a set of tricks up its sleeve, the camera is certainly worth talking about. From my first moments with the One, all I wanted to do was snap photos, create Zoes (mini 3-second clips), and then find ways to combine shots, utilize on-device editing tools, and share with friends and family. While I've definitely grown fond of the flexibility that a Zoe can provide, especially in terms of creating HTC Highlight videos, the camera itself has left me unsatisfied at times. I'll get to that in the section below, but for now, I want to focus on the good things.
The One's camera is somewhat of a winner in my book simply for the fact that it offers features that no other device has really even imagined. In fact, the amount of camera settings is so robust, that after two weeks with the phone, I haven't even had a chance to explore them all yet. Photos can be manipulated in more ways than most photo editors allow you to, and yet this is a smartphone.
As my note suggested, I'm hoping to give you more in this section once I get a replacement device. For now, here is a Highlight created from stills and Zoes that were captured at a recent Portland Timbers match.
4MP Camera (UltraPixel)
*Update (4/23) – My HTC One is still currently broken, but I was able to put it to work against the Samsung Galaxy S4. After seeing pretty favorable results against that phone, I can't help but move this section into the "Good" as it is more than capable of being your everyday mobile camera. Couple the sensor, which destroys any other phone in the dark, with a suite of software enhancements not found on any other device, and you have a winner in my book. This section has been slightly tweaked from its original state.
The camera on the HTC One, as I have said many times, is essentially a glorified 4MP camera. HTC is calling it the "UltraPixel" because it takes photos with 2.0 micron pixels, which are much larger than the norm of today which sits around 1.1-1.4 micron pixels. With a bigger pixel, the camera can let in more light, thus the sales pitch of "Our camera takes great low-light shots!" But for me, as someone who takes a minimal amount of low-light shots, this can be somewhat of a downside. You see, at 4MP, you have images with a smaller resolution, that when blown up, aren't going to have the amount of detail you are used to from any modern day camera. There are less pixels (and bigger ones at that) after all. I work everyday on an iMac that has a pretty high-resolution display, so when I open up a picture from the HTC One, I immediately go, "Is that an oil painting?" And I don't expect those comments to stop with just my PC, as mobile device screen resolutions continue to climb as well.
It's definitely not all bad, though. In fact, I've changed my mind quite a bit on the One's camera over the last few weeks. As I mentioned above, the camera software on the One has some nice tricks up its sleeves. I would also argue that it takes photos that have much more realistic light than other smartphone cameras. For example, below I have a comparison of a shot I was able to take today with the Nexus 4 and One. While in the full-res images, you will see some of that "oil painting" effect on the One image with less crisp lines, the lighting trumps the blue-ish hue to the Nexus 4 shot.
Nexus 4 (left) – HTC One (right)
Full resolution:  Nexus 4 | One
Overall, the One's camera isn't the worst and actually has some upsides that have made me like it more and more each day. If you need to take a lot of pictures in darker situations, this phone will dominate all other phones. The picture may look like a mushy mess up close, but you'll at least be able to make out the objects when other cameras may not be able to produce a shot at all. It's also the start to something bigger, assuming HTC can figure out a way to carry over similar technology to say an 8MP sensor, which I believe to be the sweet spot on mobile phones.
Also on a positive note, with 4MP stills, you get much more manageable photos in terms of size that can be easily shared through your favorite social networks, a point I'm sure HTC will make at some point.
Here are a bunch of real-world samples. These are a mix of still shots and some pulled from frames of Zoes. Some are OK, others aren't great.
Full resolution: 1 | 2 | 3 | 4 | 5 | 6 | 7 | 8
BoomSound
Dual amplified front facing speakers – why did it take so long for someone to include these in a phone? The speakers on the HTC One are easily one of my top 3 or 4 favorite features. HTC refers to them as "BoomSound," which yes, is one of the most ridiculously named items on the phone. But trust me, once you hear them you won't care if the name is actually BoomBoomRoom. I'm constantly having to keep the volume on the phone at under the half-bar mark or it's just too damn loud (and that's not a bad thing).
With the phone lying back-down on your desk, like most people set their phones, you'll never miss a call or notification. While consuming video, you no longer have to employ the hand-cup method in order to force sound back towards your face from behind the device. With BoomSound, you actually do feel sort of immersed in whatever you are watching, in part thanks to the beautiful display, but mostly because of the incredible sound experience. If you need a spurt-of-the-moment speaker for situations that call upon your favorite musical playlist, the One could stand alone and impress a crowd.
Seriously, folks, the speaker experience isn't something we typically talk about when doing phone reviews, but with the One, you can't avoid it.
Performance
Thanks to a Qualcomm Snapdragon 600 quad-core processor clocked at 1.7GHz and 2GB of RAM, you won't find many stutters when cruising around the UI of the One. Transitions are snappy, app switching happens in a flash, and running processor intensive tasks through spots like the camera are hiccup-free. This is the most powerful smartphone on the planet for the time being. If you are into benchmarks, yes, it wins them all. If you are into gaming, yes, it plays them all well – even the graphically intensive ones. HTC and Qualcomm appear to have worked some magic here when it comes to balancing performance and battery life.
Hackability
HTC released a developer edition of the One for those of us who like to tinker with our phones and not feel restrained by carriers. The dev edition runs $650, but also comes with 64GB of internal storage. It's not often that we get developer editions, especially at the same time we see carrier versions of the same phone launch. HTC definitely got this move right, something we wish Samsung would learn from.
Price
At $199 for the 32GB version of the HTC One on 2-year contract, the phone is priced where you would expect it to be. Actually, in some cases, it's cheaper than what we would have seen were it released last year. For example, the Galaxy S3 was priced at $199 on almost every carrier last year, yet only came equipped with 16GB of internal storage. So if you take the One's 32GB and set of impressive specs, one could argue that it's priced under the standard.
On a related note, the unlocked version of the HTC One that HTC sells directly through their online shop, can be had for $575 without a contract. Most high-end unlocked phones sell for well above $600, so consider this a steal to those of you in the unlocked phone game. As an unlocked device, the One works on AT&T HSPA+, T-Mobile's 1900MHz HSPA+ band, and should also work on T-Mobile's LTE once it rolls out to more cities.
The Not-so-Good
HTC Sense
When HTC first announced the One in February, one of the first things I mentioned was that their new Sense 5.0 was terrible. After spending two weeks with the phone, I still feel the exact same way. In my opinion, HTC does everything in its power to turn simple standard Android tasks into some of the most difficult things on the planet. I could rattle off close to 50 examples, but will stick to a few that came up time and time again for me.
The first has to do with expandable notifications. On the HTC One, all notifications start out collapsed and can only be expanded with a two-finger swipe. On stock Android, your most recent notifications tend to always be expanded by default, while older ones will slowly start to collapse on you. Should you want to expand them, a single finger swipe will do the trick. With HTC forcing you to use two fingers, dealing with notifications went from being an amazing new experience, to completely painful.
The second Sense annoyance that I wanted to point out involves the app drawer and dock. On any other Android device, the app dock is a separate entity from the app drawer. What I mean by that, is you can drag and drop items to and from it with ease. There are no tricks. On the HTC One, you can only add or remove items from the dock when you have the app drawer opened up. Then, once you add an app to the dock, it is removed from your app drawer. Should you want to remove one from the dock, you have to manually open the app drawer back up and drop it inside. I've tried to find a reason for this, but have come up empty for two weeks now. Talk about taking a simple task and turning it into something far too difficult.
The third has to do with something as simple as changing a wallpaper. HTC decided long ago that the simple long-press-to-wallpaper-change on a home screen wasn't intuitive and killed it off. Instead, they decided to embed a "Personalize" menu in the device's settings section which includes ringtone, wallpaper, and theme edits. Organizing all of those things into one area isn't a bad idea, but forcing users to enter settings and then navigate through a separate Personalize menu seems like far too much to me to change a wallpaper.
The fourth involves the Gallery application. There is absolutely nothing good about HTC's work when it comes to managing and navigating through photos. The initial gallery menu includes sections for My Photos, Friends (assuming you attached social networks), and Camera Shots. If you tap on My Photos, you get into any number of views for Events, Albums or Locations. Why there are two separate sections between My Photos, Camera, Friends and then Events, Albums and Locations is beyond me. It's an extra level of navigation that is completely unnecessary. But beyond navigation, try sharing multiple photos on any HTC device. They killed off the simple long-press-to-multi-select that comes with almost every other Android device, and instead ask that you press a share button, choose a service to share to, and then return back to the gallery to decide which photos you want to share. I could go on and on, but you get the point.
Last, their contact management continues to be a disaster after all these years. HTC fully understands that you have multiple accounts plus a SIM card that may contain contact information and have done their best to try and manage them all. Unfortunately, it's a task they haven't yet figured out. From recommendations to link this account with that account, to deciding which accounts should even be included in your contact list, are beyond confusing.
And again, those are only a few of the issues I have with Sense. I didn't even mention the constant and non-removable ongoing notification reminder for Power Saver mode, the fact that BlinkFeed exists, and holding volume down until your phone silences goes straight to vibrate first, but then asks you to press volume up to go to silent mode. Ugh, Sense. Go away.
Old Android
The HTC One will hit stores running Android 4.1.2 (Jelly Bean). That seems like a decent achievement, since the newest version of Android is 4.2.2, however, as someone who came from a Nexus 4 with stock Android, the difference is pretty significant. Simple things like the lack of quick toggles in the notification pulldown have driven me nuts. But beyond the little things, the big picture here is that Google is likely going to release a new version of Android in a month from now, or a few weeks after the One hits stores, so it'll be at least two versions behind whatever is current.
If you look back at history, HTC hasn't necessarily led the charge in updating devices in a timely manner, so should you buy this device, understand that it'll likely be behind other flagships from the beginning and on through til the end. For example, Samsung has managed to release the Galaxy S4 at the same time as the One with Android 4.2.2 (the most current version).
Navigation Button Setup
HTC appears to be confused about how Android navigation should work. Last year, they went with Home, Back, and Multi-task buttons on their One series of phones, since Google decided to kill off the hardware menu button. I was a fan of the move, but thanks to slow developers who couldn't code their apps properly, the move seemed to backfire a bit on HTC. So this year, they went a different route altogether and are only utilizing Back and Home buttons. You won't find a Menu or Multi-task button anywhere on this phone. It's…interesting.
You don't get the interactivity of on-screen buttons since HTC continues to use hardware soft keys, so you are instead forced into long-pressing or double tapping to achieve simple tasks. A double tap on Home takes you into your recently used apps list, while a long press on that same button will get you into Google Now. I rarely found long-pressing of Home to work on the first try and instantly became frustrated with the setup. You also can't map the keys to do any sort of custom actions (like mapping Back to also be Menu with a long-press), so you are stuck with HTC's confusing vision. With only Home and Back, be prepared to re-learn navigating around an Android device. I'm two weeks in and still tap the wrong button more often than I'd care to.
No Verizon
From what we understand, HTC wanted the One on Verizon, but Big Red decided to pass for the time being. That's unfortunate for customers and HTC, as Verizon more than likely would have sold more of them than almost any carrier. They also have the largest LTE network in the U.S. that would have been a great companion to this device. It's a pity really, because the One is one heck of an overall smartphone package that we wish everyone, no matter what carrier they are attached to, had a chance to play with and even consider as their next phone.
Top Lock Switch
When designing the One, HTC decided to turn the power/lock switch into an IR blaster that could be used to turn your phone into a TV remote. It's a neat idea, aside from the placement of the button being in the worst possible position on any phone in the history of phones. The button is situated at the top left of the One when it's facing you, making it impossible to press without completely adjusting the phone in your hand. In fact, I gave up on one-handed operation of the One's power button from the beginning and opted to use two for the most part. The button also sits mostly flush to the phone, so there are times when you feel like two or three presses have gone by without the phone reacting.
This isn't new for HTC, though, they have long been fans of the top lock/power switch. In fact, I'm not sure they have ever released a phone without one.
No Wireless Charging
During most of 2012, we saw phone after phone introduced with built-in wireless charging. We thought for sure that we would see that trend continue in 2013, however, HTC decided that they weren't going to include it in the One. This was an odd move, especially after seeing them include wireless charging in both the DROID DNA and Incredible 4G LTE. When we asked an HTC rep about the lack of the feature at the device's launch event, he mentioned that Verizon was the driving force behind wireless charging, not them. Whatever the reason, it seems like a missed opportunity.
Other Notes
Dead Digitizer:  The digitizer on my device appears to have died. I can't tell if this is isolated to me or if this is an issue that others are running into as well. Hopefully it's just me, as the last thing HTC needs is a hardware problem. I'll get a replacement and report back should it happen again.
Camera:  Again, apologies for the short camera review, but I just can't do anything with the device in the state it sits. Once I get a replacement, I'll try to come back and fully review the camera.
Blinkfeed:  I mostly avoid Blinkfeed in my review and that's because I found little use from it. With that said, it could be an interesting news feed or reader for novice Android users. You can set up content from a variety of sources, attach social networks, and even see calendar notifications through it. It's one of those features that I wouldn't be surprised to see catch on, simply because it's easy to set up and cannot be removed. You are almost forced into using it. Assuming HTC can add some polish and more features, it may not be a bad thing.
TV app:  The TV app that works with the IR blaster is actually a lot more robust than I had imagined. Within minutes of setting it up, I was able to control my home entertainment center, Blu-ray player, and TV.
NFC:  The device has NFC, but holy hell is it difficult to find the sweet spot on it. I tried to share a YouTube clip between the One and my Nexus 4 and had to try 8 times before I could get both of their sweet spots together. Just a note, not necessarily a bad thing.
Internal Storage Only:  As you may or may not know, the HTC One only has internal storage and no additional microSD slot for extra storage. Normally, this doesn't bother me, but after taking Zoes, simple clips, and processing a few highlights over my two week period, I was able to create 2.5GB worth of media. That's a lot for such a short amount of time. Storage constraints could happen, so consider the 64GB version, however, only AT&T is selling it.
Non-removable Battery:  The 2300mAh battery is non-removable. This doesn't matter to me, but I know it can be a deal breaker for some.
Videos
Unboxing
Initial Software Tour
HTC One vs. Galaxy S3 vs. Nexus 4 vs. RAZR HD vs. Galaxy Note 2 
20+ Tips and Tricks for New Users of the One
The Verdict
I mentioned in the beginning that I'm torn on the HTC One. And after running through that entire review of mostly positive things with a few nitpicked quirks here and there, you are probably confused. Rightfully so. It's an amazing phone. The hardware is unmatched, the design is beyond beautiful for a smartphone, battery life is acceptable, the display is stunning, speakers are mindbogglingly good, and the camera has enough features that it can overcome its own downfalls. There really is so much to like with the One and so very little to be worried or complain about. But for me personally, the size of the device, metallic texture, and functionality of HTC's Sense 5.0 are not for me. With that said, I know for a fact that this could easily be the phone for so many of you. Should you have a new phone in your near future, you need to consider the HTC One.