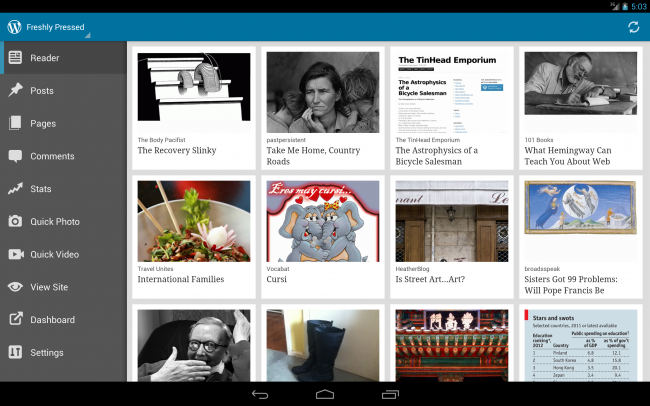 Aspiring bloggers, get into the Google Play store now and download yourself the brand spankin' new WordPress app or Android. For years, this app has been subpar for the mega-blogging platform that it supports. But as of today, it's joined the Holo army and become a part of 2013.  
In this update, you'll see an entirely new UI, added action bar for quick actions, and new slideout (from the left) menu drawer for quick navigation. The WordPress team also tossed in a "View Site" feature that allows you to view and share content in some capacity. WordPress.com users can view the web dashboard as well.
Again, it's solid, especially if you are like us, and have dreaded having to use the WordPress app at any point in the past.
Changelog:
It's the big UI update!

Action Bar added for easy access to common actions.
Use the Menu Drawer to quickly navigate to other areas of the app. Just tap the arrow in the Action Bar or swipe to reveal the menu.
Holo style used throughout the app.

There are new features, too!

Use the 'View Site' feature to view and share content on your site.
WordPress.com users can now view the web dashboard (wp-admin).
The WordPress.com Reader now takes advantage of caching for faster loading.