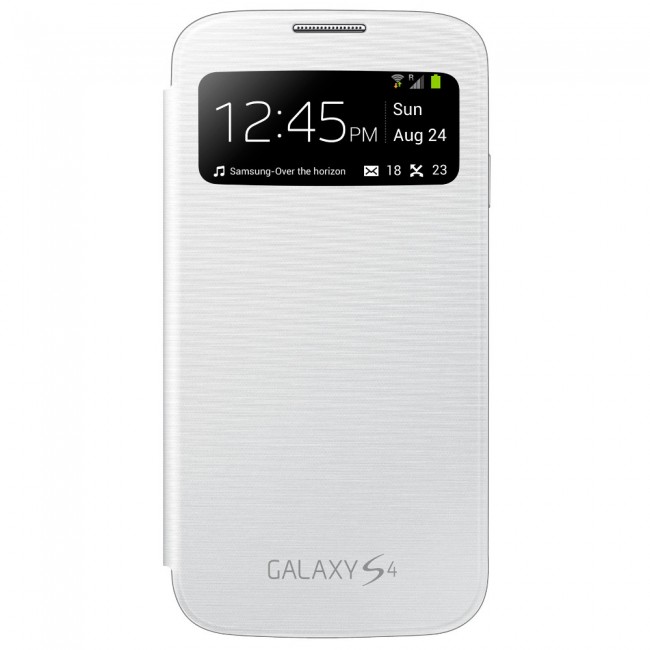 The wave of carrier announcements for availability of the Samsung Galaxy S4 continues this morning, with US Cellular joining the party. Starting today, pre-orders of the device are live for the 16GB version of the device. For $199 and a new contract, the GS4 can be yours.
US Cellular is attempting to sweeten the deal a bit by tossing in a S View Flip Cover to anyone that pre-orders, a product that typically retails for $59.99.
No official launch date was given, just that it would be available in "late April." 
U.S. CELLULAR BEGINS PRESALE FOR SAMSUNG GALAXY S 4 WITH EXCLUSIVE OFFER FOR FREE S VIEW FLIP COVER

Device will be available for purchase in late April

CHICAGO (April 17, 2013) – U.S. Cellular (NYSE: USM) and Samsung Telecommunications America have announced that the 4G LTE™ Samsung GALAXY S® 4 is available for customers to preorder atuscellular.com/GS4, and it will be available for purchase later this month. The 16GB GALAXY S 4 is offered in Black Mist and White Frost and is $199.99 with an instant rebate. In addition, U.S. Cellular exclusively is offering a $59.99 S View flip cover for free to anyone who pre-orders the device online.

The Samsung GALAXY S 4 is the latest Galaxy smartphone to join U.S. Cellular's line-up of 4G LTE devices. U.S. Cellular currently carries the Samsung Galaxy S® III, Samsung Galaxy Note® II, Samsung Galaxy AxiomTMand the Samsung Galaxy Note® 10.1. Customers who purchase the GALAXY S 4 from U.S. Cellular receive benefits no other carrier offers, including a valuable rewards program that recognizes customer loyalty.

"Samsung has once again raised the bar with a powerful device that has features and tools to help you simplify and enhance your life," said Edward Perez, vice president of sales and marketing operations for U.S. Cellular. "The Samsung GALAXY S 4 lets you get more done wherever you are and adds value to your many experiences with the ability to share meaningful moments with friends and family on a fast 4G LTE network."

The GALAXY S 4 has a 5-inch full HD Super AMOLEDTM display, weighs only 130 grams and is 7.9 millimeters thin, and it blends an attractive design with innovative features. Its dual camera function allows customers to use the 13 megapixel rear camera and 2 megapixel front camera at the same time, so the person taking the picture isn't left out of the shot. There are also several features designed to help you get the information you need faster and easier. Air View allows you to hover over your phone with your finger to enlarge content and preview an email, calendar, image gallery or video, and with Air Gesture, you can change music tracks, scroll up and down a web page, or accept a call with a wave of your hand. 

Highlighted Features:

Android 4.2.2
1.9 GHz quad-core processor
16GB internal storage, can be upgraded with up to a 64GB microSD card
Group Play lets users enjoy music, photos, documents and games with those around them without requiring a Wi-Fi connection or cellular signal.
S Translator provides instant translation, using text or voice translation on applications including email and text messaging.

U.S. Cellular, in partnership with King Street Wireless, currently offers 4G LTE service covering 61 percent of its customers in select cities in Illinois, Iowa, Maine, Maryland, Missouri, New Hampshire, North Carolina, Oklahoma, Oregon, Tennessee, Texas, Vermont, Virginia, Washington, West Virginia and Wisconsin. By the end of this year, 87 percent of U.S. Cellular customers will have access to 4G LTE speeds. For more information about the 4G LTE experience, visit uscellular.com/4G.

Samsung, Galaxy, and S 4 are trademarks of Samsung Electronics Co., Ltd.  Other company names, product names and marks mentioned herein are the property of their respective owners and may be trademarks or registered trademarks. 

Purchase of a smartphone data plan, a new two-year agreement and a $35 activation fee is required. Additional terms, conditions and/or charges may apply. See uscellular.com for details.

4G LTE not available in all areas. See uscellular.com/4G for detailed coverage info. 4G LTE service is provided in partnership with King Street Wireless. LTE is a trademark of ETSI.

About King Street Wireless, L.P. 
King Street Wireless, L.P. currently holds 700 MHz wireless spectrum in 27 states and is partnering with Chicago-based U.S. Cellular to deliver high-speed 4G LTE service to U.S. Cellular's customers in several of the carrier's markets.  King Street Wireless is headquartered in Alexandria, Virginia where it is recognized for its involvement in its community both through its economic development and philanthropic efforts. To learn more about King Street Wireless, visit www.kingstreetwireless.com.

About Samsung Telecommunications America
Samsung Telecommunications America, LLC, a Dallas-based subsidiary of Samsung Electronics Co., Ltd., researches, develops and markets wireless handsets and telecommunications products throughout North America. For more information, please visit www.samsungwireless.com.