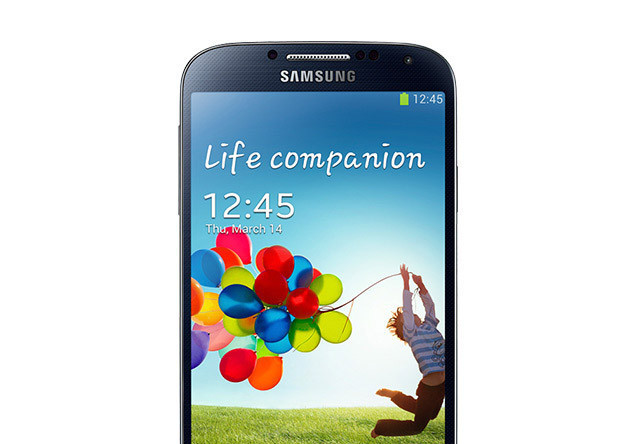 The Galaxy S4 announcements just keep on rolling. T-Mobile, the Un-carrier, has announced that the 16GB version of Samsung's newest flagship will be on their website starting April 24 for the price of $149.99. It should arrive in stores by May 1.
There doesn't seem to be any pre-orders available for T-Mobile like other carriers, but that trade-off comes with getting the device available a few days earlier. This phone will be shipping with T-Mobile's new LTE bands packed inside so you can make use of them whenever T-Mobile gets their new network in your area.
Anyone looking to switch to T-Mobile for their new Un-carrier way of doing things and picking up the GS4?
T-Mobile to Offer Samsung Galaxy S 4 at Exceptional Upfront Cost

Only U.S. wireless company to sell Galaxy S 4 with unlimited talk, text and Web with no annual service contract on a fast, nationwide 4G network

America's Un-carrier continues making bold moves to give consumers affordable, unrestricted1 and hassle-free ways to get the latest 4G LTE smartphones. 

T-Mobile USA, Inc. announced today the Samsung Galaxy S® 4 will be available online at www.T-Mobile.combeginning April 24 for just $149.99 down — plus monthly device payments — for qualifying customers with the new Simple Choice Plan

The availability of Samsung Galaxy S 4 comes as T-Mobile is delivering the most popular smartphones in revolutionary new ways and giving customers far more flexibility with how they buy and use their wireless devices.

"Samsung has a proven track record of delivering the 'Next Big Thing' in smartphone innovation," said John Legere, president and CEO, T-Mobile USA. "By combining our bold, Un-carrier moves — no restrictions, no limits and an unbeatable value — with Samsung's leading-edge technology, you're going to get the most from your Samsung Galaxy S 4 at T-Mobile —hands down."

T-Mobile is the only major U.S. wireless company offering the Samsung Galaxy S 4 with the following:

No annual service contract plus unlimited talk, text and Web on a blazing-fast nationwide 4G network.
The ability to save money upfront and every month over AT&T, Verizon and Sprint through the Simple Choice Plan.
HD Voice for nationwide crystal-clear high-definition calling and reduced background noise.
Smartphone Mobile HotSpot feature for sharing the Samsung Galaxy S 4's connection to the T-Mobile 4G network with up to five Wi-Fi capable devices (tablet, e-reader, laptop, portable gaming device and more). Smartphone Mobile HotSpot is included with every Simple Choice Plan.

Simple Choice Plan

T-Mobile's Simple Choice Plan starts with a base rate of $50 per month for unlimited talk, text and Web with 500MB of high-speed data at up to 4G speeds. Consumers can add up to 2GB of high-speed 4G data for $10 per month per line or get unlimited 4G data for an additional $20 per month per line. Customers can add a second phone line for $30 per month, and each additional line is just $10 per month. There are no caps and no overages, and no restrictive annual service contracts.

T-Mobile 4G LTE Network

T-Mobile's 4G LTE rollout complements its existing nationwide 4G network covering 225 million people, which third-party tests show already rivals or beats existing LTE networks in many markets. T-Mobile's advanced 4G LTE network is currently available in seven metropolitan areas: Baltimore; Houston; Kansas City; Las Vegas; Phoenix; San Jose, Calif.; and Washington, D.C. The company expects to reach 100 million people with 4G LTE by midyear and 200 million nationwide by the end of 2013. 4G LTE devices like the Samsung Galaxy S 4 will automatically and seamlessly connect to T-Mobile's nationwide 4G network where 4G LTE has not yet launched.

Device Capabilities

The Samsung Galaxy S 4 joins a growing line-up of T-Mobile 4G LTE devices. The device features the latest Android operating system — Android™ 4.2.2 (Jelly Bean) — and a speedy 1.9GHz quad-core Qualcomm®Snapdragon™ processor. In tandem with T-Mobile's blazing fast and unlimited 4G speeds when paired with the Simple Choice Plan with Unlimited Nationwide 4G Data, the Galaxy S 4 enables customers to  quickly upload or download their favorite photos, videos and TV shows without worrying about expensive overage charges.

With a 13-megapixel camera paired with a vivid 5-inch Full HD SuperAMOLED® (1920 x 1080) display, the Samsung Galaxy S 4 offers a sophisticated multimedia experience for capturing and sharing amazing photos. Advanced camera features include:

Dual Camera for recording stills or video with the front and rear cameras simultaneously.
Eraser Shot to remove unwanted objects or people from an otherwise perfect picture.
Drama Shot for snapping a burst of 100 images in four seconds to create animated GIFs.

The Samsung Galaxy S 4 also offers new enhancements for discovering and watching your favorite programs — whether at home or on the go. New entertainment features include:

Samsung WatchON is a whole new way to use your phone with your TV.  It transforms your Samsung Galaxy S 4 into an integrated smart remote to control your home entertainment system including TV, set-top box and DVD player. With the WatchON service, you can get recommended TV, movies and sports according to your personal tastes.
Samsung Smart Pause will automatically pause videos playing on your Samsung Galaxy S 4 if you turn your head away and resume once you've looked back.

Pricing & Availability

Starting April 24, the Samsung Galaxy S 4 will be available for T-Mobile customers for $149.99 down with 24 equal monthly payments of $20 for well-qualified buyers for 0% APR O.A.C. The Samsung Galaxy S 4 will be available online at http://www.T-Mobile.com starting April 24, and at select T-Mobile retail stores and through select dealers and national retail stores starting May 1. For more information, visit https://explore.t-mobile.com/samsung-galaxy-s4