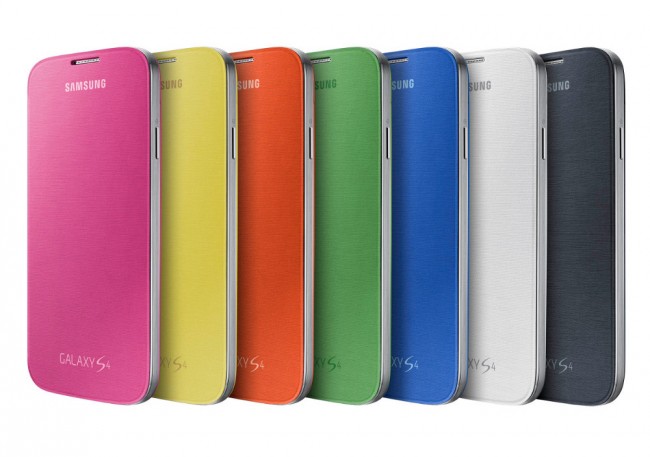 Along with this morning's announcement that the Galaxy S4 will arrive at seven U.S. carriers and another seven retailers beginning in April, Samsung also announced the entire suite of accessories for the phone. The options cover a wide range of accessory types from Flip Covers to spare batteries to Smart Docks to MHL adapters to vehicle mounts.
The newest additions include the S View Flip Cover that allows you view important information such as time, missed calls or texts, and battery status through a window without having to fully wake your phone. You'll find a Smart Dock that can connect to a monitor, keyboard, and mouse to turn your phone into the ultimate portable computing device. You'll even find a high-fidelity pair of headphones, built specifically for the GS4. 
The accessories range in price from $29.99 all the way up to $99.99. To view the entire lineup, along with prices, hit up the fact sheet we have included below.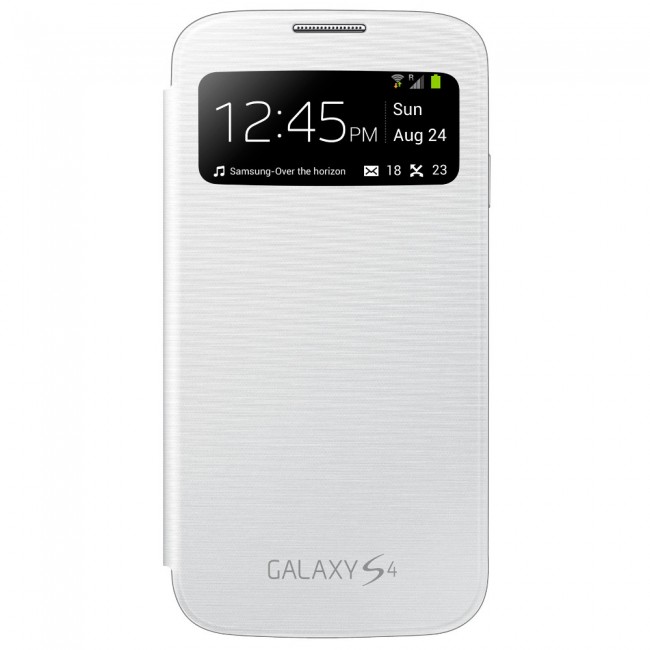 Unique Accessories

Flip Cover

Samsung'sFlip Cover enhances the look and feel of the Galaxy S 4with a stylish front cover andsnap-on back. By replacing the phone'sback cover, the Flip Covermaintainsthe thin profile of the Galaxy S 4.Seven vibrant colors allow usersto customize their Galaxy S 4for any occasion or outfit. Colors includeBlack Mist, White Frost, Light Blue, Pink, Green, Orangeand Yellow.($39.99)

S View Flip Cover

Similar in design to the Flip Cover, the S View Flip Cover brings both form and function to the Galaxy S 4.Through a clear window at the top of the cover, users can viewthe date and time,devicebattery life status, read text messages, and answeror reject calls with the cover closed. The convenient Auto Wake-Up function also activates upon opening the cover, eliminating the need to swipe to unlock or switch onthe screen manually. Available colors: BlackMist, White Frost. ($59.99)

Protective Cover+

TheProtective Cover+ fits snugly overthe back and sidesof the Galaxy S 4, protectingagainst bumps, scratchesand falls.The cover also gives users an enhanced grip of their device and is easy to attach. Colors includeWhite, Navy, Green, Blue and Pink.($29.99)

Spare Battery Charging System 

The Spare Battery Charger ensures Galaxy S 4users always have a freshlycharged battery on-hand. The compact, stylish design ensures safe portability when not in use and an LED light on the front indicates when the battery is fully charged.Spare 2600mAh battery, battery charging standand wall chargerareincluded.($49.99)

SharedAccessories

AllShare Cast Wireless Hub™

AllShare Cast Wireless Hub allowsusers to wirelessly share content with anynearby HDTV or HDMI®display. AllShare Cast Hub pairs quicklyto any premium HDMI-capable TVto transmit pictures, videos and music to a large screen, all while controlling the action from the smartphone. Compatible devices includeGalaxy S 4,Galaxy Note 8.0, Galaxy S III, Galaxy Note II and Galaxy Note 10.1.($99.99)

Smart Dock

Smart Dock turns a Samsung Galaxy S 4 or Galaxy Note IIinto a true desktop computing device. Using a large screen monitor, keyboard and mouse,userscan surf the Web, update asocial network status, respond to emails and even edit documents and presentations. There is no need to sync to a PC or manage multiple devices. The dock is equipped with three USB inputs, anHDMI output and a 3.5 mm output for stereo speakers.($99.99)

Universal Multimedia Desktop Dock

The Universal Multimedia Desktop Dock hasa compactdesignwith pop-up micro USB portthat also folds flat for ease and portability. The dock can simultaneously charge aSamsung smartphone while users listento music throughanexternalspeaker. Smartphones can also be docked while housed in aSamsungFlip Cover or S View Flip Cover.Compatible devices include Galaxy S 4, Galaxy S III, Galaxy Note II, Galaxy Rugby Pro, GalaxyVictory 4G, Galaxy Exhilarate and Galaxy Express.($49.99)

Universal Vehicle Navigation Mount

The Samsung Vehicle NavigationMounthas a slim design that will grip most smartphoneswith screen sizes between 4.0 and5.5 inches,with orwithout a case. The dockfeatures a strong gear-locking mechanism which securely grips your phone, andfull 360-degree rotationis provided for quick portrait-to-landscape viewing. Thevehicle dock is an ideal solution for hands-free calling or satellite navigation with your phone.Car charger is included. ($49.99)

MHL 2.0 HDTV Adapter

The HDTV adapterallows users to share pictures and videos on any high definition TV or computer monitor. Compatible devices include Galaxy S 4, Galaxy S III, Galaxy Note II and Galaxy Note 8.0.($39.99)

Universal Battery Pack

This 9000mAh battery pack will charge a smartphone up to three times and a tablet once, providing true portable power on the go. Compatible devices include Galaxy S 4, Galaxy Note 8.0, Galaxy Note 10.1, Galaxy Note II, Galaxy Tab 2 (7.0), Galaxy Tab 2 (10.1), and Nexus 10, the new tablet from Google™. ($79.99)

HS-330 Headphones

Galaxy S 4 users can listen to their favorite music and video content right out of the box with a pair of HS-330 Headphones. These headphones deliver high-fidelity, balanced audio through dual bass and treble speakers. In addition, the ergonomic design ensures an easy, comfortable fit, while the tangle-resistant cable and convenient mini remote allows users to adjust volume, skip music tracks and answer/end phone calls. The HS-330 headphones are also compatible with the Galaxy S III and Galaxy Note II. ($29.99)

HM3300 Bluetooth®Headset 

The HM3300 is a compact, stylish Bluetooth headset that supports NFC for tap-to-pair easy coupling. The sleek, glossy metallicfinish compliments Samsung smartphone designs. Features include HD voice, audio streamingand voice prompts in six languages. ColorsincludeTitan Gray, Marble White and Pebble Blue.($49.99)

Galaxy Muse™

Galaxy Muse is a portable music player designed to complement Galaxy smartphones and free users from the hassle of PC music management. With Galaxy Muse, active users can sync their music directly from their Galaxy S4,Galaxy Note II. ($49.99)