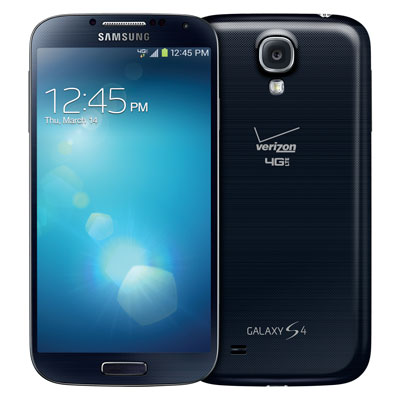 The Samsung Galaxy S4 may have been announced at a zany and somewhat entertaining press event at Radio City Music Hall in NYC back in March, but at the time, minimal U.S. carrier availability was mentioned outside of a couple of pre-orders. Today, Samsung has made almost all of it official, without mentioning any specific dates. 

The Samsung Galaxy S4 will launch starting in April at seven different U.S. carriers including Verizon, AT&T, Sprint, T-Mobile, Cricket, US Cellular, and C Spire. It will also be available at a variety of retailers including Best Buy and Best Buy Mobile, Costco, RadioShack, Sam's Club, Staples, Target, and Wal-Mart. Exact pricing and availability, as usual, will be announced individually by each carrier and retailer over the coming weeks.
The device itself is no different than what we got our hands-on already, and will feature Samsung's new suite of camera software, air view and gesture technology, powerful set of specs, and accessory lineup.
Knowing the history of announcements like this, I wouldn't be surprised if each carrier announced a launch date at various moments throughout the rest of the day.
The full press release with details on each new Galaxy S4 software feature along with a complete spec list can be found below.
SAMSUNG GALAXY S® 4 REDEFINES THE SMARTPHONE AGAIN WITH MORE LEADING-EDGE INNOVATIONS AND GOVERNMENT-GRADE SECURITY* 

The next generation of the world's best-selling smartphone widely available at seven U.S. carriers and seven retailers beginning in April

DALLAS – April 17, 2013 – Building on the success and innovation of its predecessor, the Galaxy S® 4 provides a suite of industry-leading innovations that will change how consumers interact with a smartphone and delivers a greater level of security for regulated industries. The Galaxy S 4 uniquely makes advanced technologies and features easy to use by integrating them into the way individuals use their phones every day.

The Galaxy S 4 is the first device to enable consumers to control the device with touch-less features including scrolling or turning a page, viewing documents within a file folder or a link on a web page. It enhances memorable moments with innovative camera features that captures progressive action and removes unwanted people from the photo. The Galaxy S 4 also enhances your TV watching experience with the new Samsung WatchON™ service that simplifies searching and recommends TV, movies and sports according to personal tastes. With WatchOn and the built in IR blaster, the Galaxy S 4 also functions as a remote control for home theater equipment.

The Galaxy S 4 is optimized for powerful performance on the nation's fastest networks and will be available on AT&T, Sprint, T-Mobile and Verizon Wireless as well as U.S. Cellular, Cricket and C Spire starting during April. Additionally, consumers can find the Galaxy S 4 at Best Buy and Best Buy Mobile, Costco, Radio Shack, Sam's Club, Staples, Target and Wal-Mart. Exact pricing and retail availability will be announced by each of the carriers and retailers in the coming weeks.

"The Galaxy S line of smartphones has achieved momentous success with 100 million in unit sales worldwide in less than three years. This validates that we are addressing what consumers want from a smartphone," said Dale Sohn, president of Samsung Telecommunications America. "The fourth generation of Samsung's flagship device builds upon the tradition of excellence and provides consumers with even more innovation that simplifies and redefines the way individuals will interact with their Galaxy S 4. We believe this device will be a true companion to all aspects of a consumer's life from work, to travel and even watching TV."

Meaningful Moments

The Galaxy S 4 combines the simple and visual interface introduced with the Galaxy Camera with a 13-megapixel rear-facing camera to take professional looking photographs with a smartphone. The front-facing 2-megapixel camera on the Galaxy S 4 allows consumers to capture special moments in unique and new ways with the Dual Camera shooting mode. Dual Camera mode takes pictures with both the rear and front cameras simultaneously to enable the photographer to be in the photo as well.

The Galaxy S 4 is loaded with several innovative capabilities that let anyone shoot like a professional:

Drama Shot: Capture a progressive event, like a baby's first steps or a basketball player's slam dunk, in one frame
Eraser Shot: Remove unwanted objects or people from an otherwise perfect picture
Animation Shot: Turn your favorite moments into animated GIF
Live Filters: With built-in filter options, an individual can now see how a picture will look– on both the camera and camcorder – before the photo is taken

Compile photos with location and weather information with Story Album™ to create the most comprehensive and personalized memory book. Integration with Blurb's photo book printing service allows consumers to easily print a physical book to keep or share.

Effortless Experience

The Galaxy S 4 introduces a completely new way to interact with a smartphone – without a touch. A simple wave of the hand over the screen scrolls through a screen and changes a song; holding a finger over the screen allows one to preview content within the photo gallery, email and calendar; pause a video by looking away from the screen and scroll to the top or bottom of a page by looking up or down.

Features include:

Air Gesture: Answer a call or skip to the next song by waving your hand in front of the screen. Useful when your hands are otherwise occupied
Air View™: Preview emails, photos in the gallery, or even the stories in Flipboard® by hovering your finger over the screen
Samsung Smart Pause: Pause a video by looking away from the screen
Samsung Optical Reader: Automatically recognizes text, a business card or QR codes and take immediate action like placing a call from a scanned card or translating text

Protect Work and Personal Information

The Galaxy S 4 is not only perfect for personal use, but it is enterprise ready as a SAFE™-designated device.   The Galaxy S 4 is the first Samsung device to include Samsung's KNOX solution, which provides comprehensive mobile security at the hardware level and enhanced personal privacy for individuals at the software level. All framework components come standard on the device, and full-feature activation by solution providers and distribution channels will be available at a later date.

The Galaxy S 4 simultaneously delivers on IT executives' need for industry-leading mobile security for companies with stringent security requirements. KNOX enables consumers to separate work via Samsung's containerization approach. IT managers can now access and manage the passcode-protected work container without disturbing the content within an individual's personal space on the device so consumer content, including photos, emails, music files and social network data remain intact on the device when an employee separates from a company.

Ease of Use

With the Galaxy S 4, there are a number of features to simplify the experience for first-time smartphone owners, those interested in switching from another operating system and long-time Samsung consumers. The Galaxy S 4 has a streamlined start-up wizard so consumers can begin using the device faster and learn about its unique features from the start.

Easy Mode, which was first introduced on the Galaxy S III, has been enhanced to smooth the transition for first-time smartphone owners by simplifying the home screen layout, camera, calendar, messaging and the internet browser to make the settings menu easy to navigate. Once a user is more comfortable with their Galaxy S 4, they can easily switch back to the standard home screen interface.

With the launch of the Galaxy S 4, Samsung is also introducing Samsung Smart Switch™, a PC application that lets new owners transfer contacts, messages, photos, music, calendar notifications and more from another phone to the Galaxy S 4. Smart Switch can identify favorite applications and recommend the same or similar applications within Google Play™.

The Galaxy S 4 greatly improves upon the popular notification shade, which provides quick control of new innovative features, and the functionality most often accessed and changed by consumers. The expanded notification shade shows 19 settings so consumers can quickly and easily toggle them on and off as needed.

Powerful Performance

The sophisticated Galaxy S 4 is designed with a full-HD Super AMOLED™ (1920 X 1080) display with 441ppi for brilliant, stunning graphics on the device's 5-inch screen. The slimmer, sleeker smartphone weighs 4.6 ounces, is 7.9 millimeters thin and has a minimized bezel to maximize the viewing experience.

The Galaxy S 4 includes Android™ 4.2.2 (Jelly Bean) with TouchWiz® enhancements, a 1.9 GHz quad core CPU and 2GB of internal RAM. The Galaxy S 4 is also uses Gorilla Glass® 3.0 – the most advanced, fortified glass for its stunning 5-inch display, making it stronger and more resistant to scratches and cracks than ever before.

The Galaxy S 4, available at select carriers in Black Mist and White Frost, is powered by a removable 2,600 mAh battery for extended use on a single charge. Users can store large libraries of photos, music and videos on the Galaxy S 4 with expandable memory of up to 64 GB to complement the standard 16GB or 32GB of onboard storage.

Protect the Galaxy S 4 with the S View Flip Cover, a specially designed flip cover that has a clear window to read a text message, answer or reject a call, and view the battery status. Sold separately, the S View Flip Cover comes in Black Mist and White Frost to add style, while protecting the device and providing privacy, and is sold separately.

For more information on the Galaxy S 4 and accessories, please visit www.samsung.com/us/galaxys4 or www.samsungmobileuspress.com.

Samsung Galaxy S 4 Product Specifications:

*KNOX incorporates Security Enhanced (SE) for Android developed by the NSA (National Security Agency), which is baked in at the kernel level of the device to greatly limit potential damage due to flawed, malicious apps and/or "rooting" malware.

Samsung, Galaxy S, TouchWiz, Samsung Smart Switch, ChatOn, WatchOn, S Voice, Story Album, and Air View are all trademarks of Samsung Electronics Co., Ltd.  Android and Google Play are trademarks of Google Inc. Other company names, product names and marks mentioned herein are the property of their respective owners and may be trademarks or registered trademarks.

###

About Samsung Telecommunications America

Samsung Telecommunications America, LLC, (Samsung Mobile) a Dallas-based subsidiary of Samsung Electronics Co., Ltd., researches, develops and markets wireless handsets, wireless infrastructure and other telecommunications products throughout North America. For more information, please visit www.samsung.com.

About Samsung Electronics Co., Ltd.

Samsung Electronics Co., Ltd. is a global leader in technology, opening new possibilities for people everywhere. Through relentless innovation and discovery, we are transforming the worlds of televisions, smartphones, personal computers, printers, cameras, home appliances, LTE systems, medical devices, semiconductors and LED solutions. We employ 236,000 people across 79 countries with annual sales of US$187.8 billion. To discover more, please visit www.samsung.com.