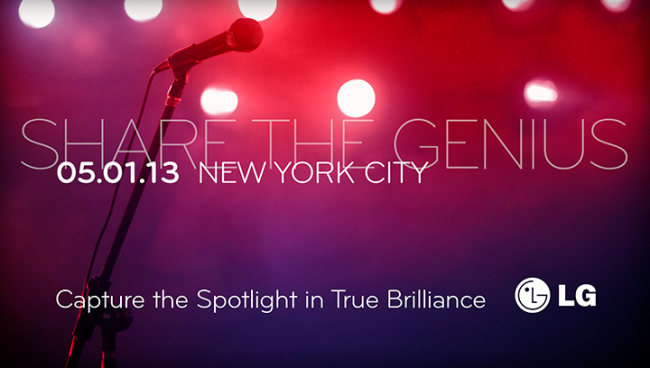 LG dropped a save-the-date note into our inbox this afternoon, asking us to clear our calendars for a May 1 press event in New York City. The press invite mentions little, only providing two quotes of "Share the genius" and "Capture the spotlight in true brilliance." While neither mean a thing to me, one would expect this event to feature their new Optimus G Pro, since no other phone from them is on our radar at this time. 
The Optimus G Pro is LG's 5.5″ device similar to Samsung's Galaxy Note 2, but with slightly better specs. Instead of a 720p display, it sports a full 1080p resolution, along with a 13MP camera, 32GB of internal storage, microSD card slot, and LTE. It even looks a lot like a Note 2, with its physical home button, however, there is no S Pen or pen-like functionality to the device. Early reviews on Korean Optimus G pros have been mostly positive, but could get even better once the device receives its "value pack" upgrade that features a smart pause video feature and dual camera.
We'll be sure to be on hand for whatever it is they announce.