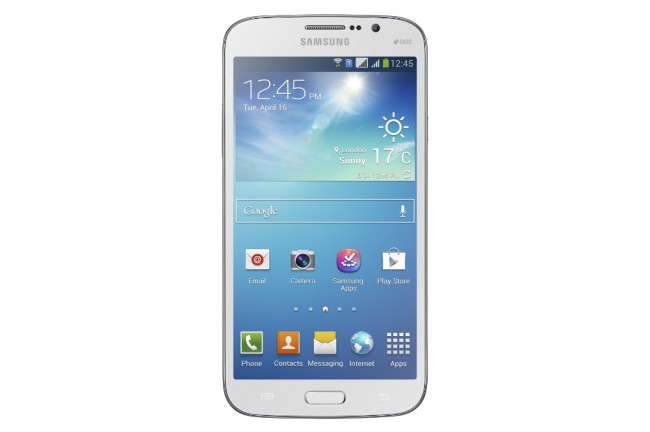 The Galaxy Mega is official. Announced this morning by Samsung, we have two new Galaxy family members to welcome in, the Mega 5.8 and Mega 6.3. Those numbers are in reference to their display size, in case you were wondering. Each has an "ultra-thin and portable" body, yet carries a similar feature-set to the much-more-high-end Galaxy S4. You'll find Group Play, S Translator, Story Album, all the camera modes you could ever ask for,  and multi-window. Oh, you don't care about software, you just want to know the specs? Well, let's get right into that then. 
These are mid-range devices by today's standards. The Mega 6.3 features a 6.3″ HD (720p) LCD display, 1.7GHz dual-core processor, 8MP rear camera, 1.9MP front camera, 8/16GB internal storage, expandable microSD storage slot, 3200mAh battery, LTE and HSPA+ radios, and Android 4.2.
The Mega 5.8 on the other hand is even lower in ranks, with a 5.8″ qHD LCD display, 1.4GHz dual-core processor, 8MP rear camera, 1.9MP front camera, 2600mAh battery, 8GB internal storage (microSD slot too), and Android 4.2.
Both devices will be available beginning in May from Europe and Russia. Who knows if they'll ever come to the U.S., though I would kind of doubt it. Maybe to someone like Cricket or Virgin? No pricing was given.
So there you have it. Saddened by this news? Or are you taking this as a sign of what's to come in the Note 3? Not specs, but size?
Mega 6.3
Mega 5.8
Press Release
Samsung Introduces the GALAXY Mega

April 11, 2013

New GALAXY Mega offers the latest smartphone features with an extensive viewing experience.

SEOUL, Korea, April 11, 2013 – Samsung Electronics Co., Ltd, a global leader in digital media and digital convergence technologies, today announced the Samsung GALAXY Mega, a device that combines the portability and convenience of a smartphone with the power, multitasking capabilities and extensive viewing experience of a tablet. The newest addition to the GALAXY family balances an optimal viewing experience on a 6.3-inch HD screen, yet is ultra-thin and portable enough to put into a pocket or hold in one hand. The GALAXY Mega offers a mix of popular smartphone and tablet features such as an effortless user experience, a split screen, multitasking between video and other apps and more.

"We are aware of a great potential in the bigger screen for extensive viewing multimedia, web browsing, and more," said JK Shin, CEO and Head of IT & Mobile Business, Samsung Electronics. "We are excited to provide another choice to meet our consumers' varying lifestyles, all while maintaining the high-quality features of the award-winning GALAXY series."

Best of Both Worlds
The GALAXY Mega is an ideal choice for customers who want to get the most out of one device that brings great quality at an even greater value. With a 6.3-inch HD LCD screen with landscape mode support, the GALAXY Mega enables an exceptional widescreen view for various applications including web browsing, video, and SNS.

The GALAXY Mega is also light and thin for incredible portability and easy, convenient mobile phone use. Customers can stay connected with a variety of new phone features including:

'Group Play': Enables easy content sharing for up to 8 devices on the same Wi-Fi network.
'Samsung WatchON': Transforms into an IR remote controller for a richer TV experience. Connect the device to your home entertainment system, and it will provide program recommendations, schedules, and even remotely control your TV.
'Samsung Link': Easily streams photos, videos, notes, or music to your television, tablet or computer.
'S Translator': Say or text what you need translated into the GALAXY Mega, and it will provide instant translation, using text or voice translation on applications including email, and ChatON.
'ChatON': Share what's on your screen with friends to stay more connected.

Productivity and Multimedia for the Multi-Tasker
GALAXY Mega users will accomplish more with the rich, interactive experience and increased usability of the widescreen mode. Split screen capability for a variety of applications including email, messages, 'MyFiles,' 'S Memo,' 'S Planner', and more, makes for increased efficiency. With the popular 'Air View' feature, customers can preview information in emails, photos in Gallery, and speed dial contacts.
The GALAXY Mega is equipped with an enhanced 8 megapixel rear-facing camera with a 1.9 megapixel front-facing camera, along with a variety of camera modes including 'Drama Shot'(merging continuous shots of a moving object), 'Sound & Shot' (captures 9 seconds of sound and voice together as the picture is taken to capture moments), 'Rich tone,' 'Sports' and more. The device also packs various newly-introduced features for endless entertainment, including:

'S Travel': Provides trip information, local guides and resources and more
'Story Album': Allows customers to create albums of daily events, keep special moments in one place using a timeline, geo-tag information and publish digital albums in hard copy

For users seeking the same great tablet features with even more portability, Samsung is introducing the GALAXY Mega 5.8. This more compact version features a 5.8-inch screen.

Both GALAXY Mega 6.3 and 5.8 run on the latest Android 4.2 Jelly Bean experience, and feature Dual Core Processor, spacious internal storage along with up to 64GB of expandable memory to store favorite apps, music, videos, photos and more. The devices' advanced software also facilitates more efficient processor use for improved battery life, meaning users can enjoy longer talk time and multimedia use.

The GALAXY Mega will be available globally beginning May from Europe and Russia. The product availability varies by market and will be rolled out gradually.

* Availability and launching time of the services may differ by region.
* Android, Google, Google Search, Google Maps, Gmail, Google Latitude, Google Play, Google Plus, YouTube, Google Talk, Google Places, Google Navigation, Google Downloads and Voice Search are trademarks of Google Inc.
* All functionality, features, specifications and other product information provided in this document including, but not limited to, the benefits, design, pricing, components, performance, availability, and capabilities of the product are subject to change without notice or obligation.

About Samsung Electronics Co., Ltd.
Samsung Electronics Co., Ltd. is a global leader in technology, opening new possibilities for people everywhere. Through relentless innovation and discovery, we are transforming the worlds of televisions, smartphones, personal computers, printers, cameras, home appliances, LTE systems, medical devices, semiconductors and LED solutions. We employ 236,000 people across 79 countries with annual sales of US$187.8 billion. To discover more, please visit www.samsung.com.