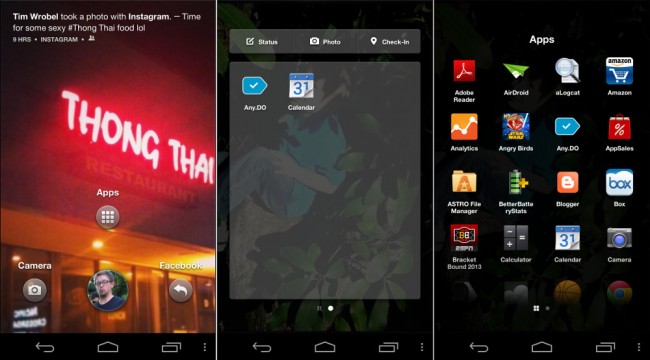 We're not even a week out from Facebook's announcement of the HTC First and their new home replacement called Facebook Home, and we already have a leaked beta build to play around with. Thanks to Modaco, you can give Home a spin as long as your device has a screen resolution of 1280×768 or less and doesn't have Facebook baked into your system (meaning you can uninstall Facebook). If you have a Nexus, it would be the perfect phone to test this on. 
Below, you'll find .apk files for the Facebook app, new Messenger client, and the Home launcher itself. Before you begin, it's a good idea (maybe even required) to uninstall Facebook completely from your phone and then start fresh with these three .apk files.
Update:  Facebook appears to have killed these from working.
Download:  Facebook App | Messenger App | Home Launcher
Again, uninstall Facebook from your phone. Then install these. I had success by installing Facebook, then the Launcher, and finally Messenger. Once done, login to Facebook and enjoy.
You'll notice that one of the most important features, Chat Heads, is missing. For whatever reason, that feature is not working at this time, so you'll have to go without it.
Via:  Modaco