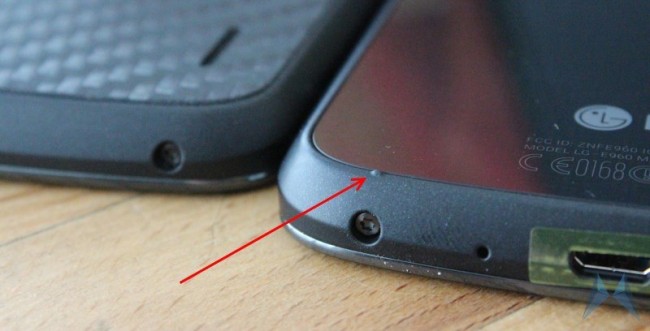 New shipments of Google's Nexus 4 are arriving with a couple of tweaks that were not a part of the original device. As you can see from the images above and below from Mobiflip, the changes are incredibly minor, yet still may offer something we could have used a couple of months ago – protection for that glass back. 
The first addition – and most important – is a rubber nipple or nub placed at the four corners of the backside of the device (top image). These should allow for the phone to rest slightly above surfaces and hopefully prevent scratching or in my case, full-on cracks. There is a chance that it will also help audio to escape from the backside speaker while the phone is lying back down.
The second change affects the camera, though it may not be much. As you can see from the image below, the cut out for the camera lens is slightly smaller in the new hardware. Will this cause the device to magically take better pictures? Eh, probably not.
And that's it – minor, minor changes, one of which we are big fans of.
Via:  Mobiflip