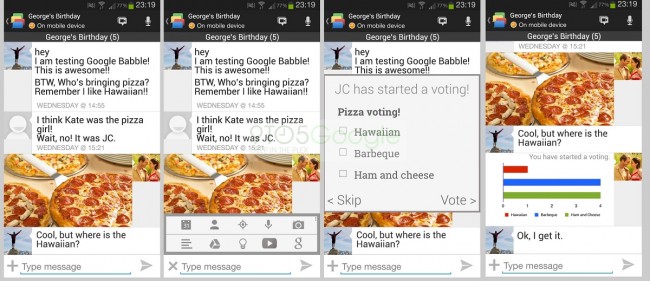 This morning, screenshots of what is being called Google Babble are making the rounds. An anonymous tipster has been leaving the pictures in a few inboxes, with no additional info given. From what we can see right off the bat, it looks like a pretty rough version of Google+ Messenger, with some new features thrown in such as sharing from other Google services (Drive, YouTube, Keep), real-time voting, and embedded picture viewing, which is already a part of G+ Messenger. 
Below, we went ahead and re-uploaded the picture with a few of our notes, since these screenies screamed red flag as soon as we saw them.
As you can see, we have a few concerns over these shots, but then again, we tend to overly criticize anything like this that crosses our desks. For starters, we wanted to point out there is some over-"pixelization," some border lines are not even close to being even, and that the overall placement of some things is just a complete mess. For example, the settings button inside the sharing center is so tiny, not even Tinkerbell could press that.
We know prototype builds of apps are sometimes wonky, given we played with Google Play 4.0 and that was not the smoothest running thing we have ever seen, but even that was way better looking than this thing.
Personally, if Google is working on a unified messaging service, this doesn't look "good enough" for me to get excited.
Via: 9to5Google
Cheers everyone who sent this in!