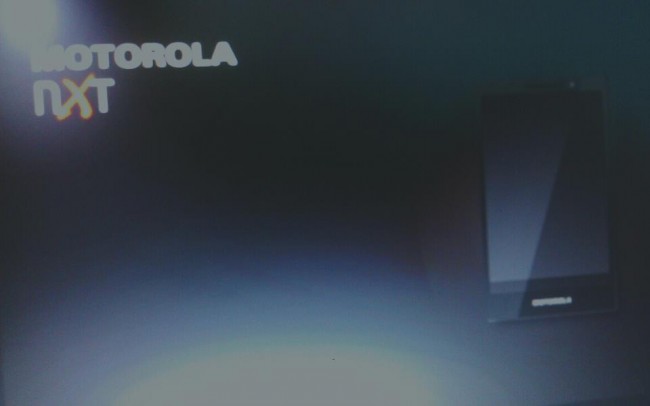 Outside of the Samsung Galaxy S4 and HTC One, I'd say it's safe to say that most of the geeks around these parts care only about one other device – that's the Motorola X Phone. Though Google's CEO isn't expecting any of Moto's products to "wow" us over the next few months, the X Phone will continue to be on our radar, as all of Motorola's have been in the past. There is a chance that it ends up wow-ing us, especially if Google shows that they have had any influence  on its design, build materials, and software tweaks. With that said, there has been little tangible evidence to this point, so when we see purported leaks surface, we can't help but be extremely skeptical. Take today's for example. 
According to AndroidWorld, in a rumor that is making all sorts of rounds today, a tipster submitted both the photo above and a list of what they believe to be the specs of the upcoming X phone. What you'll notice immediately is a name change to "NXT"? That's a first, and something none of our sources have ever mentioned as being the codename or official name of Motorola's top secret project. Oh, we should also point out that there is a remark in the post itself by AndroidWorld which clearly suggests that this was a user created render and should not be taken seriously whatsoever. And that mention was made after the fact, since one of the commenters of the site posted up the render that the tipster took the creepshot of, since well, he created it and all. Moving on…
Here is the original:
Second, the specs do not make sense. According to this source, we're looking at a device with a 4.7″ FHD display, 16MP camera, NVIDIA Tegra 4i chipset, 5MP front camera (with fancy eye scrolling tech), and a 7.9mm thick frame. While I would be OK with Motorola choosing the Tegra 4i for the X Phone, they would be eliminating Verizon and Sprint should they do so. The 4i doesn't support CDMA, so unless this phone will be one of the first LTE-only phones, don't put your money on it having an NVIDIA chip. And since Verizon is essentially Motorola's biggest partner, they sure as hell aren't going to eliminate them from their next big phone.
The 5MP front camera also seems like complete overkill. I get that the world is now filled with embarrassing VGA and 2MP selfies, but do we really need a 5MP shooter up top? This rumor mentions that the camera will be used for eye tracking, to scroll through documents, emails, and web pages automatically. Oh, that's original…or maybe not.
Hate to say it, as I would love to finally see some concrete evidence of the X Phone, but today's rumor is not that.
Via:  AndroidWorld