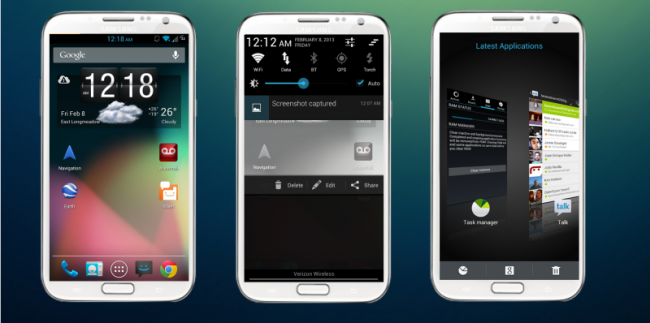 It's Friday, Friday, gotta flash ROM's on Friday! Well, now that you all hate me for getting that stuck in your head, let's start talking geeky ROM goodness. Today, we are featuring custom ROM's for the Galaxy Note 2 on Verizon and the Galaxy Nexus on Verizon. 
The two ROM's are Jelly'Beans' and MMuzzyROM. Both are heavily based in the stock look of Android, which we here at DL can greatly appreciate. So, what makes these ROM's noteworthy? Let's start with Jelly'Beans' for the Note 2. As I mentioned, the ROM gives the look and feel of Jelly Bean, while still retaining the functionality of certain software that Samsung includes on their devices, such as multi-window. By taking it a step further, the developer has enabled all apps to work with that feature, successfully bringing the best of AOSP and TouchWiz together and in perfect unity. You may now kiss the bride.
In terms of other features, there are the popular statusbar customization options for toggles and mods, the developer has removed the annoying location icon from the top bar (thank you!), and a long list of other goodies. To see the full list of ROM features and to download this ROM, check out the thread on XDA here.
Now, onto MMuzzyROM for the Galaxy Nexus toro. We all know there is a countless amount of custom ROMs available for this device – it's the beauty of owning a "Nexus." What makes people different is that some want features upon features, while others want a more pure Android, smooth experience without all of the bells and whistles. If you recall Bugless Beast, that ROM was well known for being pure Android with just a few tweaks to make it run very smooth, stable, and fast. And now with Pete gone from the development game, in comes MMuzzyROM.
With this ROM, users can take advantage of an enhanced power menu, quick setting modifications, and native data tethering. In essence, it is a bare bones ROM that brings minimal changes to the device, but plenty of performance tweaks and other small mods. If you are looking for speed and performance, try out MMuzzyROM. You can check out the full list of features and get downloads right on their thread here.
Via: Jelly'Beans' | MMuzzyROM
Preview of MMuzzyROM:
Cheers Tim242 and and Jared!