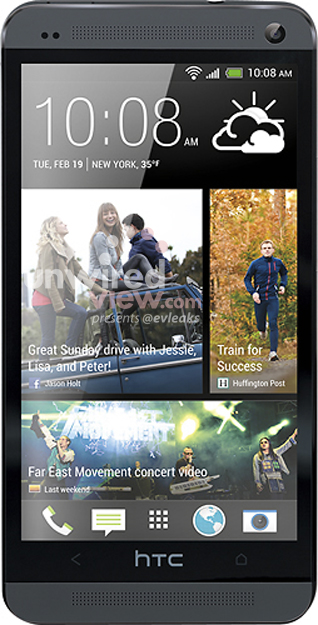 Leaked last night thanks again to @evleaks, this is more than likely what the HTC One will look like in black. Now, we have poked a lot of fun at the new HTC One (formerly M7) in white over its resemblance to the back of the iPhone 5, but this black version takes the cake. Two-tone grey and black, top and bottom panels, and a camera housed in the top, how can you not see the similarities? And not that we're complaining, it's a slick looking device, but you can't help but laugh a little, especially knowing that HTC signed a licensing deal with Apple to a keep them out of the court room for the next 10 years. 
Nothing else is necessarily revealed by this photo other than the color scheme. We do get another look at this new version of HTC Sense 5.0 and a date which reads "Tue, Feb 19 | New York," which is the same day that HTC has a press event planned to unveil the device.
As far as a launch goes, the latest rumors peg this for a March 22 arrival here in the U.S. The European launch could happen a week or two before, but before March ends, we should have the device on AT&T, Sprint, and T-Mobile. We may also see it in 32GB and 64GB variants for $199 and $299 on-contract, respectively.
What do you guys think – black or silver version? Which would you take?
Via:  Unwired View