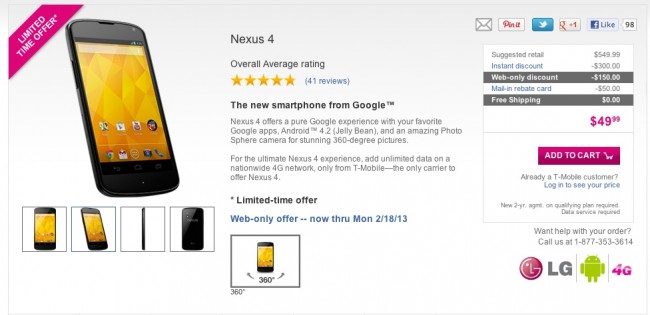 This morning, T-Mobile dropped the price of the 16GB Nexus 4 to $50 on-contract after a $50 mail-in-rebate. The other day, we highlighted a deal that LetsTalk was having which brought the price down to about $76, but this is now much more appealing. Plus, it doesn't come with any of the shady contract deals that you typically find with online resellers because it's coming directly from T-Mo. $50, folks – you down?
The deal is online-only an runs from now until February 18. That gives you just over a week.
Oh, the Google Play store still has plenty in stock, so if you want to go the uber-smart approach and still avoid a contract, I'd recommend going there first.
Via:  T-Mobile | Slickdeals
Cheers Scott!