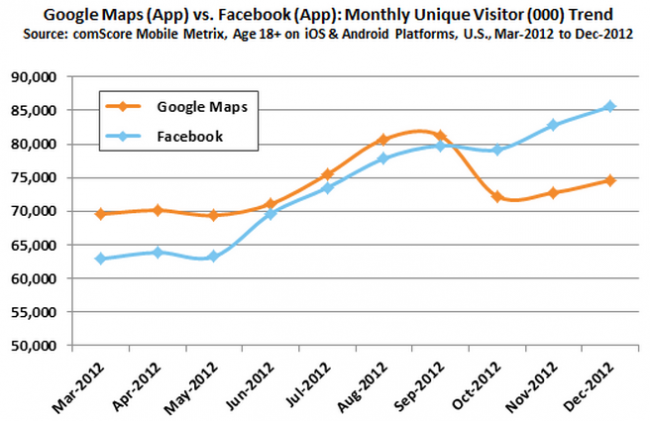 During the early parts of 2012, Google Maps was doing great. It led the top ten pack of monthly unique visitors against some stiff competition, mostly themselves, but there was still Facebook, Pandora, and Yahoo! Messenger (somehow). Out of the top ten most used apps in 2012 on iOS and Android, Google owns five of them, which is pretty impressive to say the least.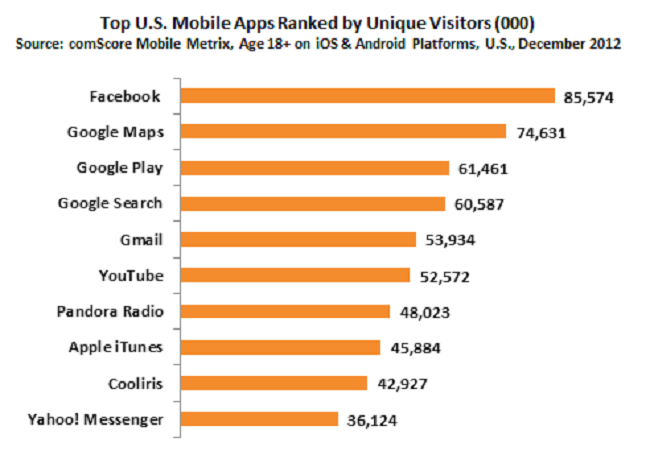 Now what makes any of this interesting is that like I mentioned, things went South for Google Maps about the same time the iPhone 5 was released. With the launch of Apple's new flagship, they dropped Google Maps in favor of their proprietary Maps app, which dropped Google down to second in terms of usage. Since being reinstated on iTunes, they still have not been able to come back, but in time they should have no problem doing so with download of Google Maps on iTunes through the roof.
What is even more funny is that with the Facebook app for Android being super buggy and us hearing usually nothing but complaints about it, that people continue to use the official app instead of alternatives. I don't seem to have nearly half of the issues that others report, but we can all agree that the Facebook has come quite a long ways since what it used to be.
Via: comScore