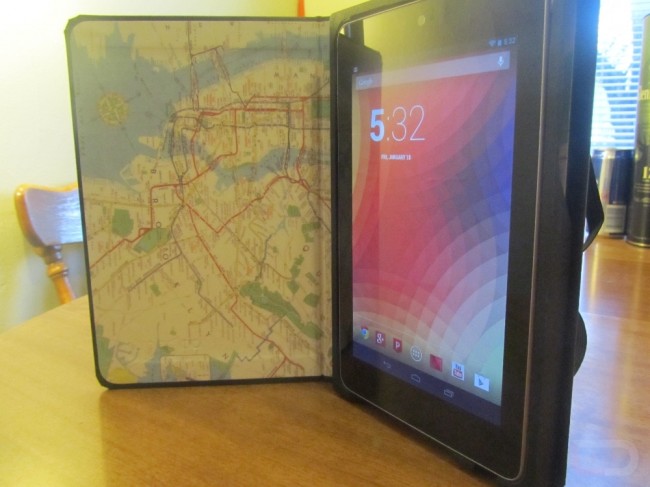 The review of Portenzo's awesome Nexus 7 covers way back in the day got me thinking that I'd like a case of my own for my tablet. I wanted to see what other good quality cases were out there though, and many people suggested that I check out Treegloo if I was looking for a good bookcase. After a long small delay it has finally arrived and it's about time to give this case a once over. 
Treegloo is a design shop that started off making cases for the iPad and has since grown to the Nexus 7 and does a pretty decent job at it. The cases are wrapped in soft faux leather with solid wood frames inside to keep your tablet in one place no matter which way you are holding it. Each one of these wood frames is hand-made as opposed to machine cut, a fact that Treegloo is, rightfully, proud of. The overall product is a solid, slightly hefty case that give you the security to take your tablet outside the walls of your house.
Treegloo also offers a bevy of customization options, leaving almost no two of their cases looking exactly the same. The a la carte ordering line starts with choosing your frame finish (9 colors) and then you move onto the leather color (10 colors). From there you choose what type of liner you want, choose the color of the liner (19 colors) or you can choose from a set of liner prints that feature maps from around the world. And that's just cosmetic options, you can choose the standard elastic strap to keep it closed or go with the kinetic latch that allows the case to stand for easy typing and media viewing. Oh, and all cases come standard with the magnetic sleep/wake function that the Nexus 7 works with.
And Treegloo provides all these options for consumers while still keeping their ecological footprint small. All the paper stock they use are FSC complaint and their other materials are Green Seal certified.
Prices for these cases start as low as $30 bucks and go up from there depending on upgrades to the latch, liner and certain colors. The prices are fairly affordable considering how much customization and sustainability goes into each case, but since they are hand made expect a bit of a wait before your case arrives. The site says they expect cases to ship within 7-21 business days, but my wait was about 3 times that.
However, the end product feels great in your hand. The faux leather they use feels better to the touch than my Moleskin notebook that I carry around. It offers protection and style for an affordable price. If you're ready to get started head over to Treegloo's website.
Update:  After posting this review, we have heard enough stories of delays in shipping of Treegloo products that we wanted to add this note as a word of caution. While Treegloo may make nice cases, readers' orders are taking months to be fulfilled, the company has even stopped communicating after a few support emails have been exchanged, and customers are often times left wondering if they are ever going to see their cases. If you want a case from a reputable company that will deliver on time, check out Portenzo.
[nggallery id=43]