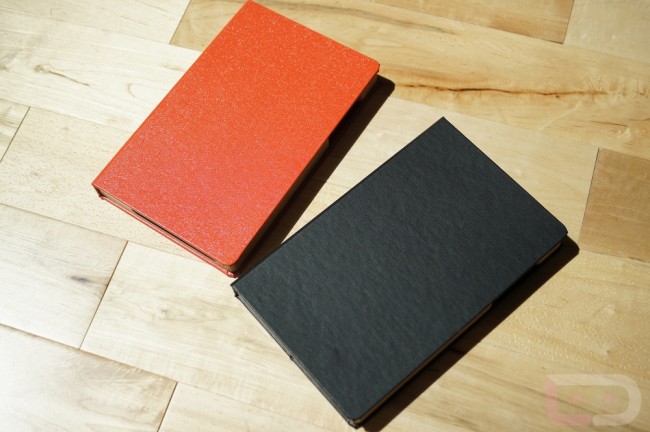 Portenzo hit us up a couple of weeks ago to see if we were interested in checking out the Nexus 7 BookCase that they had created. At first, we hesitated because typically, we see readers who care more for softer feels and portability in a case, but then we learned that these are custom, hand made in the U.S. with incredibly high quality materials and had to give them a try. We also know that they are popular in the uber-competitive iPad case business. So here we are, with 2 custom Nexus 7 BookCases from Portenzo. 
What is a Portenzo BookCase?
A BookCase from Portenzo is exactly what it sounds like it would be. It's a case for the Nexus 7, but rather than being a soft TPU or pliable leather, it's hard, just like a hardcover book would be. It offers ultimate protection, but carries an appeal that fashionistas would love thanks to a number of customizable options.
Customize
The big selling point here is the fact that you get to customize the case to be the color scheme of your dreams. Whether you want a faux leather feel or a canvas cover, you have up to 8 color choices on the outside. From there, you get to choose from 9 different interior colors along with magnet and strap options. Lastly, you can tell Portenzo to turn the back of the case into an Intellistand to make video watching all the more comfortable.
Materials
The Portenzo team hand makes their cases using "tried and true methods of old world book binding" with materials like American maple as a base. They include auto sleep/wake functionality free of charge, an Audio-Flow sound chamber to improve your audio experience, and then all of the other add-ons you chose during checkout.
Overall
I really like the craftsmanship with the Portenzo BookCase. You can tell the minute you pick it up that these are well made with quality goods. The Nexus 7 fits in tightly after a few presses and has all of its ports and mics semi-exposed. It's a bit difficult to tap the power and volume switches, but the auto sleep/wake eliminates half of that problem. The different color schemes that you can create are pretty fun, especially knowing that your case is essentially a one of a kind. I also like the fact that these are made right here in the States. At almost $40, I'd call that a reasonable price, knowing that you are getting a product of this caliber.
Buy  ($39.95)
Gallery: