CES 2013 is over – has been for two full days now. Editorials on how big of a bust this year's show was have been written ad nauseam, so this is not one those. Instead of taking 1,000 words to express my disappointment in the lack of blockbuster smartphone announcements, I'll share the trip that two Droid Life editors had. We always have a blast in Vegas, especially during CES because nothing matches up better than one of the most over-the-top cities on Earth hosting companies trying to out-do each other for a week. Let's talk about it. 
Flights
Flying to Las Vegas from Portland should be simple, right? A 2.5 hour direct flight on most of the major airlines exists, but since they know well in advance that CES week is in early January, we went the affordable route and flew JetBlue. This was my first time on JB and likely won't be my last because of their reasonable prices in and out of Portland, which for some reason is a city that doesn't actually know the meaning of the word "reasonable" when it comes to flights. Overall, they get in and out of locations quickly, have ample legroom for someone my height (6'2″), free DirecTV, and actually offer you free snack choices rather than one, which on other airlines usually means a mini-bag of blah.
Unfortunately for Tim and I, JetBlue flies through Long Beach when Portland is involved, so on the way back, we were greeted with a flight half-full of children fresh out of DisneyLand. I'll just say this – after spending 5 nights in Las Vegas with the last ending in 2 hours of sleep, you can imagine how amped we were to see little Billy racing his car up and down the metal windowsill for an extra two hours as we watched the JetBlue crew open up our plane's left engine and attempt to make us feel safe about getting onboard for a two hour flight.
Hey, we made it, though!
Press Day
Following NVIDIA's pre-press day press conference on Sunday night that set the bar rather high, and also ended with Dennis Rodman dubbing us "them geek guys," we entered Monday morning – official press day at CES, at the Mandalay Bay (at the Venetian in years past). While I hope that you enjoyed our coverage of the all day event, which features one headline grabbing press conference after another by the biggest companies in the world, I thought we'd talk a bit about what goes into the day on our end.
The first event over the last few years has been held by LG at 8:00AM. Since space is limited and on a first-come-first-serve basis to almost all press events, we get there at least an hour before to start waiting in line, something we'll do for a solid 12 hours on the day. So our day usually starts at 5AM or so, involves a cab ride, a cup of coffee, protein bar or fancy superfood drink, and our bums planted firmly on convention center carpet.
Once the first event is over (each lasts 45 minutes), we hope to have time to swing into the press room to fight over the limited Cat 5s in the building, browse the three dozen press emails we received since the conference has started, and then figure out where and when the next presser starts. This cycle happens all day long. Sit and wait. Watch press event. Hope something awesome happens. This year that rarely happened. Write up news. Browse for more. Fight over Cat 5. Find new line to wait in for an hour.
Well, that's how it goes until Samsung's event rolls around. In order to get your foot in the door, you better be in line 2.5 hours early. It's the biggest event at every CES, and that usually means two lines – one for VIP and early entry plus another for the general press. Thankfully, we had a VIP pass.
The day usually ends with Sony throwing their own press event all the way up at the Las Vegas Convention Center, which is a nightmare since every single tech press person in the world is at official press day in another hotel. We tend to skip this out-of-the-way event, so that we can go recharge, hit up other evening press parties and get prepared for Tuesday, the day the show floor opens.
Our work "day" finished at 9:30PM on Monday.
Nike FuelBand points without actually having worked out:  4635.
Floor Opens
Once the CES show floor opens on Tuesday morning at 10:00AM, it's go time for a couple of days. We bop around from booth to booth, meet with companies, look at their products, film hands-on videos, hope to find a gem, and then venture to the overpacked press room to attempt to write it all up, before heading back out again.
If you haven't experienced the show floor at CES, I'm not sure I can even do it justice by trying to explain it. It's massive. It's so many square feet of cable, massive televisions, projectors, headphone booths, and scantily clad women hawking iPad Potty accessories or dancing on makeshift stages like the Faux Pussy Cat Dolls, that an individual's mind probably burns through more brain cells attempting to take it in than Dennis Rodman did during our "geek guys" conversation.
The show floor remains open through Friday, but this year, we took just two days to gather everything we could from it – Tuesday and Wednesday. That proved to be a brilliant plan, as most of the PR folks we talked to were leaving Thursday morning as well.
It's a good time, a lot of walking, even more laughing, and way too much snickering for one week.
Nike FuelBand points without actually having worked out:  5341 and 4953.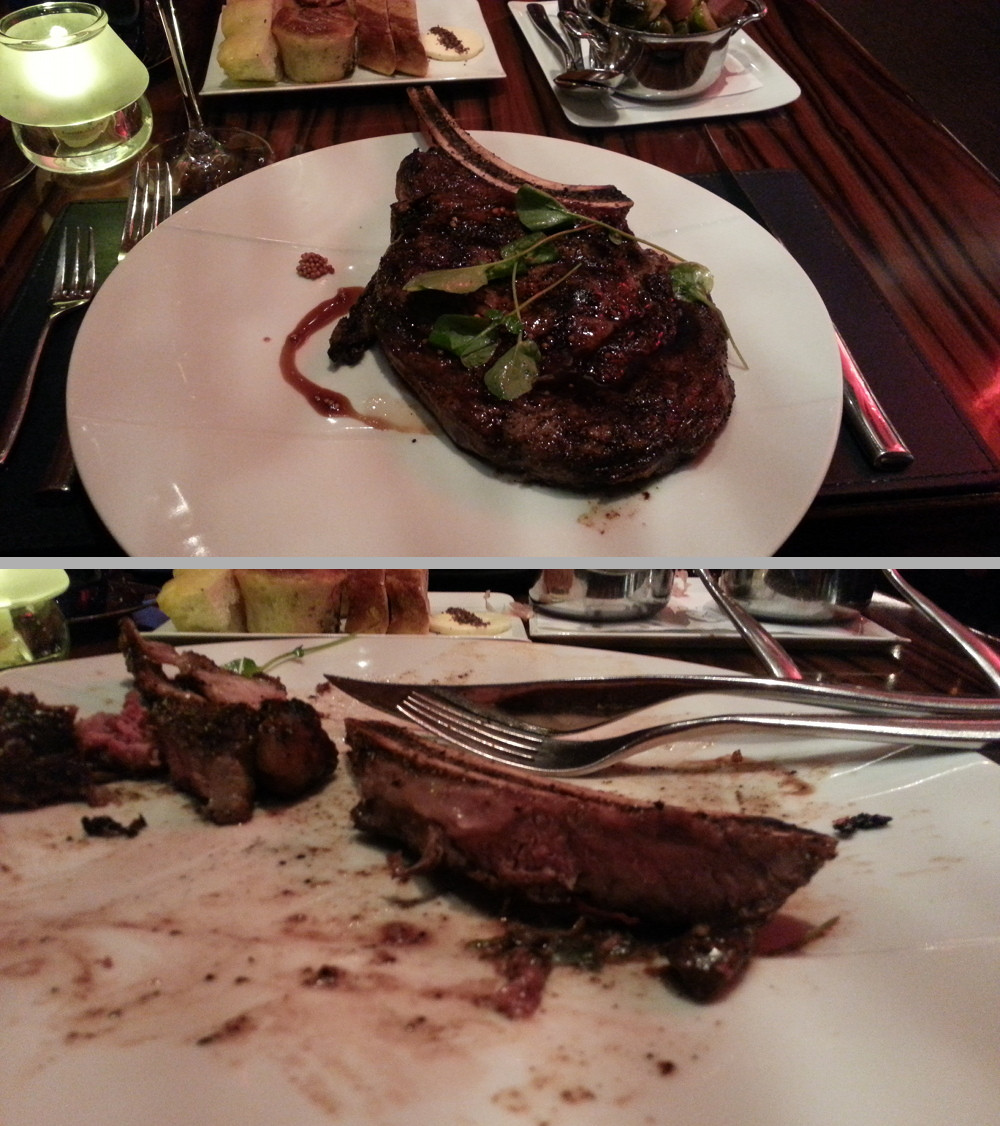 The CES Dinner
Outside of the "work" part of CES, there is one tradition that Tim and I always try to keep up – the CES dinner. Once during the week, assuming we can fit it in among the dozen press parties, we try to go all out on one dinner. It's our lone chance to break away from PR people, convention center carpet, fear of catching an incurable bird-influenced virus, and hotel room with the airport and Hooters Hotel view, to indulge in one of Vegas' finest restaurants. It's our night to unplug.
This year, we chose Gordon Ramsay's Steak, which is located in the Paris hotel. Tim has a yet-to-be-unveiled thing for Sir Gordon which helped influence the decision, something I can't fault him for after the 24oz of aged rib-eye entered my body without hesitation. I think at one point I heard him say, "You just took that 24oz down like it was nothing." Indeed, I did. Along with the bacon and bleu cheese stuffed olives in my martinis as they washed down oysters on the half, some sort of lobster and chorizo magic, and a couple of sides.
Nike FuelBand count:  Probably -8000 after the number of calories consumed.
Other Goodies
The rest of our trip included a last minute race to Paris (again) with the crew from Phandroid from a PR party to watch Alicia Keys finish up her set (Kevin with the VIP pass hook-up), a front car seat in New York, New York's rollercoaster, Trinidad James "All Gold Everyting" on repeat, a random photo of Barry Sanders, a beat down at the Comsopolitan's blackjack tables (with us receiving the pain), and an introduction to a robotic horse racing game that only takes quarters and is simply put, amazing 2:00AM entertainment.
The End
So was CES a bust and irrelevant, as so many in the industry have so outwardly described it? Eh, not really. Sure, it lacked the game-changing announcements we saw two years ago when Verizon dropped the first four LTE phones on us and Motorola unveiled the Lapdock (how's that doing, by the way?). But these days, companies are announcing products much closer to their actual arrival dates rather than teasing you 6-8 months in advance. This isn't the TV industry. Does anyone really want another DROID Bionic scenario? So over the next few months, we'll see staggered press events where companies show off products that we can actually touch in a matter of weeks.
What we saw was the evolution of LTE, and how it will enter our lives in new ways beyond smartphones and tablets. We got to see the new industry standard for displays – 1080p. Sony finally released a phone worth talking about, for the first time in…ever. We saw companies realize that their fool-proof $600 Android tablet strategy from 2012 was a disaster, so they avoided them altogether at this year's show. And we saw Dennis Rodman, in Vegas on a random Sunday night, only not for anything CES related, telling Tim "Don't go there" when swooping in for the fan photo.
We also had a lot of fun.
Final Nike FuelBand count for 4 days:  19,222.