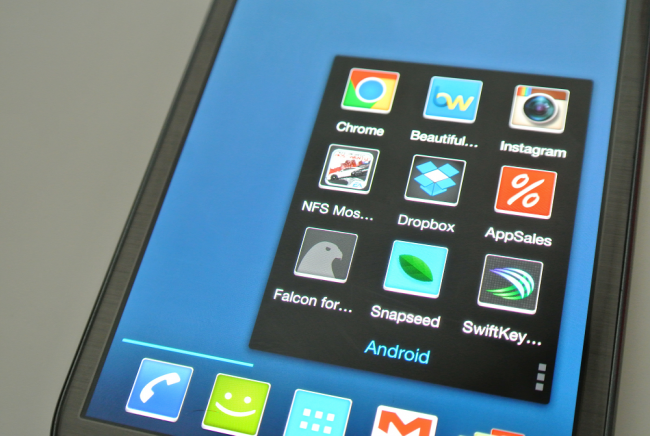 So, you got a fancy new Android phone for the holidays! Congratulations! Now that you're all set up, the only thing left to do is find the best apps and start having some fun. Google Play offers thousands of different applications and games to choose from, so without getting lost looking through countless pages of apps, allow us to drop some knowledge on you.
These are our top 10 recommendations to get you started with Android. 
1.  Chrome (free):
Earlier this year, Google released Chrome for Android and changed the way folks were using their Internet browsers. With Chrome, your mobile device and desktop computer's tabs/browsing history can be perfectly synced, allowing for a fantastic browsing experience while on the go. Were you looking up that perfect spot for lunch on your desktop and forgot the name while on your way? Chrome has you covered. It's free on Google Play and is always the first app we suggest to new Android users.
2.  Falcon Pro ($0.99):
Our love for the Falcon Pro app for Twitter is well known in these parts. We even did a full review on the app just to inform the masses of its existence. What makes the app so great is the user experience. The app is built amazingly well and offers up a very smooth, yet easy-to-navigate experience. It features swipe controls that help you go through your different feeds, which allows you to only see and read what you want. When it comes to Twitter apps, Falcon Pro rules the roost.
3.  SwiftKey 3 Keyboard ($1.99):
For Android users, having a third party keyboard can be a major plus. There are a lot of different options out there and we have found that SwiftKey 3 (especially the new beta, Flow) takes the cake. As for me, I type extremely fast, so I need a keyboard whose auto correct I can actually rely on. The app also offers up a ton of customization options such as themes, layout options, and more. To top that off, it offers usage statistics that show you your typing efficiency and things of that nature. Definitely worth the price.
4.  Instagram (free):
Instagram makes our list given that we feel it to be the "perfect social network." None of those silly status updates – just pictures that give you a peak into the lives of those you care about. And of course, you can follow some celebs if you are so inclined. You can always check out Facebook, Google+, and Tumblr as well.
5.  Nova Launcher (free):
Custom launchers are one of the many things that makes Android great. If you aren't happy with the stock home experience, you can change it! What makes Nova our go-to launcher is that we simply love the performance and customization options. Once applied, it gives you the ability to use custom icons, adjust grid sizes, change home screen transitions, manipulate the app drawer, and so much more. If there was something in your stock home experience that you weren't enjoying, Nova likely has a fix. Also, if you're looking for a good custom icon pack, check our Lustre and Tersus from Google Play.
6.  Snapseed (free):
Snapseed is relatively new to Android, but it has already become one of our new favorites. Previously only available for iOS devices, it is award-winning photo editing software that puts many other "filter apps" to complete shame. With swipe controls that put you in command of some powerful editing tools, you can turn your silly smartphone pictures into works of art. Once you are done editing your pictures, you can easily share them to your favorite social network or save them to your device. What makes it even better is that it is completely free.
7.  Games (Granny Smith, Need for Speed: Most Wanted):
Okay, we couldn't narrow it down to just a single game, so we will give you two to get started. For starters, if you know anything about us, you will know we love Granny Smith. We named it our top game of 2012 and for good reason – it's addictive! To start, it's nice and easy and then evolves into a game that can become frustrating and extremely difficult, all while being completely enjoyable to play. It's priced at $1.99, but is a game that we can't get enough of. Secondly, we have Need For Speed: Most Wanted. To put it simply, it's the best driving game on Android. Period. For having tilt controls and some touchscreen controls, the game plays extremely well. The graphics are insanely sweet, but it does come paired with a high $5.99 price tag. Act quick and you can still get it on sale for $0.99.
8.  AppSales (free):
This app is fantastic. It's sole purpose is to save you money on the apps you want. Everyday, AppSales is updated to show which apps on Google Play are currently on sale. From using this app, I've easily saved $10 on apps/games, which is a win in my book. Definitely install this one if you're big into buying content for your device.
9.  Beautiful Widgets ($2.50)
Beautiful Widgets has been around since the beginning, and it's always on our list of recommendations for new Android users. With the newest updates the app has received, it has blossomed into an amazing widget application, with a literal ton of different options to choose from. Once one of the widgets is applied to your homescreen, you can see the time, current weather reports for your location or another location, dates, and access your alarms all from your homescreen. There isn't a single option you can't customize, which allows users to make a widget that fits their device and lifestyle with relative ease. The app runs a couple of dollars, but it could be some of the best money you spend in a long time.
10.  Dropbox (free):
Being able to have all of your important files/media on the go is important to everyone, not just Android users. With Dropbox, you have a safe place to store your important photos, videos, work files, and everything else that you don't want stored on your device. Dropbox is one of the must-have apps for any Android user.
Honorable Mentions:
The below listed apps didn't make our top 10, but they certainly deserve a mention. Some are apps for getting work done, and the others are games that will help you waste that extra time you have. Either way, these are just a few more apps that we can't live without as Android users.
1.  Flipboard (free)
2.  Pattrn (free)
3.  Grand Theft Auto: Vice City ($4.99)
4.  Adobe Reader (free)
5.  Zombiewood (free)
6.  Google Currents (free)
7.  Sound Search (free)
8.  Ingress (free)
If you have any apps that you want to share with the community, feel free to list them below in the comments section. Have a good time with your new device!