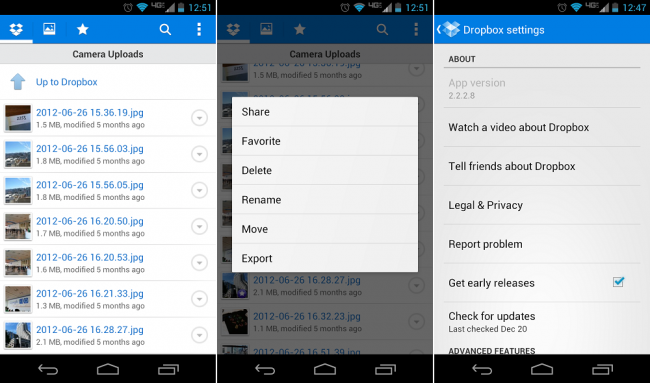 Last night, the Dropbox team released a public beta of their new 2.2.2.8 build for users to provide feedback on. Inside the beta are some UI improvements, a multiple photo delete feature, and a "favorites" feature. If you're big into Dropbox, it's pretty smooth. Check out the full changelog and download the beta below.
Christmas is coming early in Android land! The Dropbox elves have been in the workshop all week preparing this exciting preview release for you.

What's new:

Effortlessly share several of your beautiful photos at once,
Organize your favorite photos into albums. You can share them too!
Delete multiple photos at once
UI improvements and updates throughout
Lots of other little tweaks and bug fixes

Additionally, we're trying something new with this forum build. We've added a feature to opt in for future early releases directly through the app. For forum build downloads this feature is on by default so you can easily get updates to the forum build and the final release a bit early. You can also toggle this option on and off in the app's settings.

Help make this the best Android release yet by sharing your feedback with us. So create some albums and share some photos, and let us know what you think!
Cheers Brad and Jeremy!