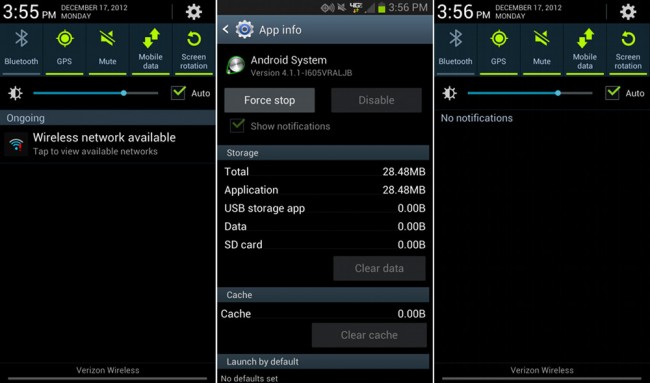 The ongoing notification on most of Verizon's new smartphones, oh how we despise you so. We still can't figure out why Verizon decided to eliminate the quick WiFi toggle on some phones in favor of this pesky, non-removable ongoing notification, but that's exactly what they have done. As long as you are away from home or work, even if you are miles away from the nearest WiFi network, Verizon has decided that your phone should constantly remind you that turning on WiFi would be awesome. 
We have talked about ways to remove this, but unfortunately, it's now being tied to "Android System" which makes it really tricky. Thankfully, a couple of our readers figured out that if you long press on the notification, and go to "App info," that you can Force stop the action and temporarily get rid of it until your next phone reboot or WiFi toggle. I should mention again that this is sort of tricky ground, as you are force stopping "Android System," however, so far we haven't heard of any massive crashes or issues after doing this.
So if you'd like to remove that ongoing notification temporarily, give this trick a try. Just remember that after you reboot your phone or toggle your WiFi on or off, you'll have to do it again.
Cheers Addison!