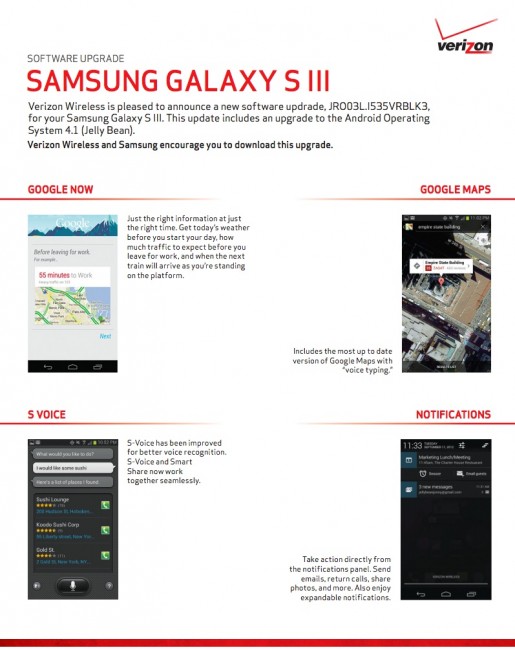 Moments ago, Verizon posted up support documents for the Jelly Bean (Android 4.1) update of the Samsung Galaxy S3. I'd call that "official." We had heard from sources that the final build had been approved and that December 14 was looking like the targeted release date, something that now appears to be spot on.
The update includes all of the Jelly Bean features you'd expect, like Google Now (even though they label it above as "Plus"), better notifications, smarter widgets, and Project Butter. Beyond Jelly Bean, Verizon also included support for Isis Mobile Wallet (still only available in test markets), turned the phone into a global roaming beast, and fixed a variety of bugs.
The update appears to be 400MB in size. The build number is VRBLK3, which leaked last week.
Update:  We aren't sure why, but Verizon just changed the support docs back to a previous update. We'll keep an eye on it and see what happens.
Update 2:  The new Jelly Bean docs are back. They updated the top doc to say "Google Now" instead of "Google Plus." They also removed the "Starter Mode" mention from document two.