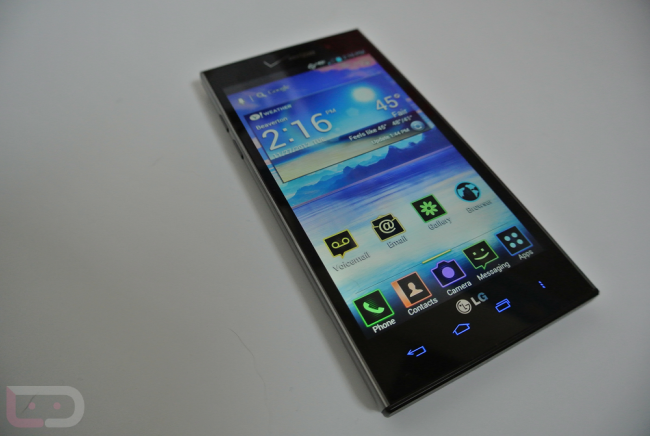 Verizon and LG were kind enough to send us out the brand new Spectrum 2 that features some decent mid-range specs that sound good when read out loud. It has a very crisp 720p IPS display, 4G LTE, 1.5GHz dual-core Snapdragon S4 processor, 1GB of RAM, Ice Cream Sandwich, 8MP back-facing camera, and wireless charging capabilities. 
Now, no phone is perfect, but the Spectrum 2 is certainly one of the furthest-from devices I have had in my hands for a while. There are other devices that utilize a dedicated Settings hardware button, but LG's rendition on the Spectrum 2 is an insult to Android's beauty. LG has thrown in a few software features that I'm not too fond of (a constant WiFi reminder), bulky and rather weird feeling hardware, and to top it off there is one of the worst-placed power buttons I have ever seen attached to it. As for the goods, the camera seems to take some decent snapshots and video, as well as LG's device Theme options that give users the ability to customize the look of their device without the need to unlock and root.
We'll plan to have our full review up next week, so be on the look out for that if this device has caught your eye.
Gallery:
Unboxing and Hands-on: