The LG Nexus 4 wasn't much of a secret when Google finally announced it. After appearing in a variety of forms and rumors for weeks ahead of its unveiling, we thought we knew all there was to know about it. That of course, was not true. But once we finally got a hold of it, we wondered if there were enough hidden secrets or highlights to make this ultra-affordable Nexus stand out from a crowded holiday smartphone lineup or if the lack of LTE would be a deal breaker? Let's talk about it.
The Good:
Specs:  When it comes to specs, there are few phones that can compare to the LG Nexus 4. It has the latest and greatest processor (quad-core Snapdragon S4 Pro), 2GB RAM, an 8MP camera, wireless charging, NFC, and one of the best displays in the business (4.7″ HD IPS+). It may lack an LTE chip, which could be a deal breaker for some, but if you can live with HSPA+ data speeds (which aren't slow), then you can't really go wrong here. The Nexus 4 is essentially a brother to LG's Optimus G, a device we reviewed a few weeks back, and were very fond of.
Display:  The 4.7″ HD IPS+ LCD display on the Nexus 4 is one of the best in the business. If it weren't for the new 1080p display in the HTC DROID DNA, I'd argue that it is the best in the business (though the Galaxy Note 2's display is up there as well). Colors and lines are ultra-crisp thanks to the 320 pixels per inch (ppi), the viewing angles are impressive, it gets very bright for use anywhere, and the blacks are black enough. Beyond how it looks, this display has some other tricks up its sleeves. LG and Google designed it to almost bubble up above the outer frame of the device. What I mean, is that it cascades over the edges of the device, so as you brush you finger across it, you don't feel a sharp edge, but more of a soft finish. The display itself is also great to touch thanks to a G2 Touch Hybrid technology. The responsiveness is as good as any, and your finger seems to glide easily over it during presses, almost as if you are actually touching what you are seeing. Again, it's an amazing smartphone display.
(Warning: Gmail picture is a large macro shot.)
Performance:  Thanks to its quad-core processor, 2GB of RAM, and Android 4.2, you won't find hiccups or stutters while using the Nexus 4. Project Butter (in Jelly Bean) combined with the best processor on the planet, makes for one of the best smartphone experiences. With the on-screen navigation keys, you can quickly jump in and out of apps, access Google Now from anywhere, and make full use of Android's multi-tasking. There also has to be something said for the fact that it runs stock Android. There is no manufacturer skin to get in the way or to potentially slow down the phone. This is how Google meant for Android and a smartphone of theirs to work. And boy does it ever.
Android 4.2:  When you buy a brand new Android smartphone, rarely are you running the most current version of the operating system. Well, unless you buy a new Nexus. With the LG Nexus 4, Google launched Android 4.2, the newest and best version of Android to date. It includes all new camera software, improved keyboard, widgets on the lock screen, multi-user support (on tablets), an upgraded Gmail, and a beautiful new clock. Check out the video below to see all of the major highlights.
Price:  At $299 for the 8GB model and $349 for the 16GB model, you won't find a more reasonably priced phone than the Nexus 4. I already mentioned how impressive this phone is when it comes to specs, but besides that, Google has made it clear that they aren't fans of the long-standing carrier approach to phone subsidies. Rather than trying to sucker you into a contract by offering you a low price on a phone, Google simply says, "Here is a phone that you can have at a ridiculously low price and that won't require you to sign a contract. We're able to offer you this deal because we can recoup the money in the Google Play store, thanks to the content that you'll consume." It's an approach that I hope lives on forever. Think about what Verizon is doing right now with the Motorola RAZR MAXX HD. They want you to spend $299 on it, but in order to get that price, you'll have to sign a 2-year contract. Google is selling you a phone that bests the RAZR MAXX HD on multiple levels, yet retails at the same $299 price, but then lets you go find a carrier and data plan that fits your needs, while avoiding a contract.
Camera:  The stock Android camera software has always been lacking, and it showed in pictures taken with any Nexus device. Thankfully, in Android 4.2, Google decided to re-do the stock Android camera software and make it halfway decent. In my test shots with the Nexus 4's 8MP shooter, I was able to produce some decent stills. I wouldn't say the LG Nexus 4 takes as good of pictures as the Galaxy S3, but that's magic that very few phone manufacturers can figure out. It certainly will do just fine in a pinch. What I really like about this new camera though, is the quick settings that can be accessed by pressing on the viewfinder. You can quickly toggle your flash off or on, change scenes, and manually tweak other settings. Also, the new Photosphere camera feature that Google introduced is incredibly fun to use. Rather than limiting your camera to taking side-sweeping panoramic photos, Google decided that it wanted you to be able to take full 360-degree photos. With Photosphere (an example below), you get to capture entire rooms or scenes. Overall, the new camera software coupled with the 8MP sensor in the Nexus 4 is a giant step forward for Google.
(Click the image below to view it as a Photosphere at Google+.)
Design and Build:  If you own a Galaxy Nexus, your first impression of the the Nexus 4 is probably that it looks just like your Galaxy Nexus. And to be honest, it sort of does if you lay them down, face up next to each other. Once you pick up the Nexus 4, though, you'll immediately realize that it is so much better. The front and back are both made of glass, it certainly doesn't feel like it's made of "cheap" plastic, there is a soft touch plastic rim around the outer edge that helps with grip, the rounded edges help it fit perfectly in your hand, and the weight is not too light nor too heavy. It's one of those phones that you find yourself picking up, spinning around, and smiling at. From the Crystal Reflection backside (more on this in a minute) to the all-black finishes and Nexus logo, I have to admit that I haven't been this impressed with a smartphone design in some time.
"Crystal Reflection" Backside:  During a couple of episodes of The Droid Life Show, we poked a bit of fun at the sparkly "Crystal Reflection" backside of the Nexus 4. For those new, Crystal Reflection is a process that LG invented which allows them to laser etch patterns or prisms onto glass of a smartphone to give it a high-end "jewel-like" appearance. The reference they make to "jewel-like" is why we giggled a bit at it, however, once I got the phone in hand, my opinion changed to a much more favorable one. The sparkles are so subtle, that you won't even see them 75% of the time. They are only there when you are really looking for them, which is the way it should be. The Crystal Reflection is one of those design ideas that you couldn't have imagined that you would want or like, but then once you see a metallic reflection, you'll appreciate every second of it.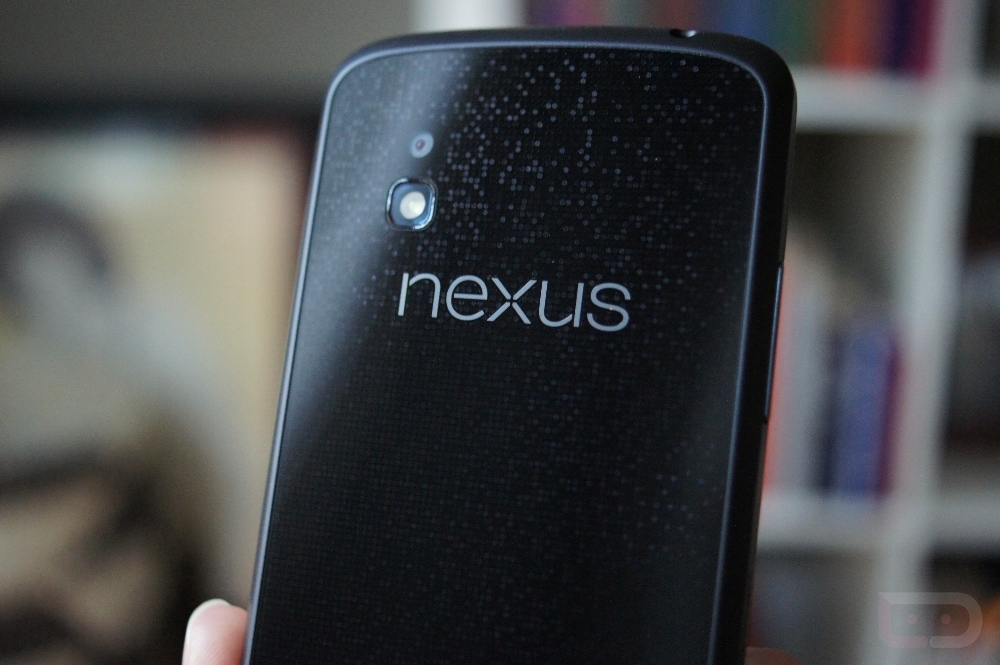 Unlocked:  Google is selling the Nexus 4 as a SIM unlocked GSM phone that works in over 200 countries. It may not have LTE support for the ultra-fast networks that are taking over the U.S., but the phone should get HSPA+ speeds almost anywhere in the world. It works on T-Mobile and AT&T here, so if you don't want to sign into a contract with a carrier, you can choose from a variety of prepaid plans that are attached to either of these carriers. It's smartphone freedom in a time when carriers want nothing more than to lock you up for years on end.
Hackability:  Nexus phones are a hacker's dream device. Google leaves them open, meaning you can unlocked their bootloaders, root them, and toss on custom software with a couple of simple commands. We are starting to see more and more carriers force manufacturers into securing their phones and preventing tinkerer's from fully enjoying them, but with Google making Nexus phones, there will always be an option.
Updates:  When you buy the newest Nexus phone, and as long as it isn't tied to a carrier, you are going to get Android updates on it before any other phone. With the Nexus 4, you get Android 4.2 first. But not only that, you'll get Android 4.3 or 5.0 or whichever version comes next as soon as Google makes it available. There is no middle man (carrier) to interfere. That's the beauty of an unlocked Nexus device.
Wireless Charging:  The Nexus 4 has built-in wireless charging. Set to the Qi standard, all you need is a Qi-approved wireless charging pad and you can place the phone down without plugging it in, and it'll replenish the battery. It's a technology that has been out for years now, but rather than building the technology into phones, most carriers and manufacturers decided that they should try to make an extra buck by forcing you to buy separate wireless charging backs. With the Nexus 4, Google and LG have gone away from this method and included the technology upfront. Again, all you need is a charging pad and you can wireless charge this phone out of the box.
Gaming:  The Nexus 4 is a pleasure to game on. With its Snapdragon S4 Pro processor and Adreno 320 GPU, even the most intense HD games play incredibly well at high frame rates. Combine all that with the beautiful 4.7″ HD display and you have a match made in heaven for mobile gamers.
The Not-so-Good
No LTE:  Andy Rubin made it clear during the unveiling of the Nexus 4 that they could have included LTE connectivity, but that they weren't convinced that the user experience would have been optimal. After the battery life disaster that was the LTE Galaxy Nexus, Google decided to put their resources in making an amazing phone that had everything the market had to offer, outside of LTE. While they wait for LTE networks to mature, we're going to be left wondering if this was the correct move or not. Global networks are not as advanced in the LTE department as they are here, but that doesn't mean we aren't disappointed. LTE is the future and so is the U.S. wireless market. Part of buying a smartphone is deciding whether or not this phone is going to take you into the future. While most of us can live with HSPA+ speeds, a lack of LTE makes the Nexus 4 feel a step behind, when it shouldn't. Oh, and let's also not forget that the phone actually does have an LTE chip inside, but it isn't active.
Glass Backside:  If you read my review of the Optimus G, the device the Nexus 4 is built off of, you probably saw the cracked backside. I still cannot figure out how I managed to crack that device, which is why the glass back on the Nexus 4 concerns me. One reviewer of this phone simply knocked his unit off his desk and was able to crack it. What other everyday wear and tear is going to ruin this beautiful backside? After dealing with numerous reports of broken glass backs on the iPhone 4 and 4S, even Apple decided against them. Hopefully, Google has done something extra special here to try and preserve these. I'm already dreading the moment that readers tip us to a forum thread somewhere with 50 pages of users complaining about cracked backs.
Battery Life:  Look, the battery life on the Nexus 4 isn't atrocious by any means, but it's also not all that impressive. With Google's head honchos telling us that they left out LTE because they wanted to have a phone with exceptional battery life, I expected better. Below, I have screenshots that show a wide range of battery life, none of which were able to get me through more than 15 hours. And that 15 hour day, was all WiFi. Once I switched over to all HSPA+, it was a struggle to get the 2100mAh battery through 10 hours, especially if I took a few minutes out of my day to play a game or two.
(Click to enlarge.)
Headphone Jack:  The headphone jack on the Nexus 4 is placed at the top of the device and it drives me nuts. In the past, Google has moved headphone jacks to the bottoms of their phones, so I'm not sure why this phone is different. I know this seems like something not worthy of an entire bullet, but as someone that uses a headphone jack on a daily basis, it is a big deal. I've ranted about this subject before, so I'll keep this short. I just wish we could get some sort of a standard going here. Try riding in a car and connecting your phone to both a USB cable to charge and 3.5mm cable which are on opposite sides of the phone – it's a tangled mess of cords.
Overview:
The Verdict:
The LG Nexus 4 is  an impressive smartphone. It packs top-of-the-line specs and is directly supported by Google, which means you get speed and performance along with the latest and greatest version of Android. The camera is much improved, the design highlights are gorgeous, and it comes in at a price that no one in the smartphone game has approached until now. For $299 or $349, you get a phone with arguably the best specs on the planet, but the feeling of freedom from carrier contracts.
It's not all amazing, though. The battery life isn't the best, I have some concerns about the durability of the glass backside, and the lack of LTE connectivity is a major disappointment.
Still, the Nexus 4 is probably my favorite phone to date. It stands for all that I believe in when it comes to a smartphone. It's beautiful, powerful, new, open, and up-to-date. Oh, and it's incredibly affordable.