With the announcement of the HTC DROID DNA last week, we have entered a new arena for our cellular devices. Introduced as one the first smartphones with a 1080p display, we're talking about full-HD content in the palm of your hand. This latest offering from HTC has Sense, powerful internals and boasts Beats audio integration. The specs are top of the line, but so are other competitors' phones. Will a powerful display be the deciding factor when it comes to purchasing the device or will the Droid branding be all the drive it needs? Here's our thoughts on the device.
The Good:
Specs:  Most phones have been releasing with top end internals and the DNA is right in line with them. It ships with a Qualcomm Snapdragon S4 Pro, a quad-core processor clocked at 1.5GHz, along with 2GB of RAM. This combination offers a powerful and lag-free experience for the end-user. Let's not forget that it includes a 4G LTE radio which will take advantage of Verizon's fast, ever-growing network. The device also offers a 5″ 1080p FHD LCD 3 (1920×1080) 440ppi display, NFC, an 8MP camera, 2.1MP front-facing shooter, wireless charging, and Beats audio software .
Look & Feel:  The first thing you'll notice about this phone is the very slick, bright red micro-grills on the sides of the device. The front display offers glass that curves around the front edge of the phone to give a very comfortable, nice rounded feel. The back is as plain as they come, with a matte black plastic covering. Despite the screen being 5", they were able to keep the device size down. It's nowhere near as large as the Note 2 looks or feels in hand. The side profile of the device is quite thin, so you don't feel like you are holding onto a brick. The large screen size might give someone with small hands some trouble with one-handed operation, but I was able to use the device without issue. Overall, despite the use of plastic, the device feels solid and evenly weighted for long term use.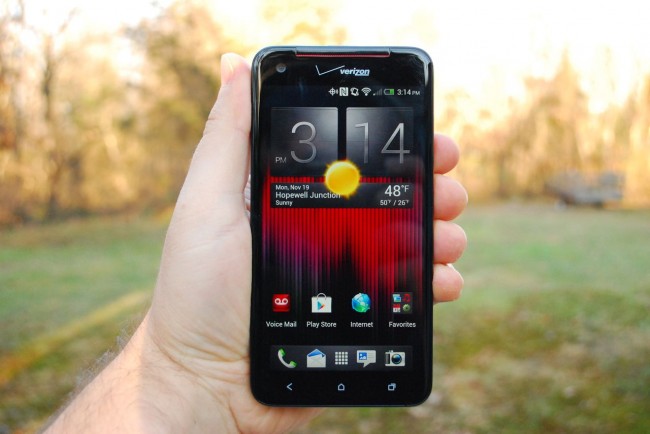 Display:  It's brilliant. On paper, it's a 5" FHD 1080p super LCD 3 screen with a pixel density of 440ppi. With so many pixels packed into the space, every image looks clean and text is crisp. The colors have a nice level of contrast, especially when compared to the Nexus 4 which looks slightly de-saturated and dull when placed next to this device. Even with the display brightness turned down, there is not a noticeable decrease in visual performance when it comes to color balance. In terms of other displays, this is definitely one of the top performers available today.
Speaker/Beats:  Having used the Galaxy Nexus for most of the past year, the speaker on this device just blows it away. You can turn the music up to full with no distortion and it gets quite loud. The speaker also performs well on phone calls, with no reports of echo from the other side. The Beats integration seems to be more of a gimmick than anything else. Music through headphones sounds great, but I get the same performance when using other devices and tuning the EQ manually. That being said, for people that want something great out of the box, the speaker and included Beats audio work wonderfully.
4G LTE/Radios:  There's no questioning that Verizon has really put a lot of effort into making their 4G network a fast performing option for those that can afford it. The radio in the device seems to be a bit sensitive when it comes to areas with low reception. I constantly found the device dropping back to 3G, even when other devices were maintaining a 4G connection, albeit a poor one at that. The big surprise in this device is the inclusion of GSM radios, with the potential to use this device as a world phone. The phone actually ships with Global mode turned on and has the option to switch to LTE/CDMA or even GSM only. Time will tell if Verizon patches this ability or leaves it be.
Performance:  HTC's DNA is a powerful device that shows no signs of fatigue through normal or advanced operation. You can be streaming music and playing Angry Birds without a stutter. Scrolling through a G+ feed is as fast as your connection will allow. Despite having the burden of Sense on the device, you will find that multi-tasking and gaming are easily accomplished without hiccups. The DNA is no slouch in benchmark performance either, and given the real world performance I've seen firsthand, this device will handle anything you throw at it.
Wireless Charging:  While I did not have the ability to test this firsthand, I was able to check out the phone's charging base accessory at the release event. It's as easy as placing the device on the base and watch as your battery regains its charge. As someone who has a lot of devices and accompanying cables, I hope that we'll see more and more devices shipping with this capability. The device utilizes the Qi wireless charging standard, so it should work with any charging base that is built to spec, adding that extra layer of compatibility that is always appreciated.
Jelly Bean 4.1:  The phone is shipping with Android 4.1 Jelly Bean and that means that all of the feature improvements from that release will come in the box including expandable notifications and Google Now. The performance enhancements of the 4.1 release, coupled with the powerful specs of this device, will give any user a smooth experience. There's been no word as to when this device will or won't see any updates, but Jelly Bean is a great start.
Battery Life:  Since the day it was made official, the 2020 mAh battery has been the biggest question mark on this device's spec sheet. With the 5" display and the 1.5GHz quad-core Snapdragon, is the battery size really enough? For the average consumer, yes it is. I tried to approach the phone a different way each day to simulate various user experiences. One day, I used it sparingly, as one might if they were occupied with other tasks. I spent another day streaming a movie from Google Play and constantly surveying the social network landscape. Even when in LTE, the phone still sips at the battery. I did however find myself in a rough patch at one point, straddling a 3G/4G area. The constant switching of the radio proved to be a drastic drain, and with no ability to disable 4G, I was stuck watching the battery deplete. According to Battery Widget? Reborn! (which I installed on the device when I received it), my average battery charge lasted 21 hours. Coming from a VZW Galaxy Nexus (with extended battery), I'd say this device's battery manages to handle the screen size and LTE well.
The Not-so-Good:
Notification LED:  The notification LED appears not only on the front of the device, but also on the backside. The downside to this is that you are never able to avoid the blinking of the notification, despite turning your phone over. To add insult to injury, the included LED is not RGB. You are stuck with either green for notifications/fully charged or red for dying/charging.
Non-removable Battery:  Despite my positive results with the battery life, there is still no excuse for lack of removable battery. Not only does it deter power users, who may want to carry an extra battery or even an extendable battery, but it's a consumer unfriendly practice. If your battery decides to fault, you can't just put in a replacement. The entire device must be shipped out. With our increasing reliance on our personal devices, this is just a risk that some people can't afford.
On-device navigation keys:  With the introduction of Google Now, people have become accustomed to a simple swipe up over the home button to be able to access it. With the inclusion of hardware keys, you lose that ability and are stuck pressing down the home button. Not that this is necessarily a difficult process, but it's a break from the usage pattern present with on-screen keys. Also, let's not forget everyone's favorite menu button that keeps appearing within non-compliant apps.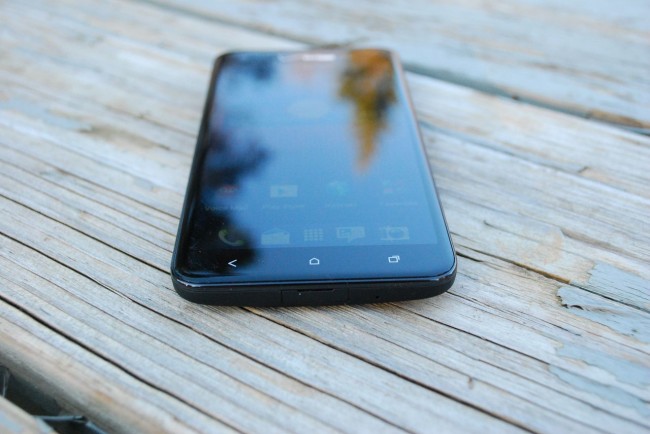 Camera: As impressive as the 88 degree FFC is, there is no excuse for the quality issues with pictures taken by the 8MP camera in the rear of the device. Despite images looking good on the device, this does not translate to other displays. Even in fully lit areas, there is a considerable amount of pixelation and noise present. I'm not expecting a phone to take DSLR equivalent shots, but there are other phones on the market that prove decent pictures can be achieved. FFC camera offers extra perspective you won't find on other devices, but with the same pixelation and noise present on the back camera. The camera software is not AOSP stock, so it may be a software issue that can be patched in the future.
No SD-slot: This seems to be a trend lately among all the manufacturers and I'm not a fan. We recently ran a poll and the results seem pretty divided about whether this matters to you or not. I believe that the lack of expandable storage is not in the best interests of consumers at this time, especially in situations where data caps are prevalent.
Sense 4+: I haven't used Sense since back on the Thunderbolt and to me, it doesn't feel like it has evolved since then. When the changes made to included software seems to be a step backward from Google's offerings in AOSP, what is the purpose of the skin other than removing functionality? Skins were definitely necessary back in the Froyo days, but with the advancements to core Android, I'm not such a believer now. Little things are missing like swiping from camera to gallery or even multi-selecting in gallery (yes seriously, you can't). Also, who forgot to tell them that tabs on the bottom was a blatant disregard of the Android design guidelines? Other gripes include an ever present Wifi notification in your pulldown, whether wifi is on or off. Oh and if you have NFC on, you're treated to an ever-present icon in the notification bar. I could probably keep going, but you get the point I'm trying to make.
Bootloader/bloatware: Since the announcement of the device, it has come to light that the device can be unlocked via HTC's portal. This does not remove S-ON and at this point, the future of homebrew development is unknown. Since this device is on Verizon's network, they have made sure to not only include the full suite of Verizon apps, but also Amazon's suite, NFL Mobile and other apps. Though most of these can be disabled, it's always disappointing to see them included on a device.
Gallery:
Unboxing:
Device Overview:
The Verdict:
With the holiday season upon us, many of you Verizon users are going to be looking at either the Samsung Galaxy Note 2 or the HTC Droid DNA. Both of these devices are powerful and top-of-line units which are a great investment to end 2012 with.
As I touched on earlier, the 5" screen on this device does not increase the form factor and I believe that many of you will find this device easier to manage than the Note 2. The big deciding factor for you will be whether you want to take advantage of Samsung's S-Pen and all of the software that comes along with it.
The HTC Droid DNA is definitely an exciting phone to use. If you've been looking for a 5" screen, and don't need the use of a pen input device, then this is the phone for you. The screen itself is beautiful and the phone's performance is top notch. For only $199, with contract, the price is certainly attractive and just in time for the holidays.