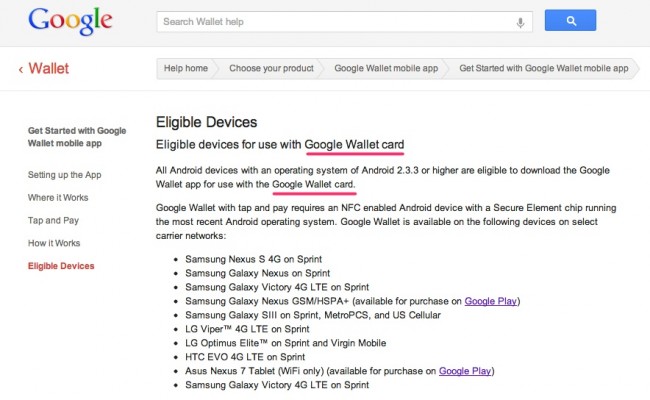 If Google's own help site is to be taken as a legitimate source of information (and why shouldn't it be?), then it just confirmed that a Google Wallet card or credit card is on the way. First mentioned a week or so ago thanks to a leaked Google Wallet app, this new card will help take Google's mobile payment system to the next level by expanding it beyond NFC phones.
As you can see in the image above, the card will only work with currently supported devices on Google's short list. I was personally hoping that this list would expand with the introduction of this new card and services, but Google appears to be locked into an approved list of phones and tablets. Not sure if that is carriers winning another battle or…OK, that's exactly what this means.
Ignore that entire paragraph. If I actually read at this early of an hour, I would have noticed that it does say that the card can be used with "all Android devices with an operating system of Android 2.3.3 or higher." Hooray! The NFC portion is locked to NFC-enabled phones on the list provided, but again, the card and app will now work with all phones once it is released. 
To recap, this Google Wallet card can be programmed to use a default card in your Google Wallet app. In theory, you could switch payment accounts on the fly if you so choose to. It gives you a ton of flexibility in making payments using a card. In fact, since Google Wallet allows you to load up all of your credit cards into the app, you could essentially leave all other cards at home and simply carry around the new Google Wallet card.
We are also expecting to see new features like money withdrawal, payment sending between friends, and the ability to load up transit passes.
This new version of Google Wallet sounds like the ultimate mobile payment system, it's just too bad that Google can't find a way to get the NFC portion onto any NFC phone. Come on Google, work some magic.
Via:  Google | TechCrunch