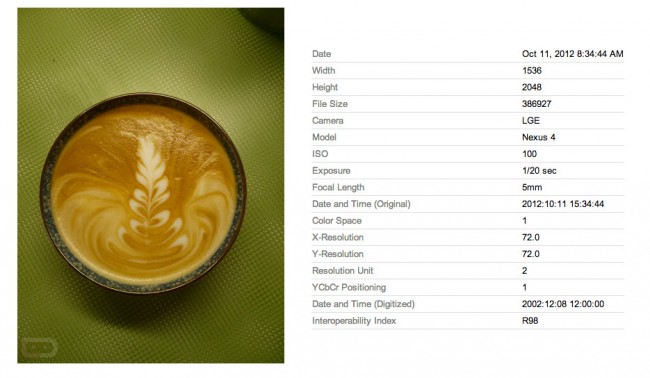 The LG Nexus device that we have been covering so intensely over the last couple of weeks is not much of a secret anymore, especially after a prototype of the device was put through a variety of tests. Well, there may be one thing that we aren't 100% certain of – the name. Some are referring to it as the Optimus Nexus, while others have moved onto "Nexus 4." If the EXIF data attached to a picture taken with an LG device by a Google employee is to be taken as gospel, then maybe the official name will be Nexus 4 after all. 
As you can see in the beautiful coffee art picture above that was taken this week, we have a camera made by LGE (LG Electronics) and a model "Nexus 4." Does it get any more official? Now, EXIF data is easily faked or tweaked, so there is always a chance that this name could change over the next couple of weeks. I'm not sure I believe that it will, though. As the Galaxy Nexus launch neared last year, these same clues all appeared.
We have heard October 29 as a potential launch date.
Via:  Blog of Mobile