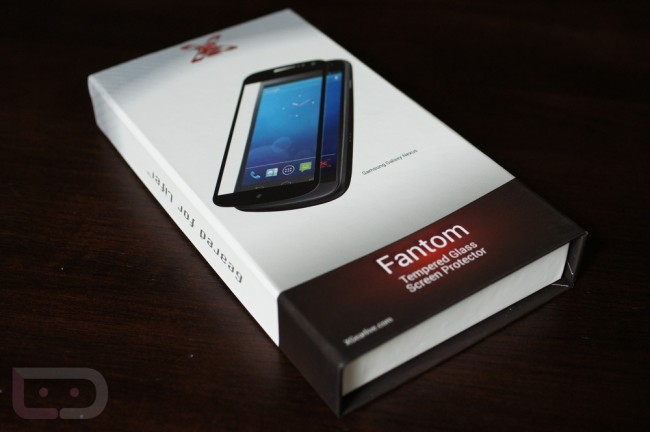 Today, we're taking a second look at XGEAR's tempered glass screen protector for the Galaxy Nexus, called the Fantom. We first took a look at these back in July when XGEAR was getting close to being on final samples and definitely noticed a couple of issues which they have told us have since been addressed. So as part of Reader Appreciation Week, we wanted to talk about our new impressions and then hand a couple of these $30 tempered glass protectors out to the best Android community on the planet. 
 Second Impressions
For those new to tempered glass, you need to think of this as the ultimate form of protection for a screen. It's glass, rather than a flimsy film, so it's harder, more scratch and crack resistant, and feels nice to the touch. In fact, I actually like tempered glass more for the touch sensitivity than anything else. Regular PET screen protectors feel awful to the touch, but tempered glass simply feels just like if you were touching your screen.
With that out of the way, let's talk about this new version. First of all, the phone wakes up just fine while on a call. The proximity sensor is no longer blocked allowing the phone to function properly. Touch sensitivity is also very good and the protector actually appears to be slightly thinner than it did in the past, but I doubt that to be the case. It does fit very well on top of the device though, and would almost be unnoticeable if it weren't for the cutouts for the notification light, front camera, and sensors. I'm also no longer noticing a rainbow effect in the middle of the protector while it's on the device.
I am, however, still noticing the grid that was showing up on the previous release. It's not a deal breaker, but when the beauty of the Galaxy Nexus screen is one of the selling points, this grid does bring it down a notch. The XGEAR team explained to me that the grid has to do with a special UV coating which helps preserve the protector.
Overall, I'm impressed by the changes that have been made and would definitely recommend that you consider the Fantom tempered glass protector if you are looking for extra protection. At $30, it's the only option available.
Buy.
Contest
Update:  Our two winners (1 and 2) have been emailed! Be sure to check your inboxes. Stay tuned for the next contest!
Again, since it's Reader Appreciation Week (RAW), let's give two of these away and save a couple of you $30.
Prize:  Two (2) Fantom tempered glass protectors from XGEAR for the Galaxy Nexus
How to enter:
1.  In the comments, tell us what it will take to get you to part with your Galaxy Nexus.
2.  If you haven't already, be sure to follow us on Google+.
3.  Also, feel free to share this post with your G-Nex friends on Google+.
Winner:
Tomorrow at 8:00AM PT, we will randomly choose two winners from the comments.