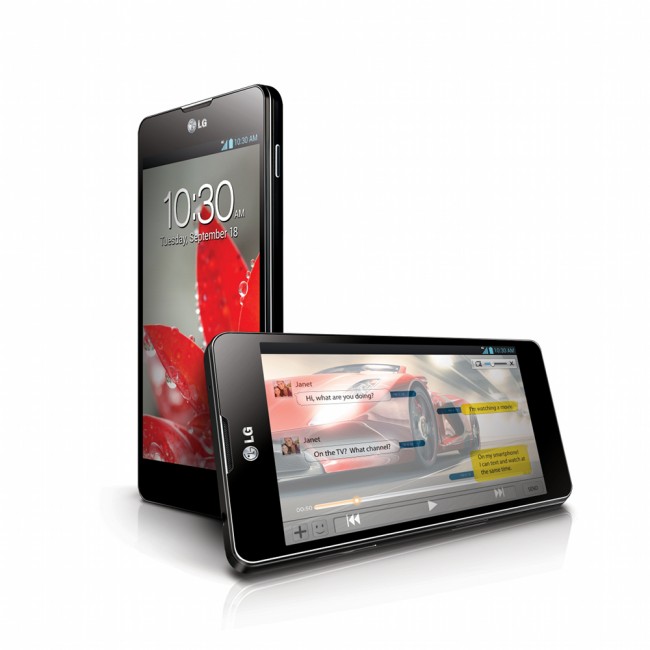 It has been a while since LG produced a smartphone that one should get excited over after reading a press release, but that's exactly what we have with the Optimus G, their newest flagship device. Launching next week in Korea, and the rest of the globe in October, this phone on paper, can't be matched by any other smartphone in the world.  
With its Snapdragon S4 Pro quad-core processor, 13MP camera, 4.7″ True HD display, 2GB RAM, 32GB internal storage, LTE, and new battery tech, this phone should make you drool a little. We have talked about super phones loosely over the last couple of years, however, this is probably the first true "super" phone. What's interesting, is that LG isn't necessarily bragging up the specs, even though they should. Instead, they are focusing on software and the brand new UI they have created.
LG is referring to it as an "engaging" UX. They are focusing on its ability to "cross-task" rather than simply multi-task. Basically, that means that you can accomplish tasks simultaneously without having to compromise other tasks. According to the press release, new features called QSlide, Live Zoom, Dual-Screen Dual-PLay, QuickMemo, and Screen Zoom are at the heart of it all. If you aren't picking up the theme here, then let me explain. This new UX allows you to split your screen to accomplish multiple things and zoom in during video or on other tasks to accomplish everything easier.
They also improved camera experience, created a Crystal Reflection finish for the back of the device, and again, put in the newest tech possible to make the Optimus G nothing short of a beast.
LG has an event Wednesday morning in NYC at 8AM ET (5AM PT) which Kover will be at. We are fully expecting to see this device on display, which also means we'll have hands-on time with it.
Come on, tell me you are at least somewhat excited for this phone?
LG TO CHANGE MARKET DYNAMICS WITH OPTIMUS G BY FOCUSING ON DIFFERENTIATED USER EXPERIENCE

LG's New Flagship LTE Device Offers Superior User Experience for "Living Without Boundaries"

SEOUL, Sep. 18, 2012 –- Today LG announced the launch of the Optimus G, a new premium flagship device offering a unique User Experience (UX) supported by innovative hardware performance. The powerful hardware included in the Optimus G allows for the possibility of such a creative and engaging UX which will enable Optimus G users to "live without boundaries."

With a powerful quad-core processor, Snapdragon™ S4 Pro, as its base and industry best technologies for enhanced viewing and longer battery life, LG adds the finishing touches on the Optimus G with a beautiful sleek design and innovative UX features. The offerings in the Optimus G will provide users an experience currently unavailable on any other smartphone.

"The Optimus G is a groundbreaking premium device not only in the history of LG but also in the smartphone industry," said Dr. Jong-seok Park, president and CEO of LG Electronics Mobile Communications Company. "With the Optimus G, users will be able to experience unsurpassed UX features that will allow them to perform tasks that really enhance their daily lives."

New Form of Cross-Tasking and Engaging UX

With reliable and speedy performance, LG's Optimus G doesn't solely enable multi-tasking but "cross-tasking" of activities without limitations. If multi-tasking applies to running various applications at the same time, cross-tasking applies to complex tasks that can be completed simultaneously without having to compromise other tasks. Some new UX features that will be included into the Optimus G to showcase its cross-tasking and engaging capabilities are:

QSlide Function shows two different screens simultaneously on one display. As it doesn't just show a part of the screen but the entire screen of both functions, the user can complete two tasks concurrently -– such as sending a text message or searching the web while watching a video;
Live Zooming enhances the video-watching experience as users can zoom in up to five times while the video is being streamed for a close-up of one's child while watching a recorded video from a school recital;
Dual Screen Dual Play not only allows mirroring between the smartphone and a TV, it also has the ability to display different content on each screen wirelessly. For example, a slide presentation can be displayed on the TV while the Optimus G shows the accompanying speaking notes;
QuickMemo allows users to write, draw, or jot a memo with their finger directly on the captured screen for sharing instantly with others as an attachment or a URL. The QuickMemo can also be used as an overlay feature — like jotting down a number using the QuickMemo and directly dialing the number while the number is on the top layer;
Screen Zooming allows for the zooming in and out of lists in music player, email, text messages and photo gallery. It also offers the ability to change the font size and screen layout;
Application Link launches preset applications (email, calendar, weather, etc.)  when the alarm is turned off -– making preparation time in the morning go a little faster with all the information on your screen;
Icon Personalizer allows users the ability to customize icons by editing size and adding images so the most frequently used apps can be most easily accessible.

In addition, smart and fun camera features in Optimus G will allow for capturing and seizing those special moments in our lives. Utilizing the industry's highest resolution camera at 13MP, users will have the opportunity to capture their favorite scenes with:

Smart Shutter senses camera vibration or the movement of the subject and adjusts the shutter speed for the best shot;
Time Catch Shot enables the user to choose the best among various shots taken before the shutter button is pressed;
Cheese Shutter takes photos easily with voice activation command just by saying cheese, kimchi, smile or even LG;
Low Light Shot Noise Reduction employs a light monitoring system and activates when the camera is used in a low-light situation for the least amount of noise.

Design Masterpiece with Timeless Value

Inheriting LG's design DNA and heritage, the blend of delicate design and technology placed the emphasis on simplicity with a completely black unibody form in the Optimus G. For this unique look, LG developed and patented the Crystal Reflection finish, which is applied to the back of the Optimus G for a luxurious look and feel. Crystal Reflection gives the Optimus G's back cover the ability to display different patterns depending on the viewing angle and lighting. Also, the intricate polarized pattern, which sparkles under the sleek surface, creates a three-dimensional illusion that is eye-catching and exquisitely reminiscent of a jewel. And finally, laser cutting gives the Optimus G a clean finish with metallic highlights.

Unparalleled Technologies for Ultimate UX

The elegant yet sleek design and the imaginative UX experience displayed in the new Optimus G were possible thanks to a collection of technologies from industry-leading developers in their field.

As the first quad-core smartphone with LTE connectivity capabilities, Optimus G complements the enhanced UX features with unsurpassed speed and power from Qualcomm's Snapdragon™ S4 Pro Quad-Core processor. The state-of-the-art display technologies such as the Zerogap Touch and True HD IPSPlus Display from LG Innotek and LG Display harmonize to offer the slimmest, sharpest and clearest viewing

experience yet. The new battery from LG Chem has a longer life of 800 cycles, a significant improvement over existing mobile phone batteries. An ultra high-resolution, compact 13MP camera is employed in the Optimus G to offer the sharpest photos without pixelation –- even when creating extra-large prints.

LG Optimus G will go on sale in Korea starting next week followed by key global markets in October.

Key Specifications:

   • Chipset: 1.5GHz Krait CPU Qualcomm Snapdragon™ S4 Pro processor Quad-Core and LTE
   • Operating System: Android 4.0 Ice Cream Sandwich
   • Network: 2G / 3G / LTE
   • Display: 4.7-inch WXGA True HD IPSPlus (1280 x 768 pixels) / 15:9 ratio
   • Memory: 32GB
   • RAM: 2GB DDR
   • Camera: 13.0MP or 8.0MP rear / 1.3MP front
   • Battery: 2,100mAh (570Wh/L) / Talk time: 15 hours / Standby: 335 hours
   • Size: 131.9 x 68.9 x 8.45mm
   • Weight: 145g
   • Other: Bluetooth 4.0, Wi-Fi, USB2.0 HS, A-GPS, MHL and DLNA, NFC

# # #